This cloth-bound box set documents the first 18 years and 100 posters in the Celebrate People's History Poster series. The posters are rooted in the do-it-yourself tradition of mass-produced and distributed political propaganda, but detourned to embody principles of democracy, inclusion, and group participation in the writing and interpretation of history. It's rare today that a political poster is celebratory, and when it is, it almost always focuses on a small canon of male individuals: MLK, Ghandi, Che, or Mandela. Rather than create another exclusive set of heroes, I've generated a diverse set of posters that bring to life successful moments in the history of social justice struggles. To that end, I've asked artists and designers to find events, groups, and people who have moved forward the collective struggle of humanity to create a more equitable and just world. The posters tell stories from the subjective position of the artists, and are often the stories of underdogs, those written out of history. The goal of this project is not to tell a definitive history, but to suggest a new relationship to the past.
Artists and writers included in this box set: Erok A., Act Up Philadelphia, Morgan F.P. Andrews, Aprille, Janet Attard, Jesus Barraza, Brandon Bauer, Dan Berger, Sue Simensky Bietila, Blanco, Dave Buchen, Christopher Cardinale, Jennifer Cartwright, Melanie Cervantes, Tom Civil, Katrina Silander Clark, Peter Cole, Bobby Cortez, Courtney Dailey, Defenders for Freedom Justice & Equality, Eain Dhruva, Lindsay Draws, Erik Drooker, Alec Dunn, Alexander Dwinell, Molly Fair, Adam Fanucci, Karen Fiorito, Darrell Gane-McCalla, Ganzeer, Garage Collective, Matt Gauck, John Gerkin, Art Hazelwood, Robin Hewlett, Sanya Hyland, John Isaacson, Sabrina Jones, Keinom, Sam Kerson, Mara Komoska, Nicolas Lampert, David Lester, Damon Locks, Dave Loewenstein, Kate Luscher, Josh MacPhee, Fernando Martí, Colin Matthes, Mazatl, Iain McIntyre, Sara Beth Meister, Abigail Miller, Dylan Miner, Claude Moller, James David Morgan, Marc Moscato, Carrie Moyer, Un Mundo Feliz, Keisuke Narita, Marc Nelson, Ezra Nepon, Roger Peet, Barucha Calamity Peller, Beth Pulcinella, Pete Railand, Dean Rank, Red Eye, Ally Reeves, Aaron Renier, B. Riley, Cristy C. Road, Ben Rubin, Erik Ruin, Joshua Kahn Russell, Aaron Samsel, Nicole Schulman, Tim Simons, Shaun Slifer, SpeakEasy Press, Miriam Klein Stahl, Chris Stain, Jeff Stark, Meredith Stern, The Stockyard Institute, Swoon, Rocky Tobey, Boff Whalley, Laura Whitehorn, and Bec Young.
The Celebrate People's History Poster Series has been organized and curated by Josh MacPhee since 1998.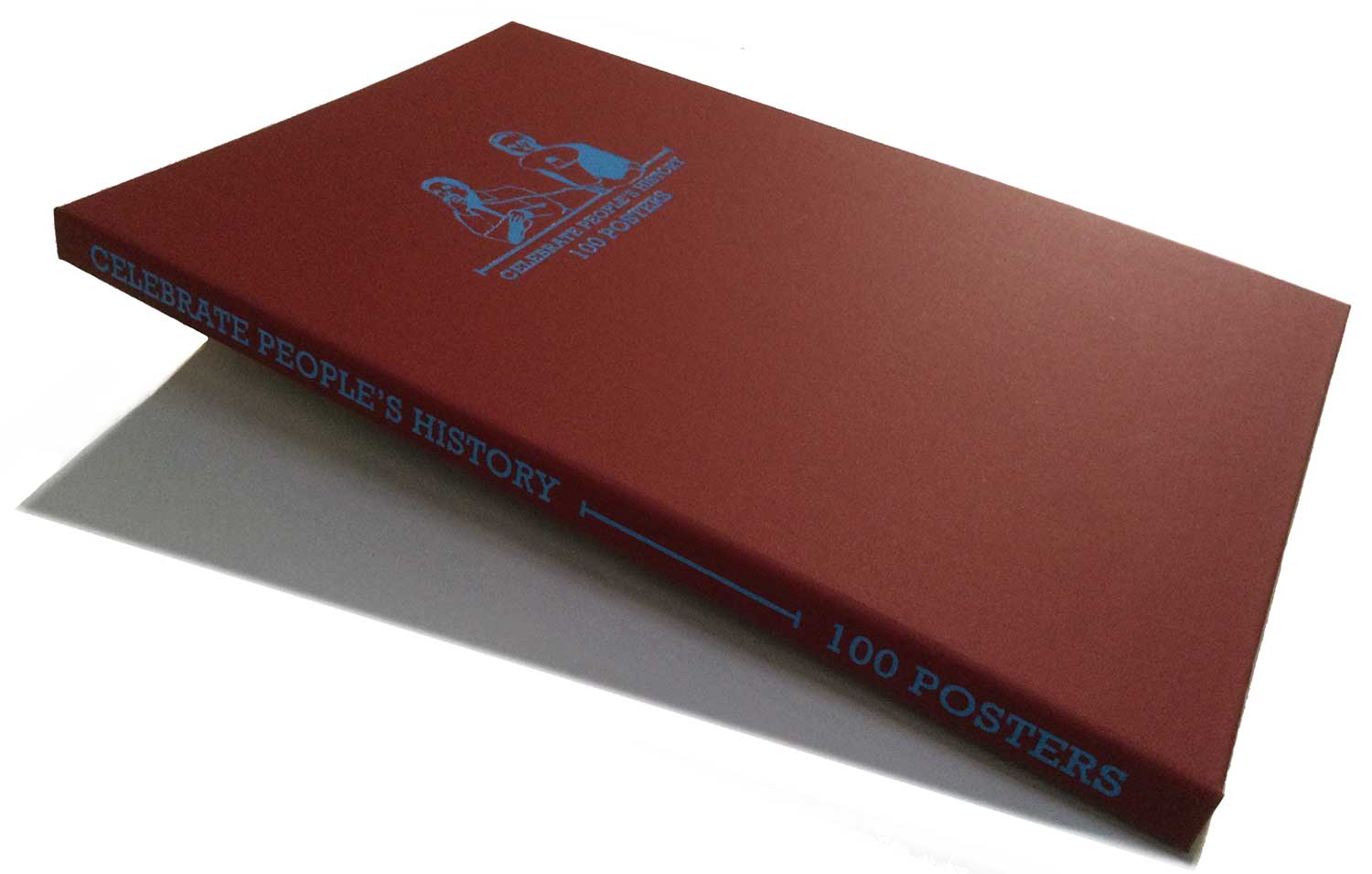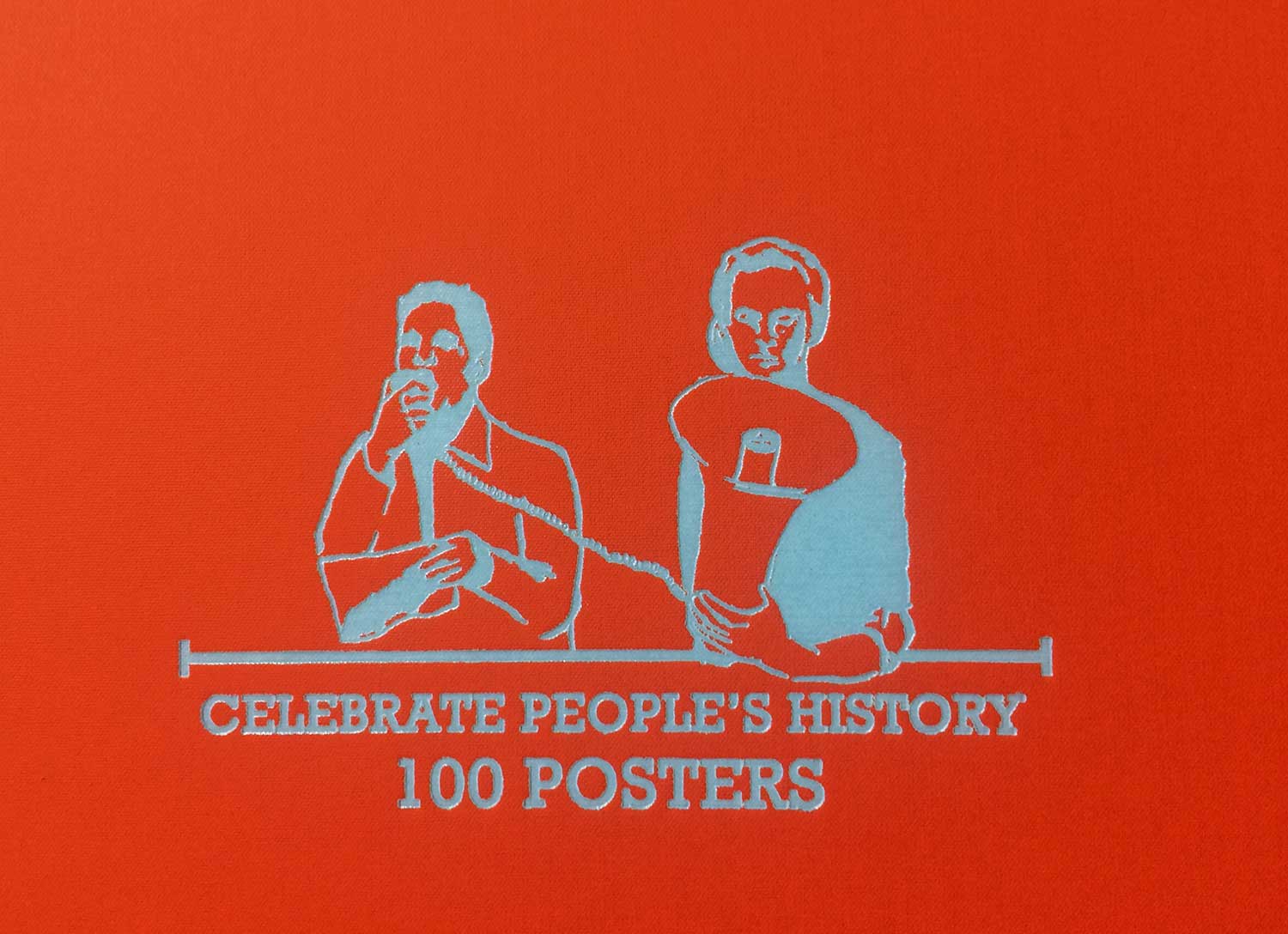 CPH posters have been pasted up in the streets of over a dozen cities. Each time I receive emails from people wanting to know more. Our streets can be a venue for asking these questions, and the CPH posters can play a role in answering them. Soon after the first poster was printed, educators began asking for posters for their classrooms. It's been great to see the posters become part of curriculum, and to see lessons built around them. Once when giving a talk about CPH, I was approached by a student in training to become a teacher. She was first introduced to the posters when they hung in one of her grade school classrooms, almost a decade earlier. Now she intends to use them in her future classes. I hope that these posters can continue to act as some small corrective to the dominant narratives told in schools, and that more teachers engage students in alternative ways of understanding the past.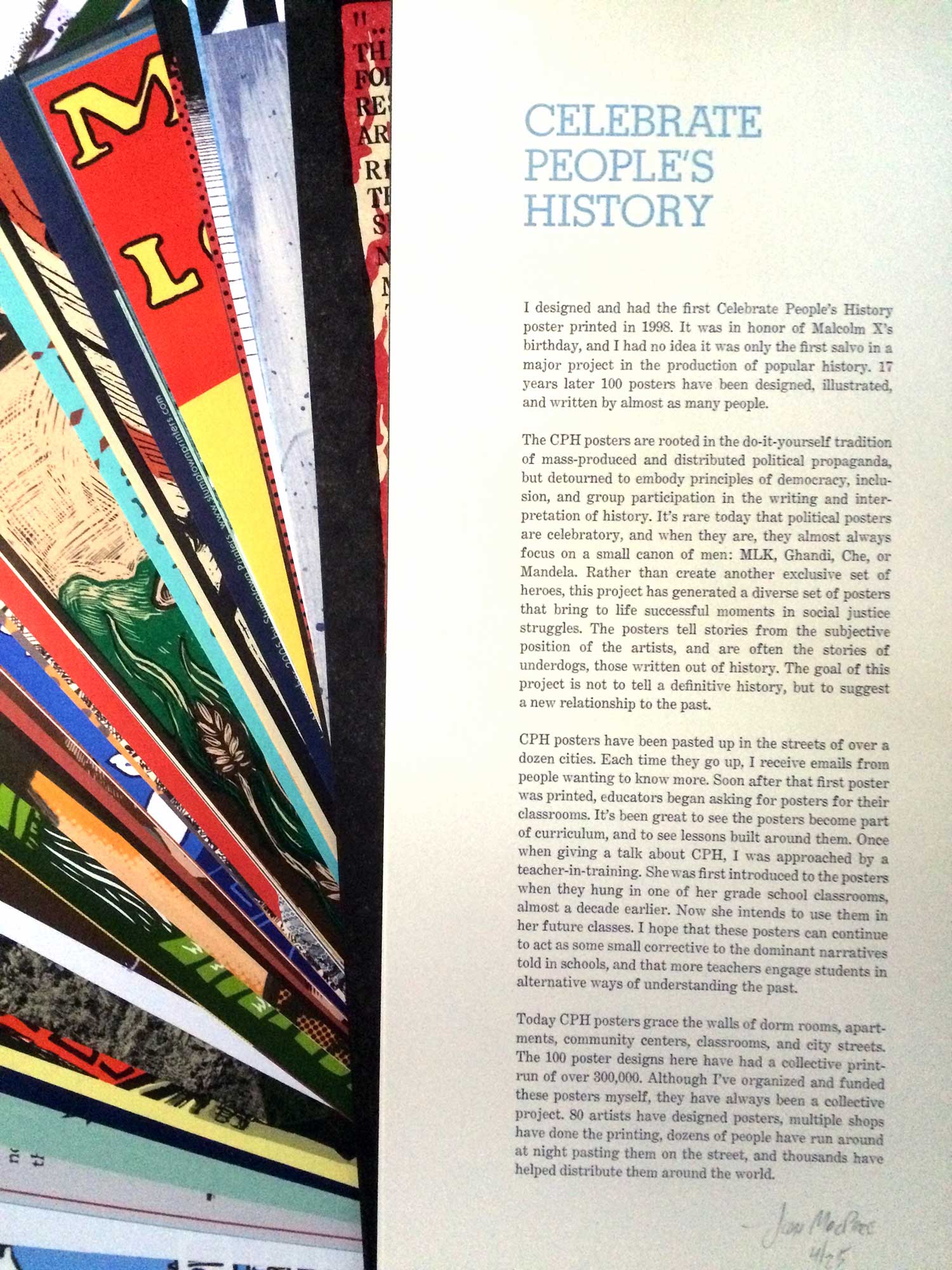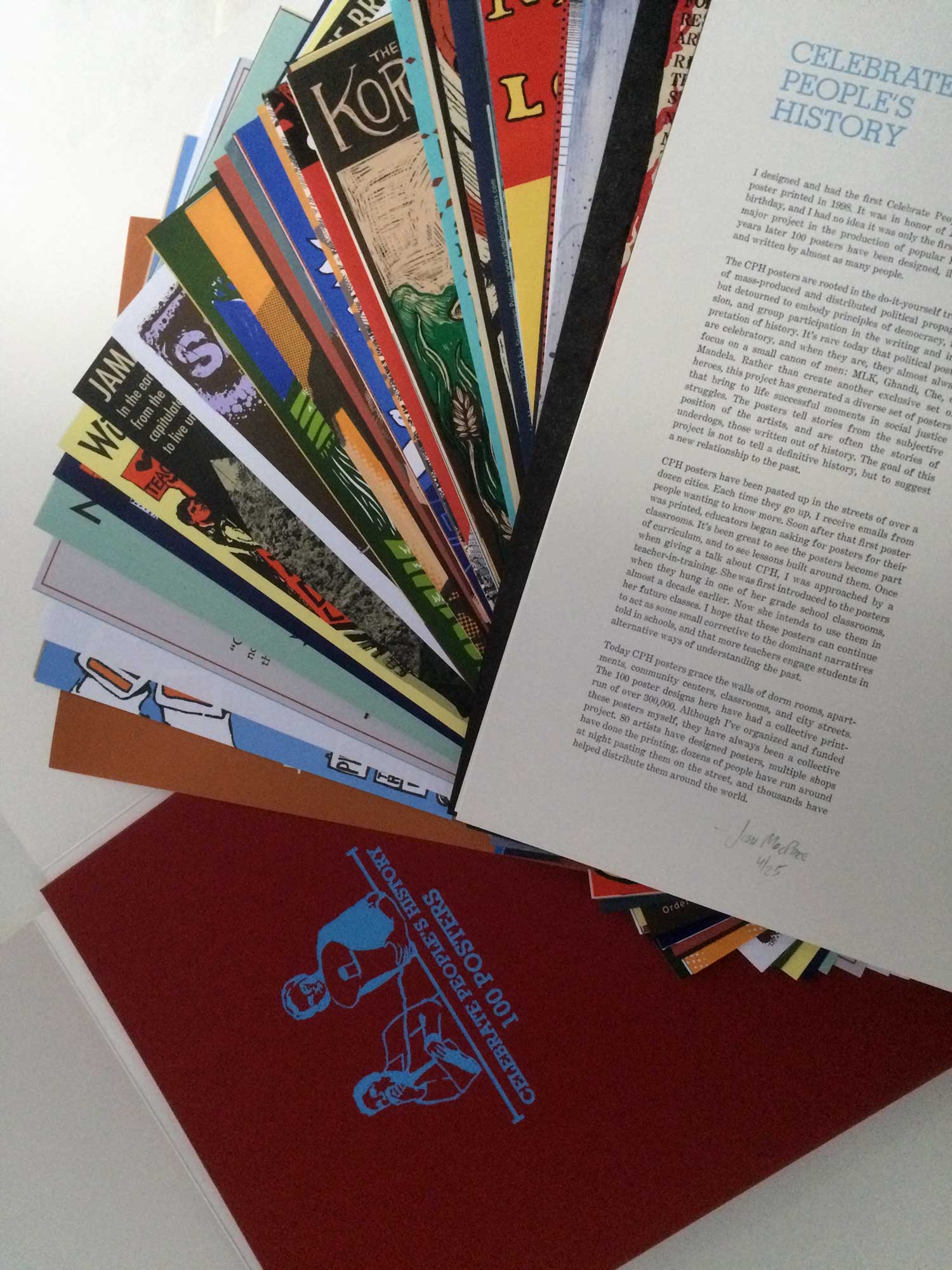 Today CPH posters grace the walls of dorm rooms, apartments, community centers, classrooms, and city streets. Over 100 different designs have been printed in the past 18 years, adding up to over 300,000 total posters. Although I've organized and funded these posters myself, they have always been a collective project. 80 artists have designed posters, multiple shops have done the printing, dozens have run around at night pasting them on the street, and 1000s have helped distribute them around the world.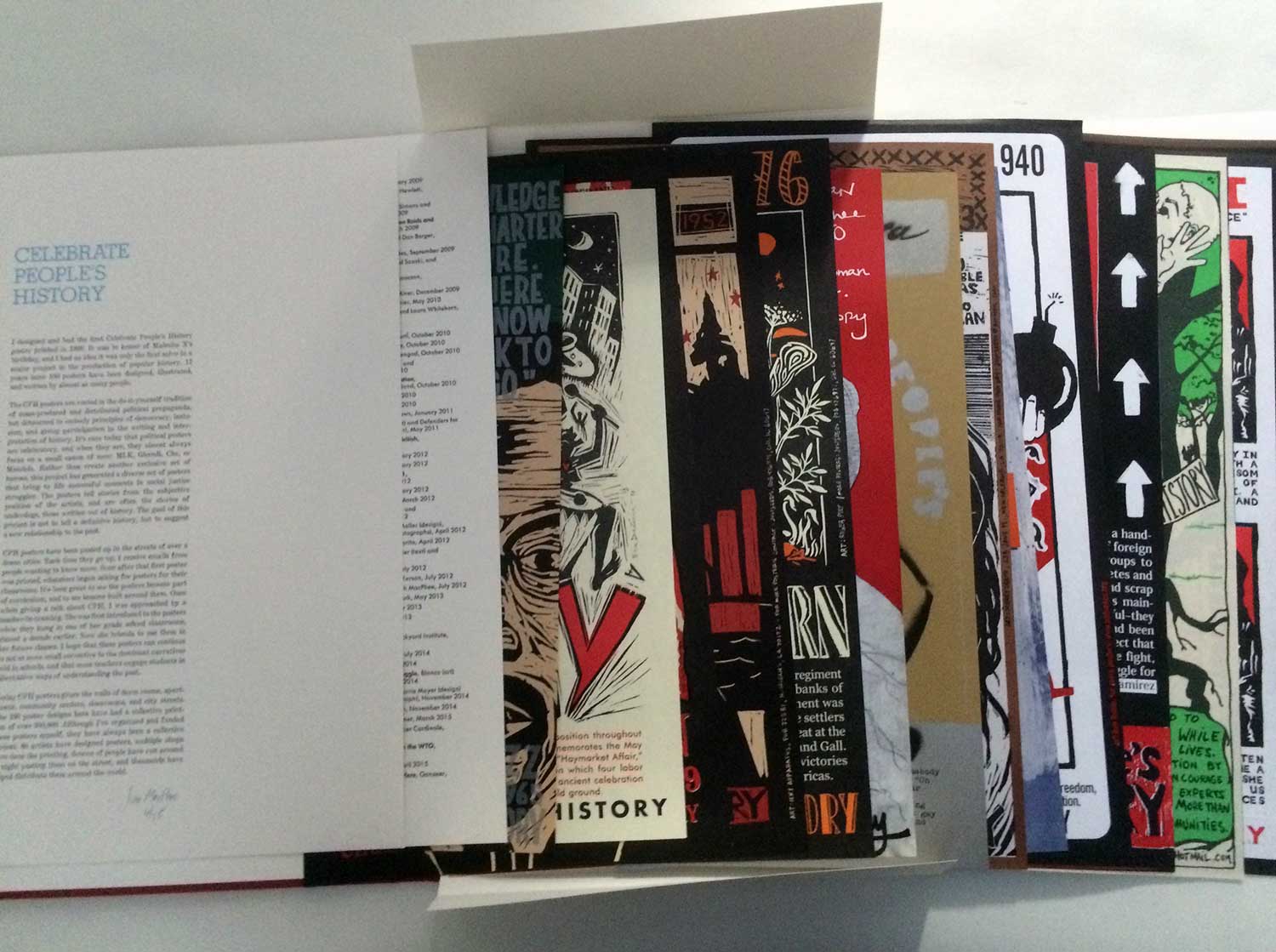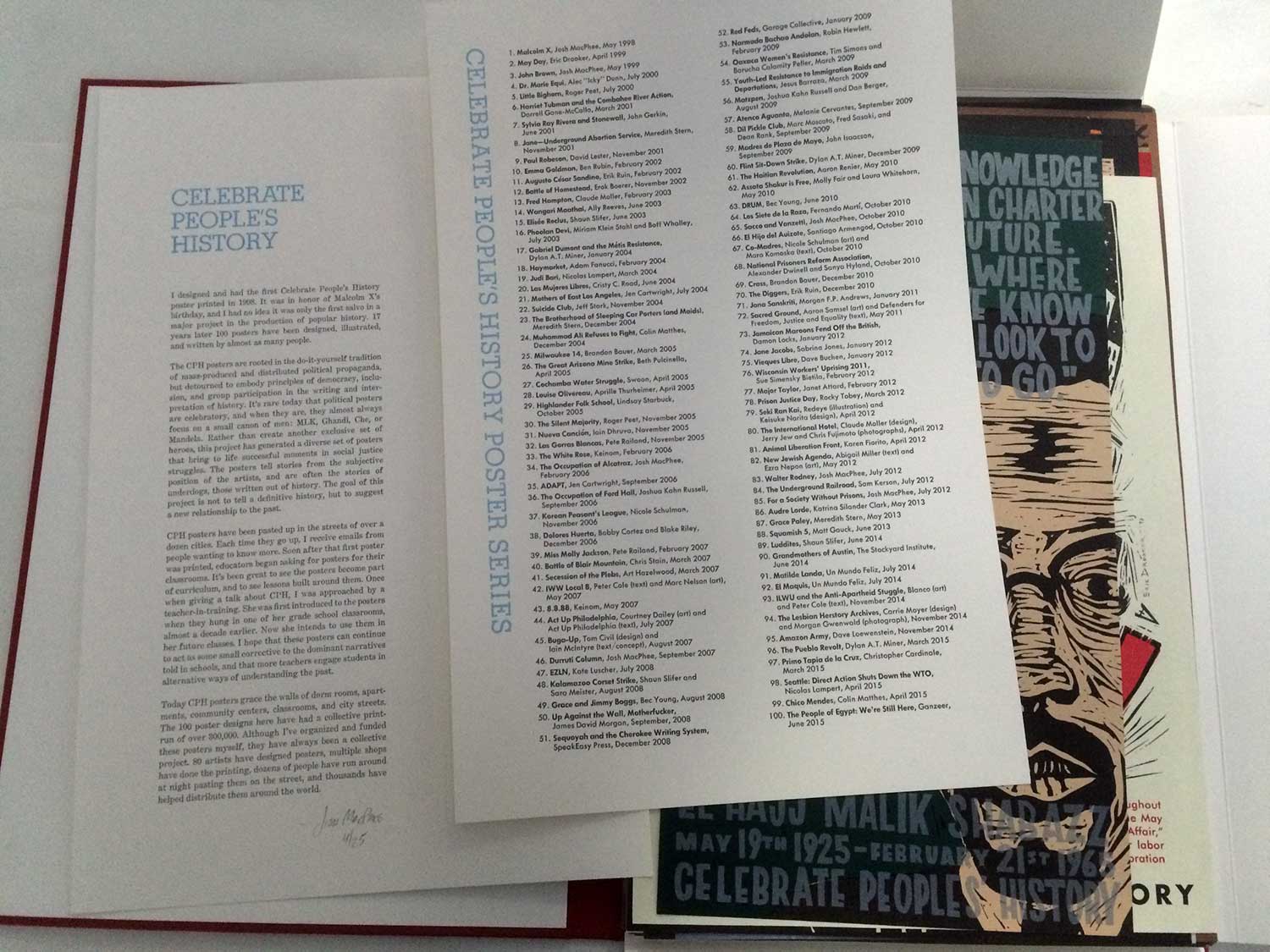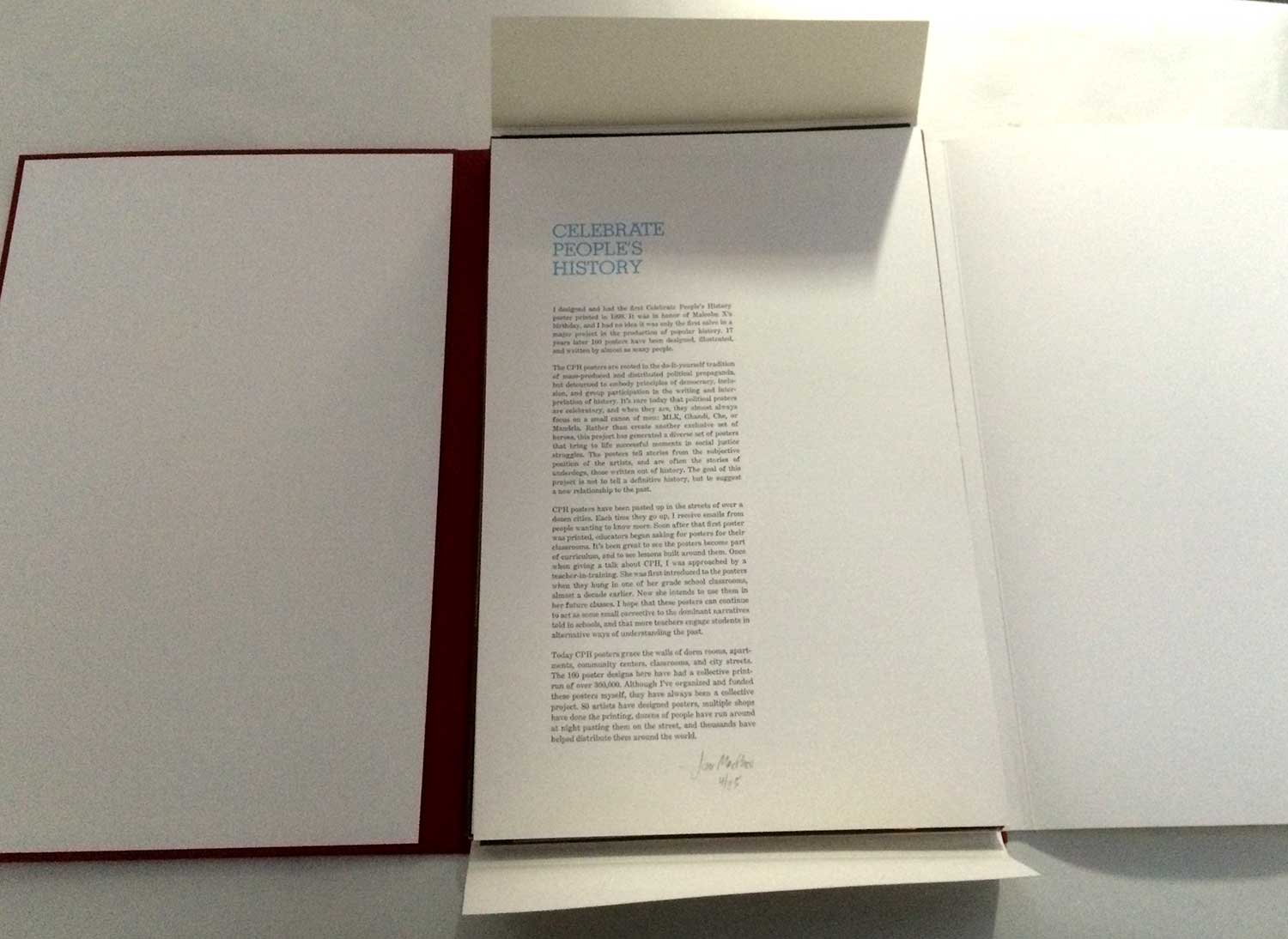 These box sets were produced with the intention of raising funds to be able to continue to produced the CPH poster series. For institutional sales, contact Booklyn Artists Alliance.
Individuals can still purchase a complete set of available posters (usually between 65-75 individual posters) for the extremely low cost of $100 (less around $1.50 a poster!).