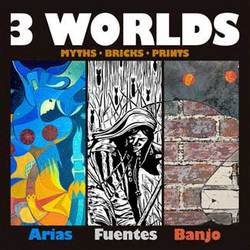 3 Worlds
Myth, Bricks, Prints
Artists:
Luis Arias Vera — Juan R. Fuentes — Casper Banjo
Curators:
Art Hazelwood — Rene Yañez
Dates:
August 14 – September 19, 2009
Reception:
Friday, August, 14th, 7-10pm $5
Mission Cultural Center for Latino Arts
2868 Mission Street,
San Francisco, CA 94110
MCCLA is 1/2 block from the 24th Street BART Station
Entry fee $2
Gallery Hours:
Tuesday – Saturday 10am – 5pm
(415) 821-1155
www.missionculturalcenter.org
A series of videos created for the exhibition are available here
http://missionculturalcenter.org/gallery08.htm
Curators Rene Yañez and Art Hazelwood have organized this exhibition which celebrates artists from three very different worlds and ties their work together through a series of events.
Art Hazelwood is paying tribute to African American artist Casper Banjo who was widely known in the Bay Area before he was tragically shot by Oakland Police last year. Banjo was known as the "Brick Man" for his use of bricks which he used in a surprising range of imagery. This memorial retrospective explores the breadth of his work.
Rene Yañez has put together the work of Luis Arias Vera and Juan Fuentes. Vera, born in Peru, and now living in Berkeley has strong ties in Spain where he has been commissioned to create a significant public art sculpture. He will present a body of paintings as well as the on site creation of new work in collaboration with his son Adrian Arias and other artists.
Fuentes has been a part of the Chicano poster movement since the early 1970s. He has created screenprint posters for countless community groups and political causes. He was director of MCCLA's Mission Grafica screen print studio, from 1999 to 2007. Fuentes will be presenting linocuts and silkscreen prints and displaying sketches and photographs from his participation in a contingent of Bay Area artists visiting Peru.