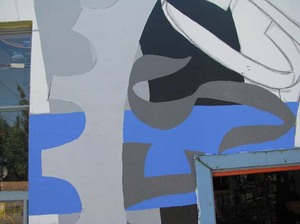 Oof. It's finally summer out here in the Best Coast, and I find myself caught up in a veritable storm of art-activities. When it rains, it pours, you know? Except that metaphor doesn't work because it has only just finally stopped raining here and it will probably start again after a couple of weeks.
In addition to printmaking for Justseeds (new prints about tiger beetles and monarch butterflies and going wild and crazy), I'm painting a big-ass mural for the Citybikes cooperative, on their building at SE Ankeny and 8th. I also have this weird installation/sculpture installed in an art gallery in the mall downtown; it's a bushmeat food-cart serving the severed hands of chimpanzees (read more about that here on the website; lots of juicy info and video links).
So yeah, a lot going on. Yesterday I decided to pack a bit of everything into one day.

I went to the mural in the morning and painted for a while.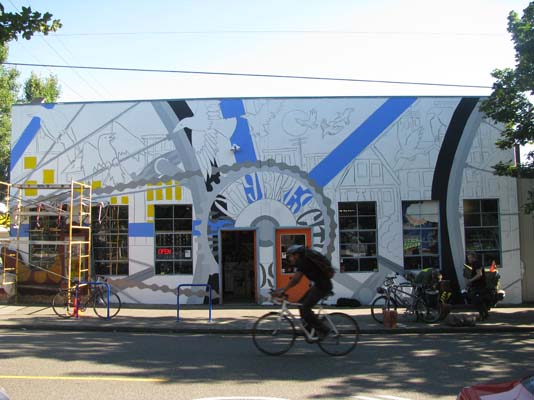 On my lunch break went downtown to the mall and took the food-cart out of its gallery-cage for a trip down the street to the food-cart pod at 5th and Stark. I stopped in front of the mall first.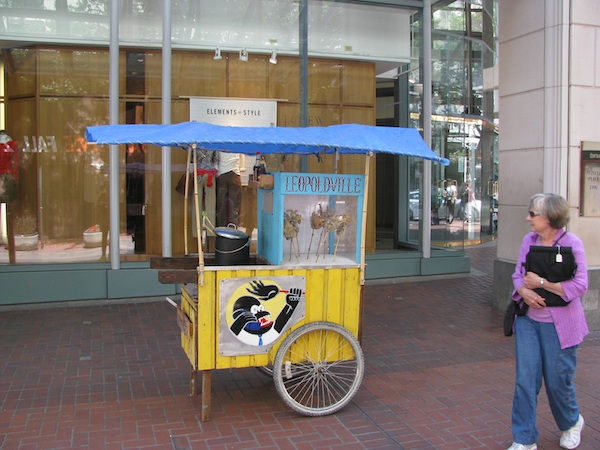 This lady was very nice and said that this was "so Portland".
Then to the carts! I was pretty hungry, and the cart isn't designed so well for long-distance transit (better design next time, after the collapse of society).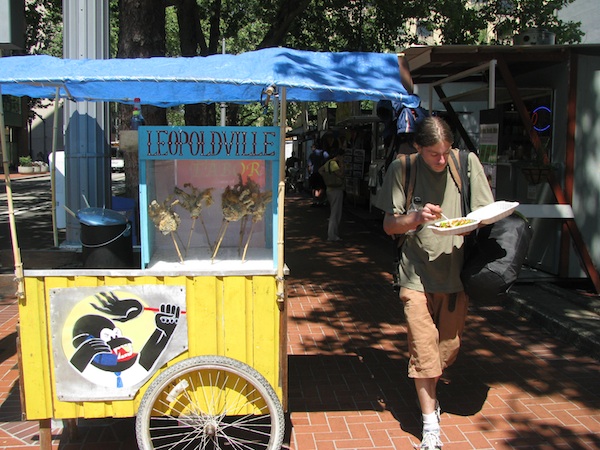 For those unaware, Portland is experiencing an explosion of food-carts. As far as I'm concerned, it's great- I love street food, typically cheaper and often better than the stuff you get when you sit down inside.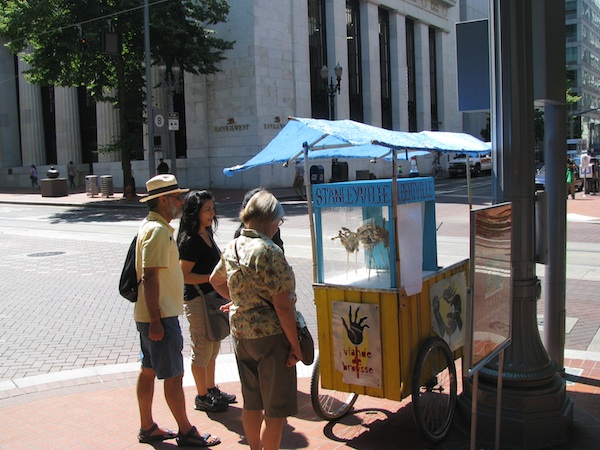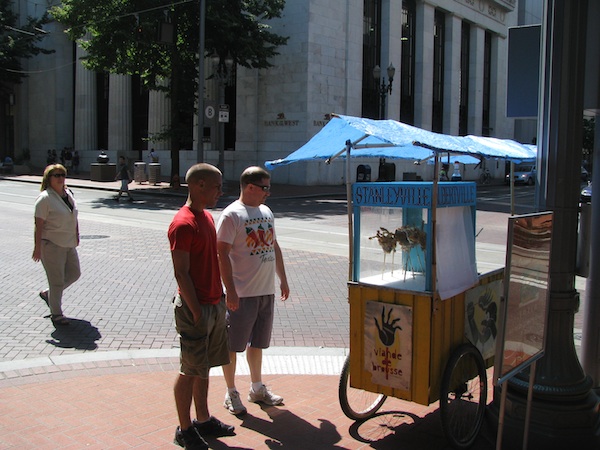 There's lots of fantastic food at Portland's carts, made by immigrants recent and not-so-recent, as well as everyone else. I figured that it would be nice for the bushmeat food-cart to get to meet some friends, you know? A play-date of sorts.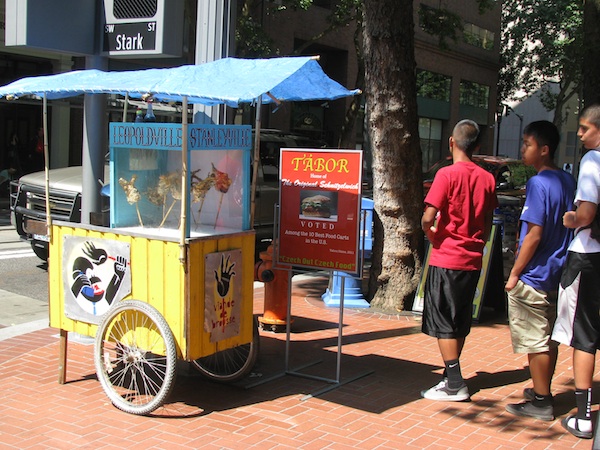 Well, I had my lunch, (korean seaweed rolls with kimchee- kimbop!) and watched the populace interact with the cart.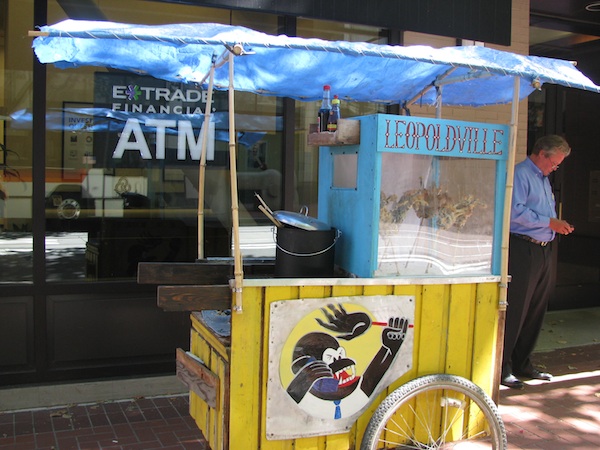 I took some photos and handed out some pamphlets. I had a few interesting conversations.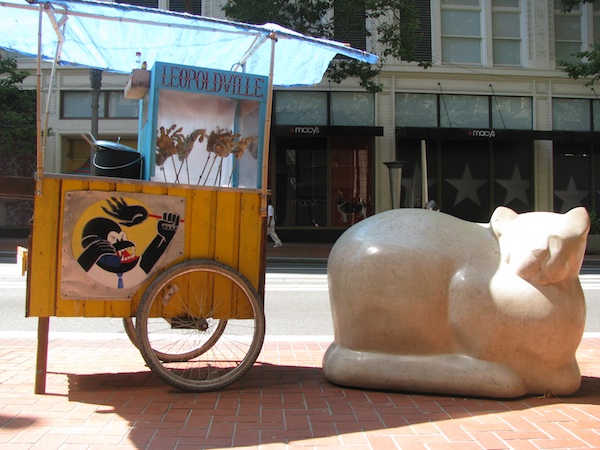 Then I trundled the cart back up the street, into the back entrance to the mall, into the freight elevator and back up to the gallery.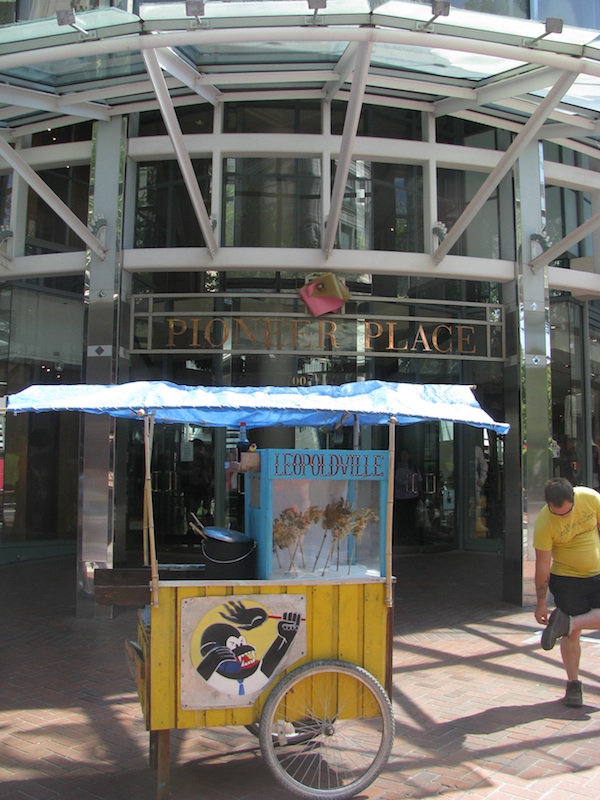 And then I rode back over the Burnside bridge to get back to work.