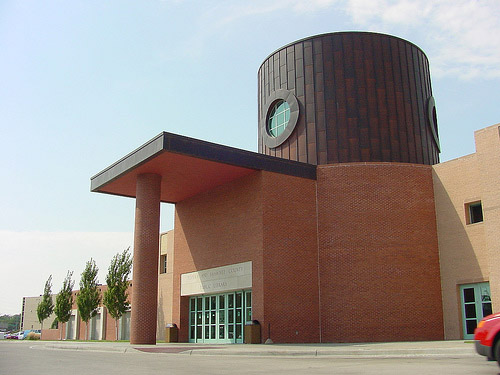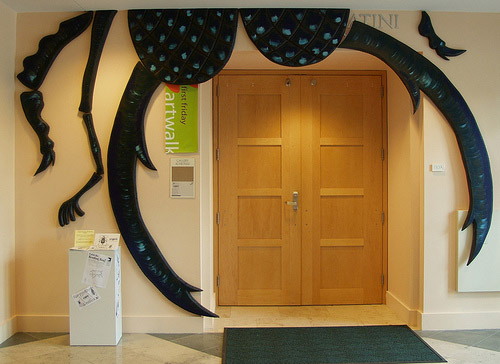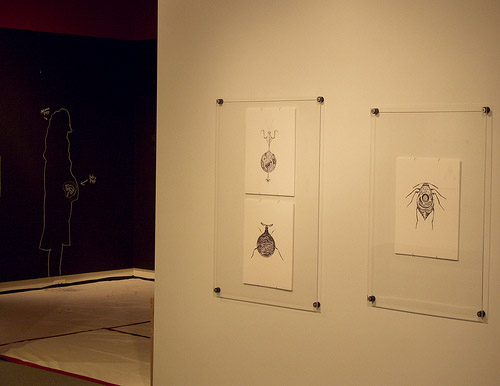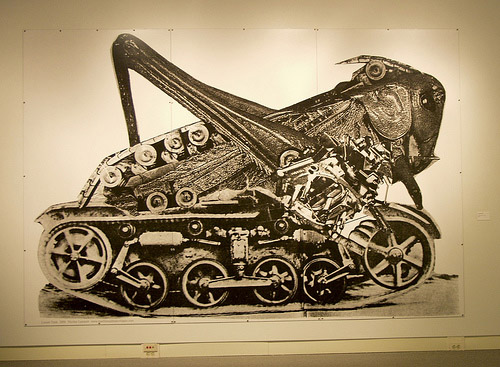 exhibition photos by Heather Kearns
The public library has always been one of my favorite destinations and resources in every city that I have lived in, but rarely have I thought of the library as a location to exhibit or see contemporary art (except, of course, in the many books within the collection.) This changed when curator Trish Nixon and gallery director Sherry Best invited me to exhibit 65 of my
machine-animal
collage prints at the
Alice C. Sabitini Gallery
which is located INSIDE the Topeka & Shawne County Public Library in Topeka, Kansas. As you walk through the main entrance of the library, the gallery is directly to ones right.
The beauty of this is location is that all types of library patrons will stop by and check out the current exhibit and be exposed to the art and the ideas conveyed. The curators also geared the specific show that I was in to kids and set up a room within the gallery with collage source material, a photocopier and supplies for kids to make collages, draw on the chalk-board painted walls, and put up their work up for all to see.
I was so moved by this experience for it was arguably one of the most non-elitist art exhibitions that I have been involved in due to the wide range of people who stopped by to see the show. Although this is a generalization, the majority of galleries, art museums, and even underground art spaces that I know about tend to cater to those who are already in the know — those who already have an interest in visual art and art history. This space did this to, but since the gallery was in such a public space, a space that people were already going to, it attracted many first time visitors from all walks of life or those who needed to pick up a book or video and had a second to stop by and see the show.
This scenario has provided the gallery staff and the artists with a vital opportunity to discuss with the public what it is that artists do and why art is so important to our lives and the health of a community. That said, the gallery staff at the Topeka & Shawne County Library were incredible in how they talked to each visitor and made people feel so welcome within a gallery setting.
To me, this was a valuable lesson that MORE galleries should try to locate themselves in easily accessible, public places. Personally, I am not familiar with any other libraries or public buildings that also have a contemporary art gallery, so if other people know of examples, please post. A contemporary art gallery within a library is such a great concept that it would be amazing to see more libraries and public places adopt the model that the Topeka & Shawne Country Public Library has. Another reason why public libraries rock!
Alice C. Sabatini Gallery in the Topeka & Shawne County Public Library
http://www.tscpl.org/gallery/

more photos of the exhibition:
http://www.flickr.com/photos/topekalibrary/sets/72157605452363426/