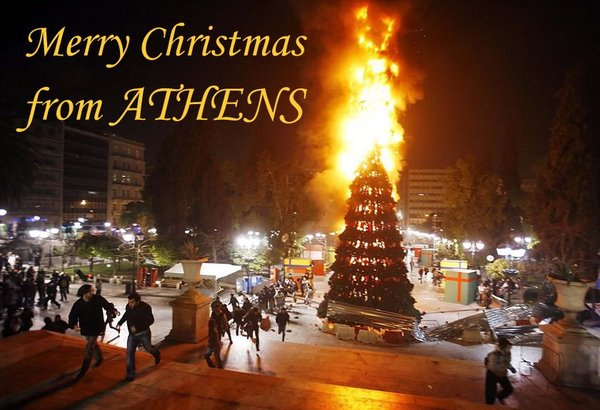 The Christmas tree in the center of Athens, see Icky's earlier post.
Greece: Protests and Unrest Enter Third Week
Protests continue across Greece in response to the police murder of an anarchist teenager, opposition to the government and unhappiness about the economy. Solidarity protests and actions continue around the world

Christmas tree attacked by Greek rioters
By Demetris Nellas
ATHENS, Greece (AP) — Protesters attacked a city-sponsored Christmas tree in central Athens Saturday, tossing garbage and hanging trash bags from its branches before clashing with riot police.
In the northern city of Thessaloniki, a small-group of self-styled anarchists occupied a cinema in the city's main square and threw cakes and candy at Mayor Vassilis Papageorgopoulos and one of his deputies. The mayor was attending a Christmas-related event distributing the sweets to children with sickle-cell anemia, when the rioters seized the stand and threw its contents at the city officials.
The Christmas tree protest had been advertised as part of a day of events in Greece and around the world exactly two weeks since a 15-year-old was shot dead by police.
The crowd of about 150 clashed with dozens of police shortly after 4 p.m. after throwing garbage at the tree in Athens' central Syntagma Square. Riot police used pepper spray on the protesters.
The square's first Christmas tree was burned to the ground on Dec. 8, the worst day of rioting in the Athens center.
Another gathering was set for Saturday night at the site where teenager Alexandros Grigoropoulos was shot dead in the central neighborhood of Exarchia on Dec. 6. A similar gathering the previous Saturday ended with self-styled anarchists armed with rocks, iron bars and Molotov cocktails clashing with tear-gas-throwing riot police.
Government officials and police have been hoping that, as Christmas draws near, protest fatigue would set in. An early afternoon "anti-racist rally" in front of the main Athens University building in the city center was attended by only about 30 protesters, according to eyewitnesses.