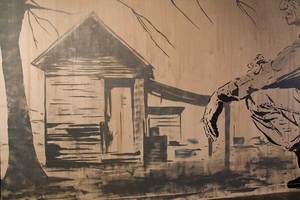 Chris Stain & Leon Reid IV have been working on Ain't Goin' Home Soon an installation that will open tomorrow at the Creative Alliance in Baltimore, MD.
Saturday, May 8, 7-9pm
Creative Alliance at The Patterson
3134 Eastern Ave
Baltimore, MD
As every schoolchild knows, John Henry was a giant of a man, who wielded a 20 pound hammer as though it were nothing, and won an epic contest against a steam engine, only to die on the spot. Henry was a slave, or former slave, and the battle that cost him his life is said to have taken place in Talcott, West Virginia on the Chesapeake and Ohio Railroad. Built from found materials by Leon Reid IV, a statue of John Henry towers over this Main Gallery installation, amidst Hoovertown shacks made of wooden pallets and railroad ties made of cardboard. Giant stenciled murals by Chris Stain form a backdrop melding WPA-era social realism and urban graffiti, expanding on the themes of John Henry's story—struggle and pride, race and dislocation in the face of technological and economic change. In this way, their installation serves as an ideal introduction to Urban/Appalachia, Creative Alliance's series examining the long and complicated relationship between Baltimore and Appalachia, from past generations seeking work in city steel mills, to a generation today shipped to prisons in the mountains.
Opens w/ From Mountains to Maryland at 5:30pm,
& FUSION Hip Hop on the Mountain at 9pm
Here's a timelapse the Creative Alliance has produced, of the first couple of days installing.