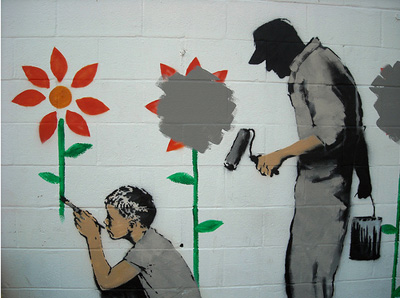 While Republicans tried to take advantage of the potential destruction by Hurricane Gustav, and the anniversary of Hurricane Katrina, stencil artist
Banksy
visited New Orleans to paint his own pointed messages. It appeared like the GOP, and the current administration, wanted to seem caring and prepared for Gustav's believed force, with photo-ops and "promises" of support. Thankfully for the Gulf Coast residents the storm caused no severe damage, and the Bush has to live with
his poll ratings
.
More popular than ever,
Banksy commemorated the 3 year anniversary
with jabs at
military "security"
and the
"Grey Ghost"
, with other pieces that celebrated New Orleans culture and
Second lines

.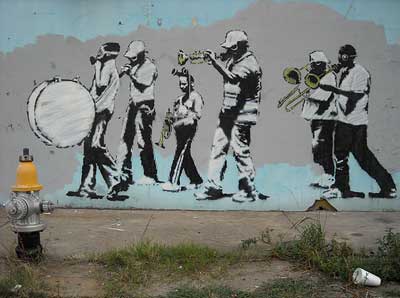 Again using his cleverness and wit to raise some poignant and necessary issues.
Like why, 3 years later,
hasn't the necessary infrastructure been created to protect ALL its citizens from another storm
?
From the Artist himself
.
Photos courtesy of
Dingler1109
Thanks to
NOLA Rising
for raising consciousness of whats goin on!