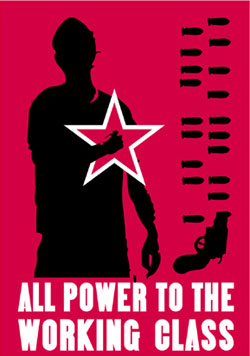 Excited to see this in my inbox, the crew over at
Not My Government
are trying to put together a Bay Area project similar to the
Street Art Workers
:
In collaboration with
Not My Government
, Art for a Democratic Society announces an open call to all visual artists in the Bay Area interested in creating a social/political poster zine. Our goal is to get ten different artists to make one poster each, with the final product being ten 18″x24″ posters, probably printed one color on newsprint.
Once we have the crew of artists together, we will all collectively decide the theme of the poster zine. Possible themes include: health care, war, police brutality, opposing the "new Jim Crow," etc. The process of poster design and printing can be done collectively or individually. A skill-share will be organized to help any or all of the artists involved in the project.
If interested please contact us at:
art4democraticsociety [at] earthlink.net
Please tell us your name, email, phone number, what days and times you would be available to meet, and a little about yourself – your background, interests, skills, etc. Artists at any level of experience are welcome.