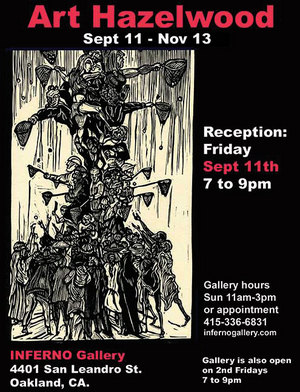 Art Hazelwood
September 11 – November 13, 2009
Reception: Friday, September 11, 7 – 9 pm
INFERNO Gallery
4401 San Leandro Street
Oakland, CA 94601
510-798-7637
San Francisco Impresario, Artist, Instigator: Art Hazelwood brings us his recent works covering the issues in a Post-Bush world. Hazelwood has been creating paintings, prints and public art around the country as well as Germany and Japan since 1984. His work is in art collections from New York to California.
He has curated a multitude of art shows, written articles and engaged in creating art work that strikes at the very heart of political and social issues in our country. He is the co-founder of The Art of Democracy http://www.artofdemocracy.org which gathers together political artists and develops exhibitions across the country to speak out against injustice and motivate the populous through art.