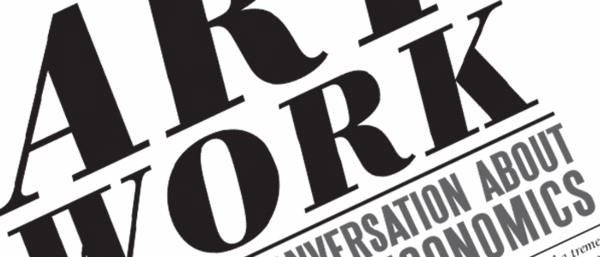 Our friends Temporary Services have just launched a new project called Art Work, including a newspaper with a piece about Justseeds in it, as well as something by Justseeds member Nicolas Lampert. Check it out:
Art Work: A National Conversation About Art, Labor, and Economics
SPACES
Cleveland, OH
November 20 – January 15, 2010
SPACES hosts Art Work: A National Conversation About Art, Labor, and Politics, produced by Temporary Services, an independent, Chicago-based collective comprised of Brett Bloom, Salem Collo-Julin, and Marc Fischer. Art Work is a newspaper and website that uses SPACES as its distribution hub. It consists of writings from artists, activists and academics on the topic of working amidst depressed economies and how that impacts artistic process, compensation and artistic property. The newspaper will be distributed throughout the United States and Puerto Rico.

The independently published, 40-page paper (printed at The Plain Dealer press) features the writings of Julia Bryan-Wilson, author of Art Workers: Radical Practice in the Vietnam Era (2009) and Work Ethic (2003); Holland Cotter, New York Times Art Critic and 2009 Pulitzer Prize winner for criticism; Kristen Cox, Tim Kerr and Nance Klehm, editors for The Journal of Aesthetics and Protest; Julie Deamer, founding director of Outpost for Contemporary Art (L.A.); Harrell Fletcher, visual artist; Futurefarmers, a collective design studio that supports art projects, artists in residencies and research interests; Robin Hewlett, artist/activist; Justseeds: Visual Resistance Artists' Cooperative; Nicolas Lampert, interdisciplinary artist; Lize Mogel, interdisciplinary artist ; and Dan S. Wang, as well as other influential essayists to be announced.
There will be many parallel exhibitions, discussions and event around the country. We will launch a web site soon with additional information. More info HERE.