Mess Hall serves as a blank canvas for artists and activists
By Erinn Morrison, Medill School of Journalism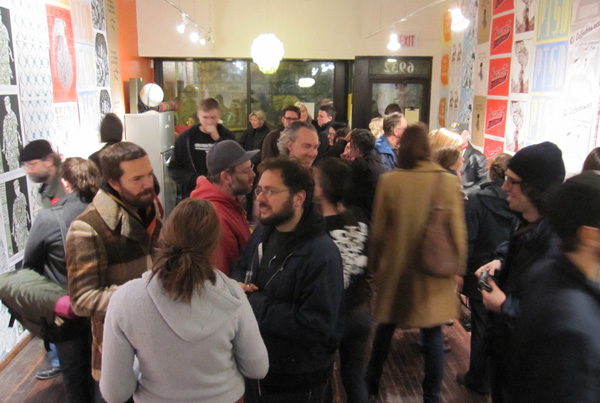 Mess Hall
, a cultural center located in Rogers Park, may be one of the few organizations in the neighborhood that pays no rent for its space. Located in the heart of the Glenwood Arts District, Mess Hall got its start thanks to an unexpected and generous donation from commercial real estate broker, Alan Goldberg.
Eleven years ago Goldberg was in the midst of transforming Rogers Park into an arts mecca, laying the groundwork for the district with the ArtSpace RP building, a property that was developed to provide local artists with gallery and studio spaces.
Seated at the corner of Morse and Glenwood avenues, today Mess Hall is a popular location for creative exhibitions, hosting events like writer's workshops and last month's Iraq War Veterans Against the War gallery opening.

But Goldberg initially found it difficult to find the right group to occupy the space.
"My gallery that was kind of priming the neighborhood as an arts destination kind of disbanded, so we were trying to figure out who to have to run a gallery there," says Goldberg. Then, in 2001, he read an article in the newspaper about an artists' collective called Temporary Services. Attracted to the group's self-described "desire to provide art as a service to others," Goldberg offered Temporary Services a rent-free gallery space in his building.
"After several months of them, I guess, researching me to find out what the catch was and why this guy wants to give us a free storefront, they accepted and signed the lease," says Goldberg.
It was out of this gesture — one predicated on generosity and good faith rather than an exchange of money — that Mess Hall was born.
Walk past Mess Hall today and you're likely to notice what looks like an empty storefront with little more than a desk and a couple of chairs to fill the space. Flanked by office spaces and small businesses, Mess Hall's spartan appearance manages both to blend in and stand out, begging the question of what exactly the storefront is used for.
According to several of Mess Hall's "keyholders" — the organization's answer to a board of directors — the space's mysterious appearance is not a mistake.
Keyholder Rozalinda Borcila sees Mess Hall as an untraditional arts space that does not ascribe to a specific identity but instead relies on the social interactions and group projects that take place there to define it.
For Borcila, Mess Hall is devoted to answering the following questions:
"What would it look like if cultural institutions were run by the people who used them? What kinds of culture, of communities and institutions would that produce?"
Nicolas Lampert, a fellow keyholder, describes it another way. "I really view Mess Hall as an experimental cultural center," says Lampert. "Different events happen there every week. It really expands on the interests of the "keyholders" and all the interest that we get."
Mess Hall's 10 members are responsible for planning events and reviewing proposals for the use of their space. As Mess Hall evolved, it became more community-oriented over its six years of existence, with current members residing either in Rogers Park or in neighborhoods nearby.
"They were living in Lincoln Square, Logan Square… they weren't Rogers Park folks," says Goldberg of the original Temporary Services group. "More people from the neighborhood are involved than there were originally."
"Temporary Services kind of backed away three or four years ago," says Lampert. "These keyholders kind of took it in the opposite direction. The new keyholders really tried to open up the space to the local community."
Though the Temporary Services group has moved on, Mess Hall retains that organization's dedication to doing group projects and bucking the trend of consumerism and competition that some keyholders feel has engulfed the art world.
One example of a Mess Hall group endeavor was the gallery opening for a collaborative exhibition between artists' collective Justseeds and the Chicago chapter of the Iraq War Veterans Against the War on Nov. 14. The show was the culmination of the IVAW campaign, "Operation Exposure: War is Trauma," which speaks out against the redeployment of traumatized troops and is a response to the recent epidemic of suicides in the military.
Mess Hall keyholders, Justseeds members, war veterans and their supporters gathered in the space, which Justseeds artists transformed from its usual bare storefront into an exhibition space for their satirical anti-war posters. Nearly every inch of the walls was pasted with the prints in the "wheatpasting" style often used in wartime propaganda campaigns.
Aaron Hughes, an IVAW team leader and Iraq War veteran who served from 2003 to 2004, contacted Lampert about creating the posters for the organization.
"We've never done a direct collaboration like this with an arts organization and it's just amazing," says Hughes, who is also an artist. "I'm humbled that they made so many amazing posters that deal with this issue."
For Kevin Caplicki, a Justseeds artist who created a satirical poster reminiscent of baseball team logos that read, "Support G.I. Resistance," doing artwork for IVAW's campaign was an opportunity to work with an organization he had admired and respected for some time.
In addition to the posters, the Justseeds artists each created more traditional, fine art editions of their prints to donate to IVAW for fundraising purposes.
"We don't necessarily create art for art's sake, for our individual benefit, although we want to create something that's viable, personally and as a group," says Caplicki. "We also want to create something that can benefit the collective and benefit people that we work with."
Manuel Mora, an Army veteran who traveled from Milwaukee for the exhibition, expressed his gratitude for the event, which he saw as an opportunity for veterans to show solidarity with one another.
"The event, I think, is very wonderful and very helpful. For myself, seeing other art displays and talking with other vets, it's a way to really connect," says Mora. "We need more people to be more aware of soldier's issues."
As Mess Hall continues to host unique events in its unassuming storefront, Alan Goldberg looks on, pleased that his initial donation is bringing culture to the neighborhood.
"It's the big heavy hitters that donate to the Millennium Parks of the world… but they don't always benefit regular artists," says Goldberg. "I like the down-to-earth kind of assistance and it being resourced to the artist that doesn't have access to the $40 million being donated to whatever institution."
Hosting events like the Justseeds/IVAW exhibition undoubtedly has been rewarding for Mess Hall's keyholders, though some admit the nature of their services has caused some stress within the ranks. "It's very selfless work. Everything we do is volunteer," says Lampert of Mess Hall's busy schedule.
Mess Hall has been so open and willing to accept proposals, in fact, that its own identity has become a little unclear. "We just want to tighten the reigns and become more specific," says Lampert.
True to its experimental nature, and in an effort to redefine its identity, Mess Hall will be going through a transformation in the coming months. Keyholders say they are in the process of deciding with what's next for the organization.
Though the future of the center may be unclear, Mess Hall's members are committed to maintaining its collaborative philosophy and to keeping its doors open to local artists and activists.
"Being completely welcoming, that everything is shared resources, kind of challenges the way the art world works," says Lampert. "It's not about selling objects. It's about community. It's about conversation."