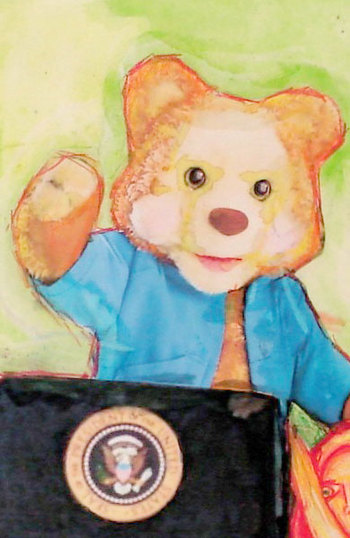 Here's a new art site trying to grapple with the fact that we're 5 years into a never-ending war, and most of us have moved on to pretend that it isn't happening.
Artists At War is just starting out, but it's worth taking a look at and thinking about contributing to. it's a good thing to ask artists to respond to the larger world and to think about the war. Here's what they have to say for themselves:
Enter art, culture, TV, fashion and filmmaking. What does the current cultural output say about our subconscious grievances, fears and desires percolating below the surface in a society where we perpetrate unfounded war abroad? What role is culture playing in galvanizing a collective understanding about the troubled times we're living through?
War threatens our imagination as well as our humanity, which are qualities that every artist thrives on. This website seeks to provide a solid foothold of subversive artwork that can support a thread of defiance and demystification through the culture at large.
Artists At War is a collaborative project organized by LA artists Steven L. Anderson and Thomas McKenzie. New projects will be posted monthly ad the first project is work by Los Angeles artist Charles Irvin, with four pieces that explore the nature of the political press conference.