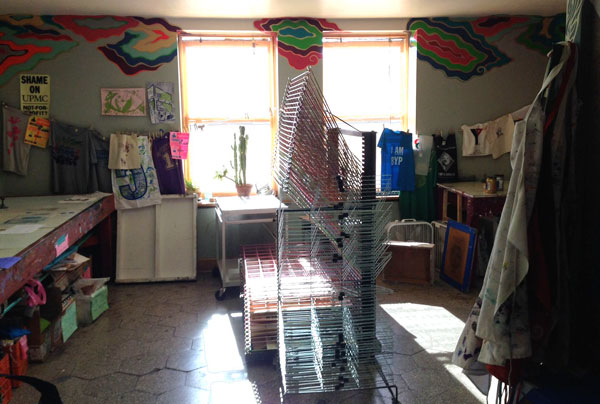 The Neighborhood Print Shop is a beautiful community based printing space in Braddock, PA. Braddock is a small town about 7 miles outside of Pittsburgh, a site of one of the last functioning steel mills in the area, and it also is the location of the first Carnegie library in the US. The Print Shop is located on one of the upper floors of that library (accessible by walking through the library's basketball court).

It's really nice up there and would be an inspiring place to work. It is a colorful, vibrant, and airy space with lots of natural light, a decent amount of room, and many awesome prints hanging on the walls. Being there, I was reminded of some of the art/printing collectives in South Africa which set up people's print shops in the townships and shared with people the basic tools to make posters for issues that were local and relevant to their lives. Many of the prints on the walls there (and in the pictures below) were made for the (unsuccessful) fight against the closure of the Braddock Hospital in 2010 by the UPMC health conglomerate.
The print shop is open every Saturday from 9:30-3:30, it's free for residents of the local zip code and $5 (plus cost of supplies) for everyone else. It has both silk-screen and letterpress equipment for use. For more info you can email: print@braddockcarnegielibrary.org.
The print shop is located at the 419 Library Street in Braddock, PA.