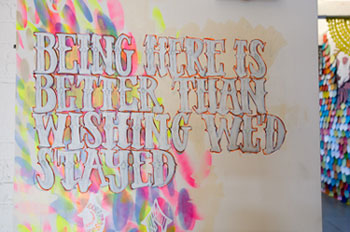 I recently spent three weeks collaborating with 15 other people from the
Miss Rockaway Armada
on a "mezzanine" hallway at
Mass MoCA
. The project was really fun, and I'm proud of the product. The Armada was given a space that is used by student groups, visiting the museum, to eat meals. So instead of creating an installation that documented the journey down the Mississippi RIver, or designing a cafe,
On April 1, 2008 members of the Armada gathered in North Adams to build again for three weeks. The group worked together to sculpt this space, each member contributed individual projects to the overall design. It is a place where you, our visitors, can gather, play, eat, look, touch, and explore
Working with such a large group of people, formulating everything from the theme, to aesthetics, to functions, to well, everything, was, at times, a little bit frustrating. It was also the impossible ideas and dreaming that brought us in to the space to begin with. So the "off the top of the head" ideas were considered, and eventually incorporated into the installation, caves, tunnels, space ships… It was that kind of imagination with the skills of everyone involved that helped manifest our installation.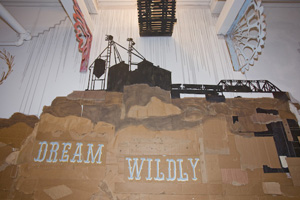 Walking thru the space you'll find two platforms that provide seating and eating space for around 25 people, our only "restrictions". We scrapped, scavenged and pilfered, 98% of the materials used for the installation from surrounding towns, yards, and MassMoCA's compound of buildings, where old installations are stored. Tables were made from Bavarian milled lumber floated over the Atlantic for other artists structures, and stools made from hacked up bike frames or desks. We were given such a small budget to work with and used our resourcefulness and heads to come up with something that we hope you get the opportunity to experience in real life. There are so many things to interact with, beyond brown bagging it, a marionette puppet, secret rooms, a "space ship" to listen to Rockaway Radio(clock radio's playing a radio stream transmitted in the space), a "story mill" to type out your wishes on an old Royal typewriter(strange thought, it will be the first time some children will see a typewriter), and walls full of "advent" calender-esque shrines, doors, windows, and diorama's to open, close, look thru, and be inspired by.
Following is a video walk-thru shot by
SuckaPants
Tod's camera and see the "thing" we made!
Photos taken by
Tod Seelie
Check out a whole Gallery of images of the installation at
Everyday I Live
Check out-
Antlered Girl
or
BlueCinema
for more flicks