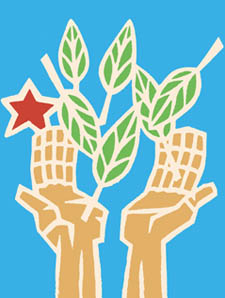 Sunday, November 15th
1:00 – 4:30pm
Eastside Cultural Center, 2277 International Blvd. (at 23rd Ave.) Oakland, CA 94606
FREE. Donations accepted.
Creating Radical Graphics is a one-day mini-conference for Bay Area political printmakers to reflect on recent campaigns, define shared goals and plan a strategy for the future. This event will include a panel and a community meeting, featuring:
Melanie Cervantes, member of Taller Tupac Amaru, an Oakland-based, printmaking studio
Greg Morozumi, co-founder of the Eastside Arts Alliance
Eric Triantafillou, former member and co-founder of the SF Print Collective
and others!

How do capitalism and imperialism impact our work, and how can we fight against them? Is our artwork is successful, and what are the criteria for success? What are the goals or strategies that unite us as political printmakers? What is the future of political printmaking? Creating Radical Graphics for Our Liberation will be an opportunity to answer these questions and discuss the shared goals that we have. All people are welcome, but our focus will be on political printmakers who use graphic art to reach a mass audience. Our definition of printmaking includes silkscreen, offset, lithography, stencils, photocopies or digital prints. Bay Area artists, curators, archivists and political organizers are encouraged to attend. This event is free and wheelchair accessible. Free snacks and drinks will be provided.
For more details, visit http://www.sfprintcollective.com/events.html