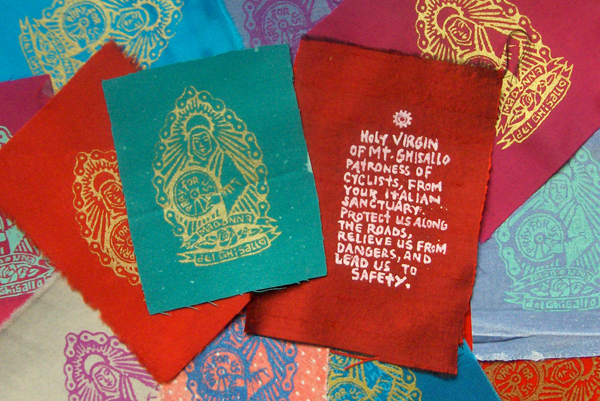 My pal Leslie at Transformazium is selling these Madonna del Ghisallo (patron saint of cyclists) patches to raise funds for the silkscreen studio at the Braddock Public Library, where I have been staffing Open Studio and printing lately…check out their etsy site
HERE!
and info on the silkscreen shop
HERE!
This two-sided hand-screenprinted patch is for those who take to the streets on two wheels. It is a talisman for the messenger and the commuter and the cross-country adventurer. Originally distributed freely to fellow cyclists by creator and Transformazium member Leslie Stem, these are now for sale to raise funds for Transformazium's Neighborhood Screen Printing Shop in Braddock, PA. Each grouping of four is unique; share them with friends and loved ones.
Each patch is printed on fabric found travelling; some are taken from paint tarps, silk dress hems, and even dead umbrellas. The fabric has a lot of character and can have marks, and the edges are all rough. The prayer side is often printed faintly, it is meant to be there in intention alone and on thinner fabric would disrupt the saint graphic if printed heavier.