Earlier this month – from December 4th-14th – I was in Paris for the lead up to the D12 demos that took place on the day that world "leaders" signed an agreement at the COP 21 conference on climate change. As many know this conference took place during a State of Emergency following the terrorist attacks in November whereby the French government deemed all demonstrations of two or more people as illegal. A large-scale march – akin to the People's Climate March in NYC in 2014 was cancelled – but none of the groups or thousands of activists from around the world had any attention of not going through with D12 – a day of civil disobedience on December 12th in Paris (and many other cities around the world acting in solidarity.) I went to Paris with some goals in hand: make art to help promote D12 and help out with the art that would be carried in the streets that day. I also wanted to be sure to document it all through photos and now digging through 3000-plus photos I am able to make sense of some overall themes and threads. The first thread – and first post – is on the Jardin d' Alice space in Montreuil – just on the outskirts of Paris.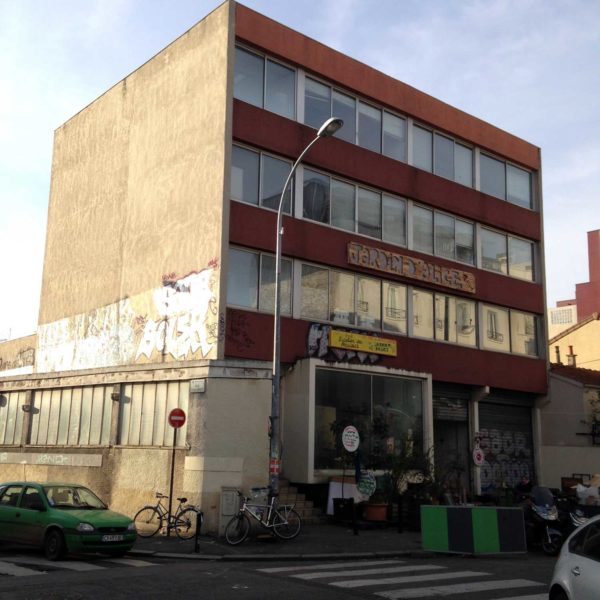 The people who run Jardin D'Alice formerly squatted another building-turned-community center which included a rose garden grown by an gardener named Alice, hence the name of a new space that was named in her honor. Today Jardin d' Alice operates as a hub of organizing and creative energy in Montreuil. This past November and December it served as the "art build space" for the D12 demo. For 3-4 weeks prior to D12 it was a hive of activity and typically looked like this: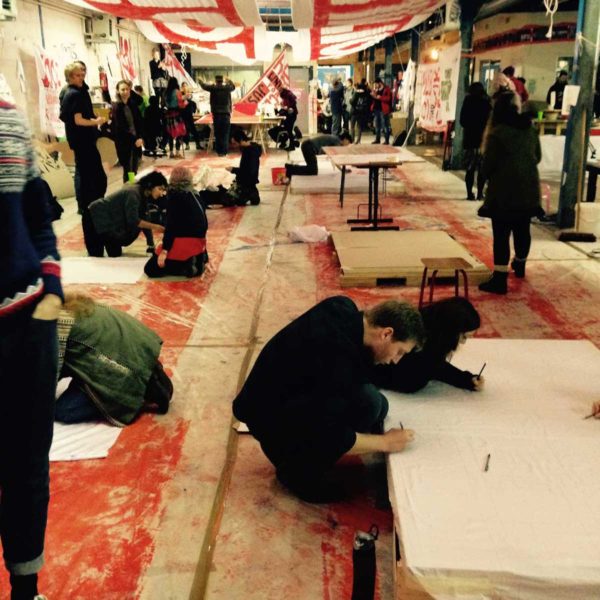 And sometimes like this: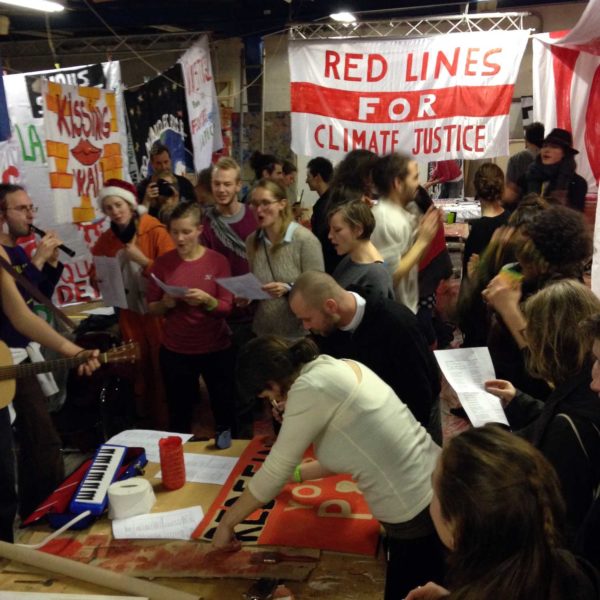 It was akin to the May Day space in Brooklyn that served as the art build space for the People's Climate March. It was also a reunion of sorts. Much like the May Day Space many of the same groups and people were present at Jardin d' Alice: Tools for Action, the Indigenous Environmental Network, 350.org, and David Solnit.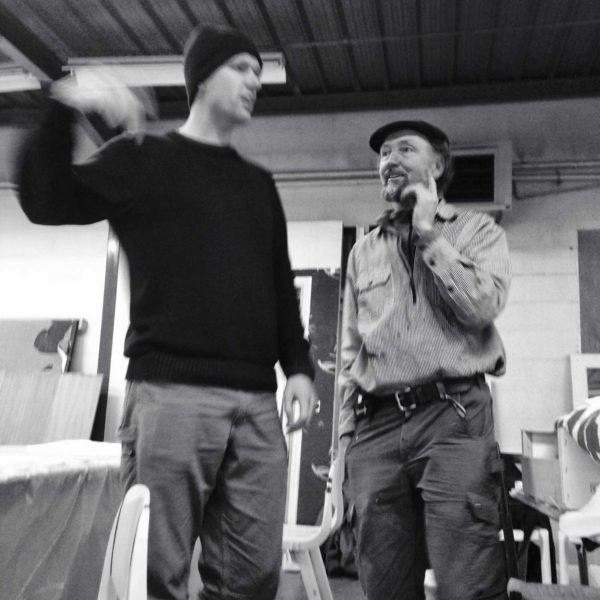 Solnit was my main connection to Paris. He has worked as an artist in movements for decades and is now the 350.org arts organizer. I equate him to being a radical art carpenter or foreman. Instead of leading a crew to build a house, he helps lead a crew to paint massive banners and hundreds of flags for demos. Whenever anyone at Jardin d' Alice needed materials, a table to work on, a project to lend a hand on, or a task to complete, one went to Solnit. And when many of the artists rolled in to start their day at 11am or noon, Solnit had already been there since the early morning – getting things organized. He put many of us to work, including Aaron Hughes of IVAW and Justseeds.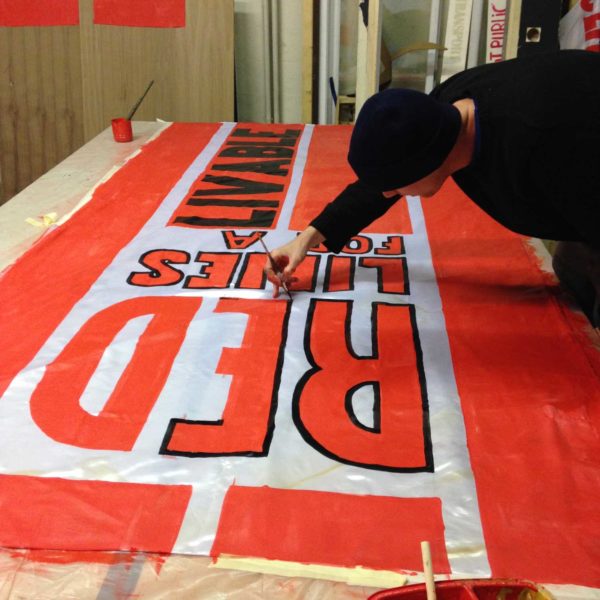 Solnit also coordinated with 350.org some of the core messages for the D12 banners.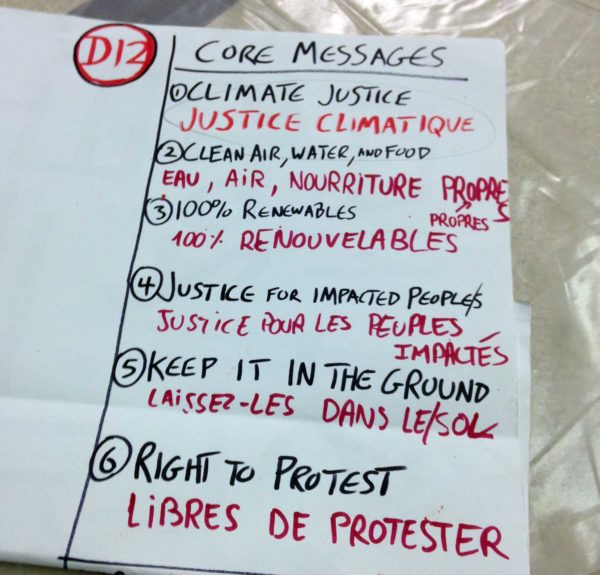 He led the painting of two 300 ft (100 meter) banners.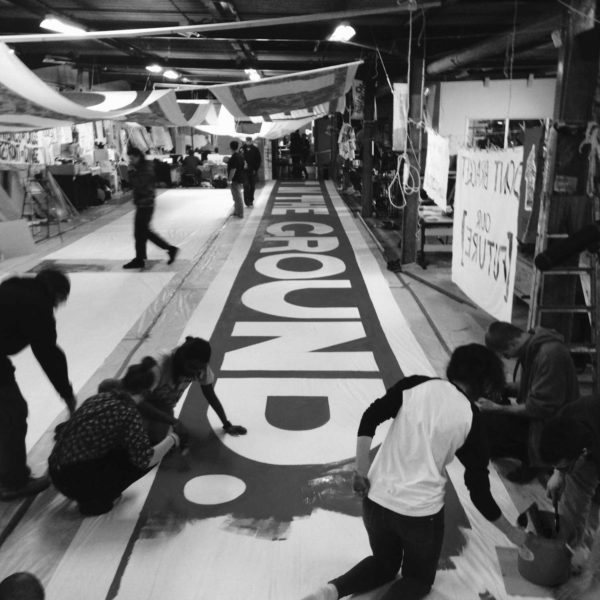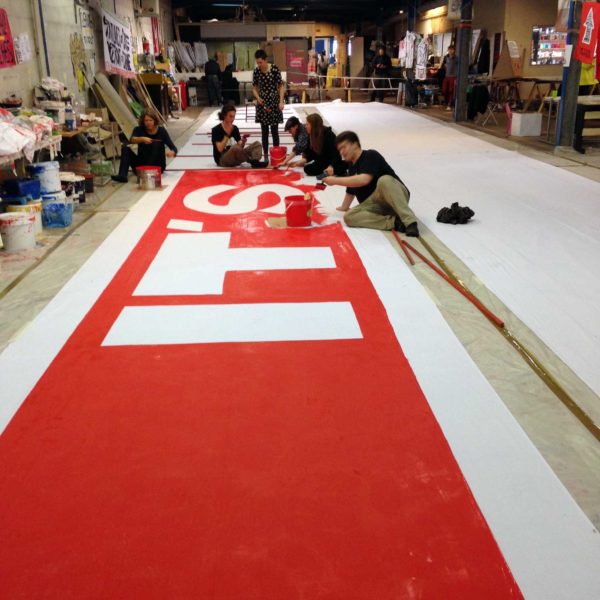 These banners featured a red line that mirrored the message of D12. There are red lines that we – people's movements – must hold. We must confront climate crisis and corporate capitalism with mass movements and with civil disobedience. People's movement have led the climate justice movement over the past decades, not the corporate pawns sitting inside the COP 21 conference. They may have adapted some of our language, but the steps they take are too slow and too embedded in the culture of money and power to prevent ecological collapse. People's movement are demanding much more urgent steps: a 100% shift to renewable energy, keeping the world's remaining fossil fuels in the ground, a system change not climate change, and leadership by front line communities.
These themes were front and center in the art being created at Jardin d' Alice.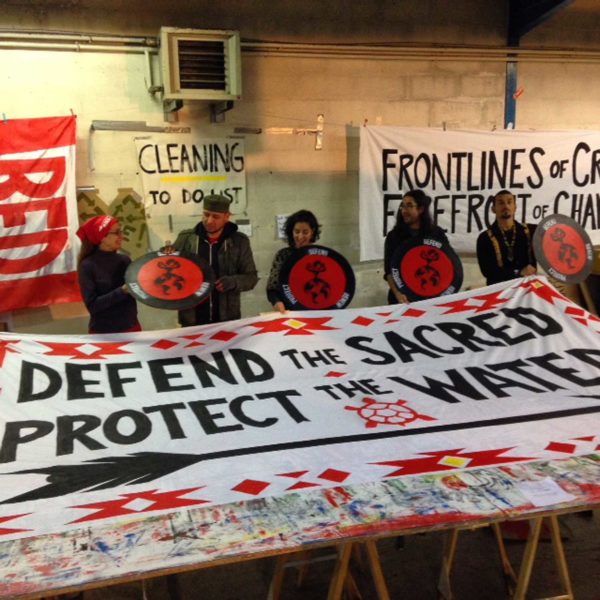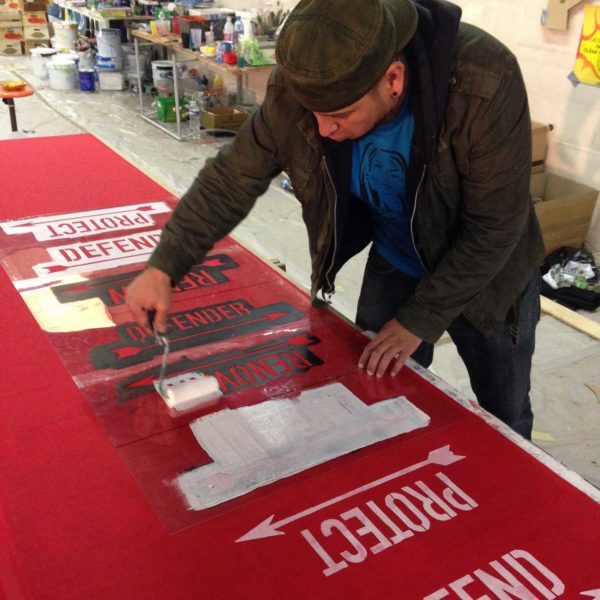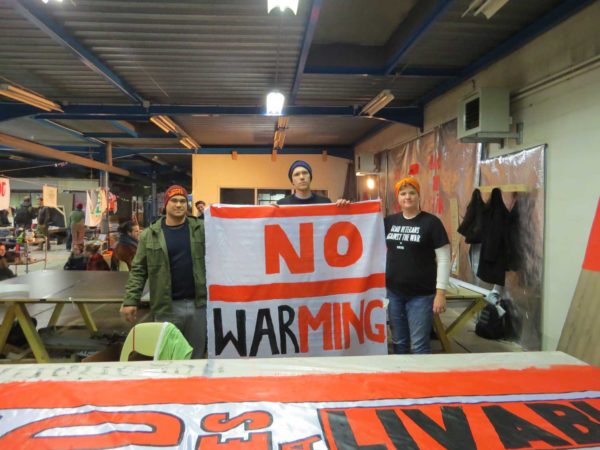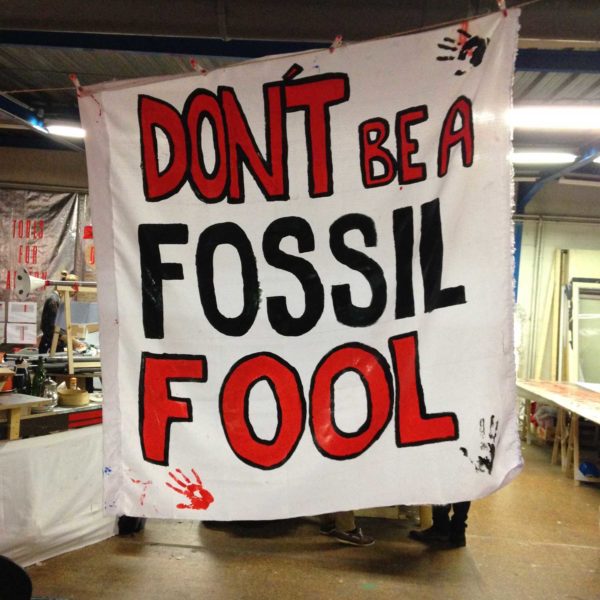 Each day at Jardin d' Alice there were multiple projects happening at once by a host of different groups. Some were working on making art for different demos throughout the week – not just for D12. Others were working with Tools for Action making inflatable sculptures, or in words of John Jordan "Blockades for the 21st Century." These sculptures looked like giant cubes or cobblestones (a reference to Paris 68). And throughout the week Tools of Action tested them out in the neighborhood.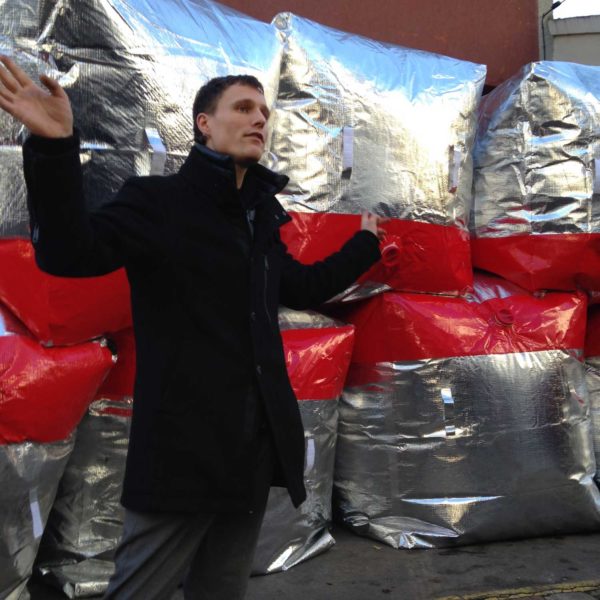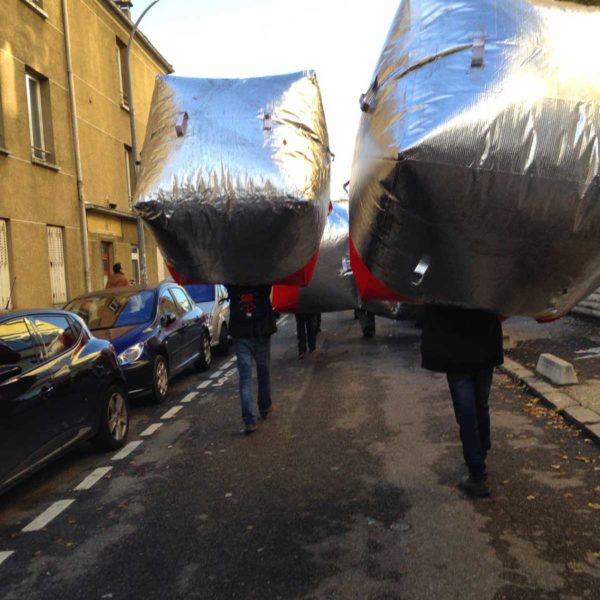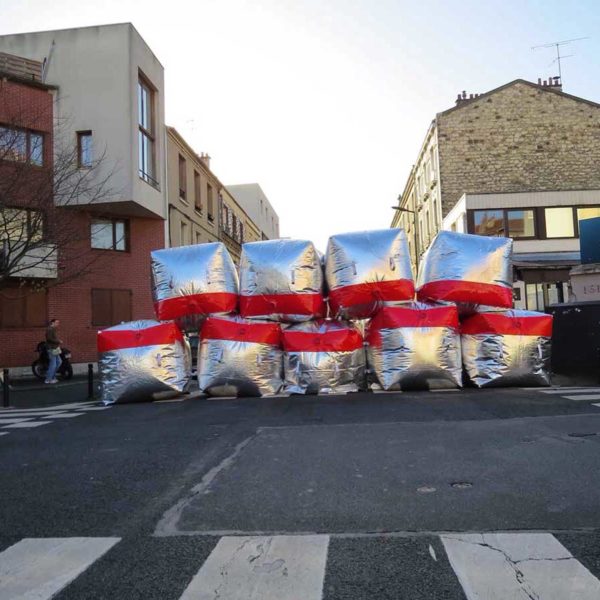 This project – Tools for Action – is beyond amazing. It reminds us that creating change, creating art should also be fun. Blocking a street with giant cubes is FUN. It was amazing to see in the practice run how "art" can completely change the dynamic. When we were blocking the streets during a test run irate motorists would have a fit that they were held up for for a few minutes. But when we told them it was art they would smile and all was good. I'm am not so sure the cops would have the same sense of humor, but these sculptures show what can be done when you harness the subversive powers of what art is and can be.
Similar to the cobblestone reference, I focused much of my time in Paris on making Paris 68 remix designs. Prior to coming to Paris another project that I work on – Climate Prints – hosted downloadable graphics for D12.
I designed a poster for D12 that was offset and wheatpasted around Paris.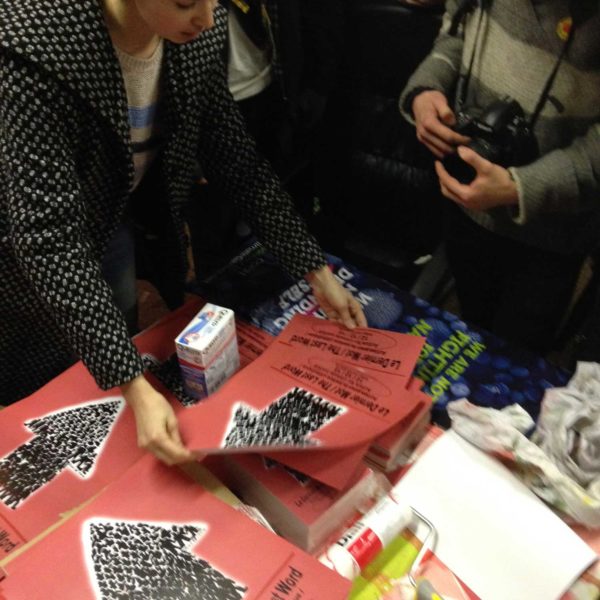 I also painted a series of flags with the red arrow design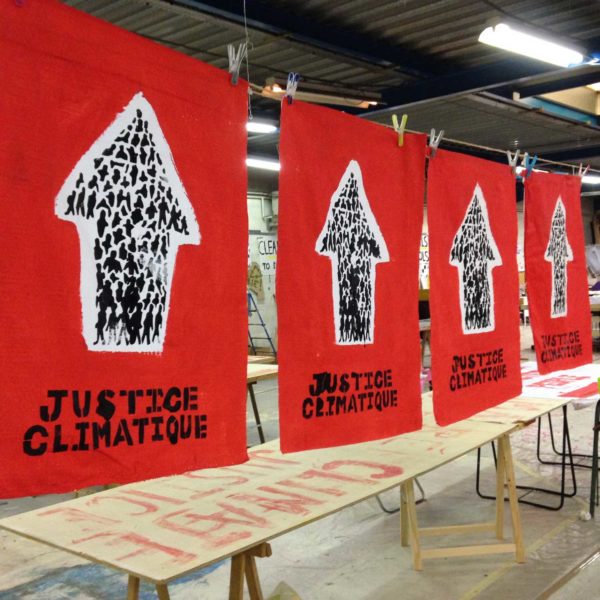 And other designs that used the anvil Paris 68 design as its root. (the image to the right is by Josiah Werning of Climate Prints.)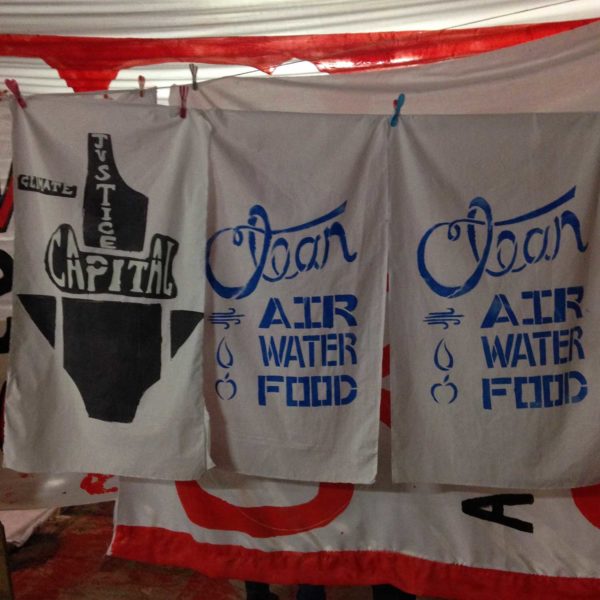 I also hung the new Justseeds/Culture Strike portfolio "We are the Storm" in the entrance space of Jardin d' ALice.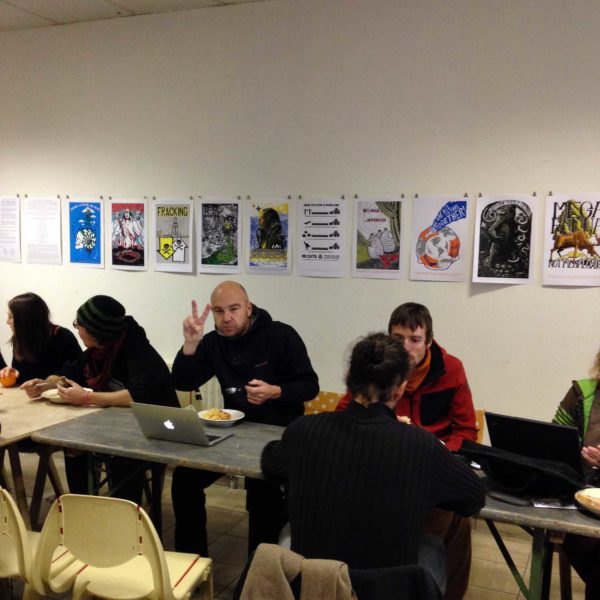 But mostly, I immersed myself in Jardin d' Alice painting banners, learning from artists from all over the world, and enjoying time spent in another great art build space. Here are a few more photos. In subsequent posts I will highlight D12, Paris street art, and other creative actions that took place outside of COP 21.

(Quentin holding down the sewing station.)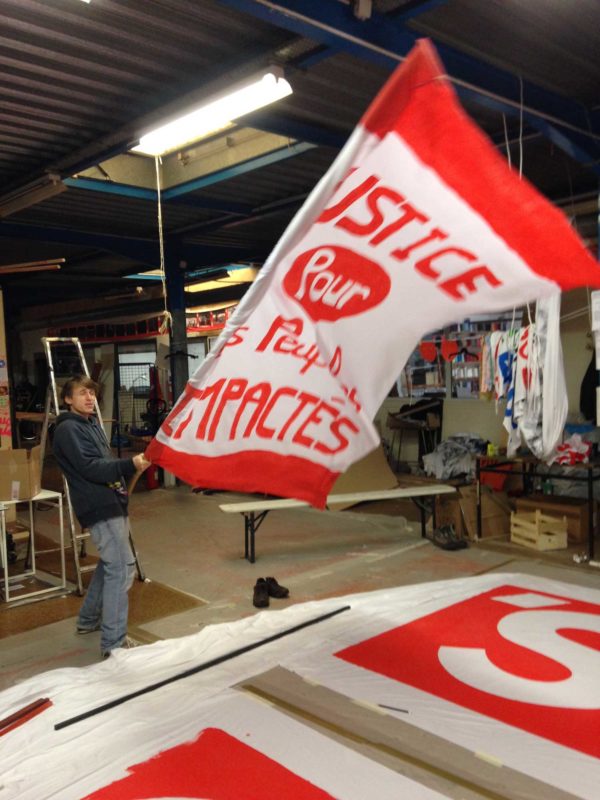 (Quentin testing out the weight of flag and bamboo pole.)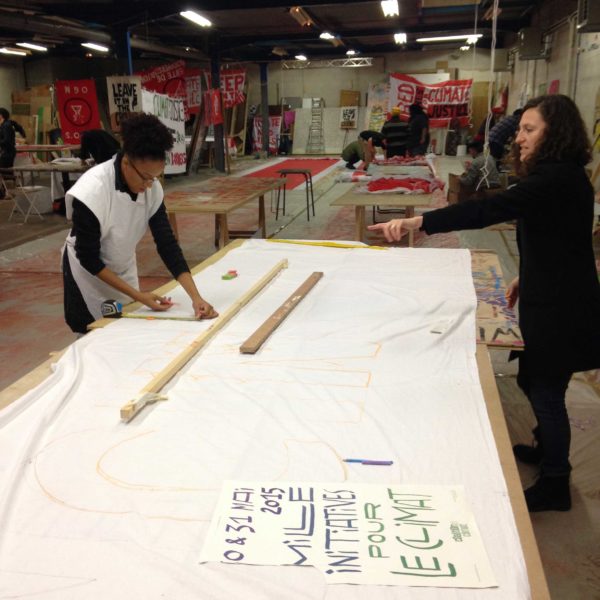 (Midwest represent. The Detroit crew in Paris)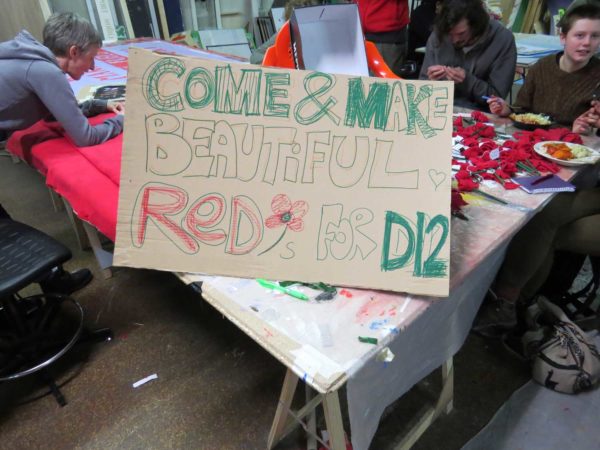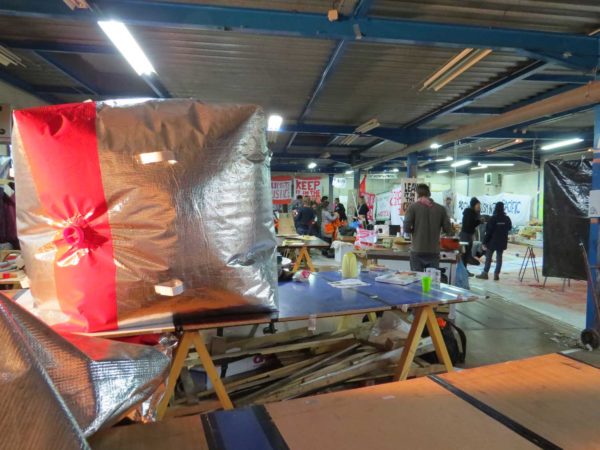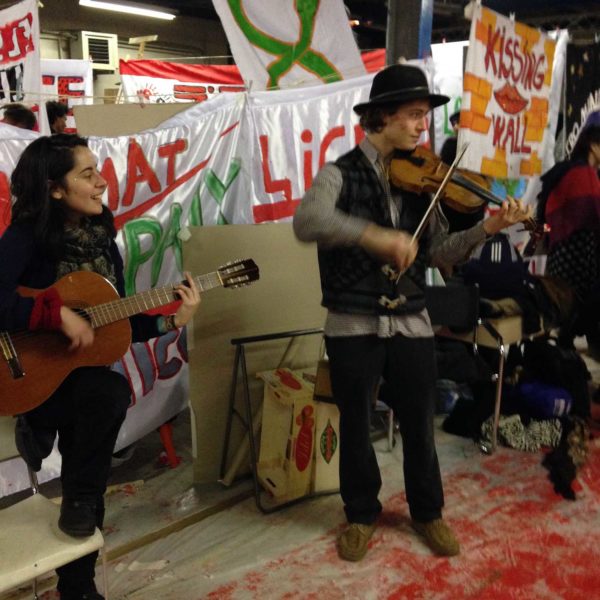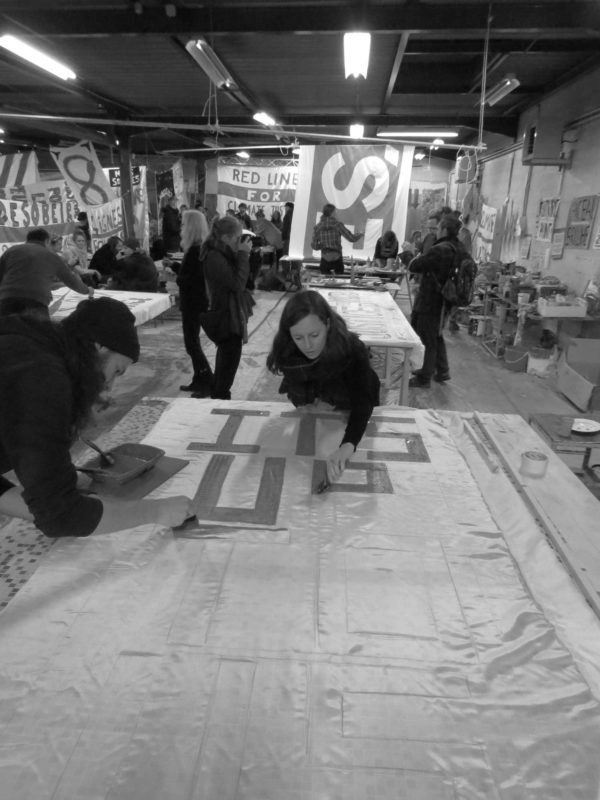 (crew from Halifax painting a banner)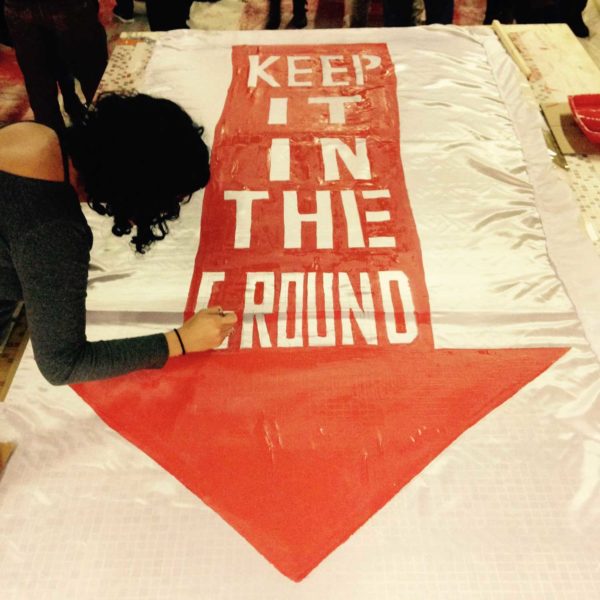 (Brooklyn crew. Raquel painting a banner)