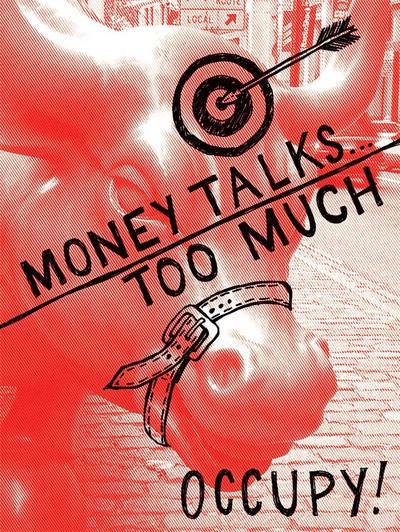 I've been trying to synthesize some of the ideas (and add some of my own) coming out of Occupy Wall Street here in New York City in order to try to create some better-designed messaging, possible posters, images for people to use, etc. I'm going to start posting some of these designs here on the blog, and I'd love feedback to help narrow down which ones work best. I hope to start printing some soon, once I get a handle on which are communicating.
The trick with doing this is that there has been little clear messaging out of the movement, especially with content I find compelling politically. Many of the signs at the occupation, and the Occupy Wall Street statement, reference a "THEY" as an amorphous bad guy? Capitalism is an economic system, one in which we all participate to varying degrees—and are all largely beholden to for survival—whether we are janitors, artists, or CEOs. When we start anthropomorphizing this system as a set of people, things get really slippery, and politically questionable, really fast. There is only a couple degrees between labeling the "Bankers" as the bad guys before we slip into the evil "Masons," "Lizard People," or "Jews." I ain't going there.
Anyway, here are some early designs, let me know what you think. Once I get some feedback, I'll start putting up higher-res versions for people to use and print out.

Lots of people gave feedback to get to this point, and Cindy Milstein and Dara Greenwald crafted a lot of the specific language.