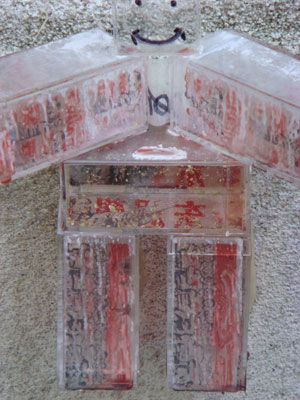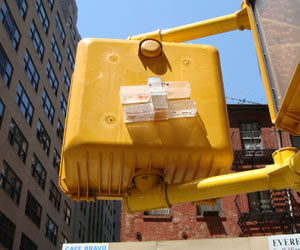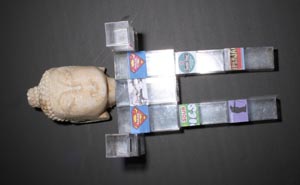 These little guys have been showing up in the streets of NYC over the past couple years, and we just got an email from their maker. Here's what he has to say about the project:
The purpose of the drone is to discuss, and provoke thought within, the audience's own constitution and break the lackadaisical and monotonous thought process which we as Americans seem to have been thriving on since I've been around. We are no longer slaves to the institution but merely strangled by wealth because we are poor, black, native, or uneducated. We seem to be constantly chasing to be a part of that shackle that binds our instinct as we revel in our loss of individualism. The drone is meant to address the sculpting of minds by every type of institution: communism, greenpeace, fox news, the Catholic church. The medium of marijuana "cannies" was chosen because it breaks down the barriers of the law, encompasses multiple cultures, and the entity in its purest form can be seen as an expression of pure defiance. I couple that concept with an explanation of how we come to this state of personal lethargy by including tools institutions use to conform one's individuality and discount free
thought – the military, non-creative games played as a child and so on.
Keep an out for these on the streets!