opening reception Wednesday, August 9 @ 5pm
exhibit up August 9, 2023 through Summer 2024
Museum Hours:
Wednesday – Saturday from 10am-5pm
---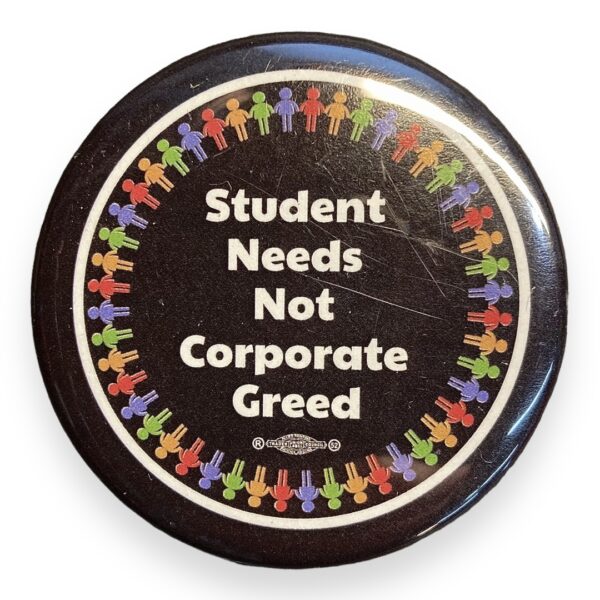 The
West Virginia Mine Wars Museum
is honored to present a new exhibit in our Solidarity Gallery,
The Children of Mother Jones: West Virginia Educators' Strikes as Care Work,
a tribute to the resolve and solidarity of West Virginia educators and service personnel who stood up to protect the future of public education. We dive into the historic and powerful educators' strikes that took place in 1990, 2018 and 2019 through an exhibit of homemade protest buttons, signs, t-shirts, songs, chants, and memes from the teachers themselves and including a narrative by
Emily Hilliard
(author of
Making Our Future: Visionary Folklore & Everyday Culture in Appalachia
). Join us on August 9 for the gallery opening featuring guest speakers, music, and light refreshments.
In 2018, teachers and service personnel rallied together to safeguard Public Employee Insurance (PEIA) benefits and secure fair wages amidst a declining workforce in a strike lasting nearly two weeks. The following year, workers united again to prevent the redirection of much-needed public school funding towards private charter schools. Echoing the resilience of unionist coal miners during the Mine Wars era,  workers across the state sported red bandanas, the marker of solidarity during the Battle of Blair Mountain.
The resonance of the West Virginia Educators' Strikes was felt nationwide. Teachers in Oklahoma, Kentucky, Arizona, Colorado, and North Carolina staged strikes or walkouts in the following months. While some victories were achieved, there are ongoing battles still facing West Virginia teachers, including the expansion of charter schools and increases in PEIA premiums. This exhibit sparks conversations and encourages our visitors to reflect on the sacrifices made by educators and the importance of unity for the future of education and unions.
This new exhibit is made possible by the generous support of the West Virginia Humanities Council, the Waymakers Collective, the Pyles & Turner Foundation, and our card-carrying Museum Members.
Exhibit designed by Justseeds member/museum Creative Director Shaun Slifer.
Find out more about the exhibit + listen to oral history interviews with voices from the strike at the museum's website!