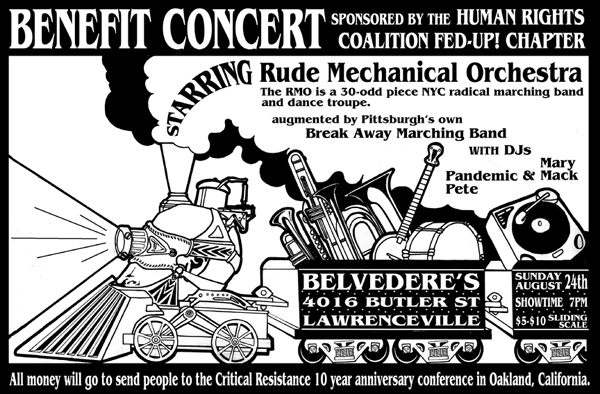 RMO is coming to Pittsburgh!
The Rude Mechanical Orchestra is a 30-odd-piece New York City radical marching band and dance troupe and will be augmented by Pittsburgh's own Break Away Marching Band.
DJ's Mary Mack and Pandemic Pete will also be spinning some dance tunes.
Sunday August 24th
$5-10 sliding scale
Belvedere's – 4016 Butler St – Lawrenceville
Pittsburgh, Pa
7pm
This event is sponsored by the Human Rights Coaltion – FedUp! Chapter.
All money will go to send people to the Critical Resistance 10 year anniversary conference in Oakland, California. Strategy and Struggle to Abolish the Prison Industrial Complex
http://rudemechanicalorchestra.org/
http://www.criticalresistance.org
http://www.thomasmertoncenter.org/fedup
http://fightforliferswest.mysite.com/