The next day we took off to Bugambilias, a housing project on the south side of Ecatepec. This was the spot closest to Mexico City, and the one that in many ways seemed the most like D.F. Bugambilias is a large complex of high rise apartment buildings set up sort of like a horseshoe. On either side are a half dozen 20 story cement buildings, filled with a lot of people. In between them is a giant parking lot, and at the end of the lot is a short one story cinder block building, the community cultural center. I wasn't able to understand the whole story, but basically the developer of the housing project had tried to screw the residents, and they had resisted, and somehow had forced him to build this center, even though it was not in the original plans.
Although the biggest of the cultural centers we visited, in many ways this one was the saddest, the inside having almost no electricity, and simply bare cinder block, with small bits and pieces painted. In the middle was a large hole in floor, filled with water. I couldn't figure out if this was a well, or just one of the community water tanks since most of the communities we visited only had very limited running water.


Since so much of the space was bare, we wanted to cover as much as possible with art, and we took on a huge chunk of wall, about 30 feet long and 20 feet high, which took up a quarter of the largest room in the center. We decided to create an avalanche of posters, starting from the top left corner, with posters literally pouring down the walls, covering each other as they cascaded down and onto the floor. We had hoped to cover even more space, but just this section took hours to prepare and paste (as anyone that has wheatpasted knows, raw cement and cinderblock just gobbles up the paste, absorbing it and drying quickly, making it hard to get the posters to stick).

We took turns pasting and cutting stencils, Jesus cut a nice Flores Magon stencil, Melanie and I cut text stencils about access to water, Alex cut a bandana-ed militant, and John cut a beautiful large scale "PAZ" stencil that we used to finish off the wheatpaste wall. Like everywhere we went, the kids at Bugambilias were excited about the art, Alex teamed up with a neighborhood 12 year old to help him cut stencils, and some local graffiti kids came by, wanting to trade stickers and talk shop.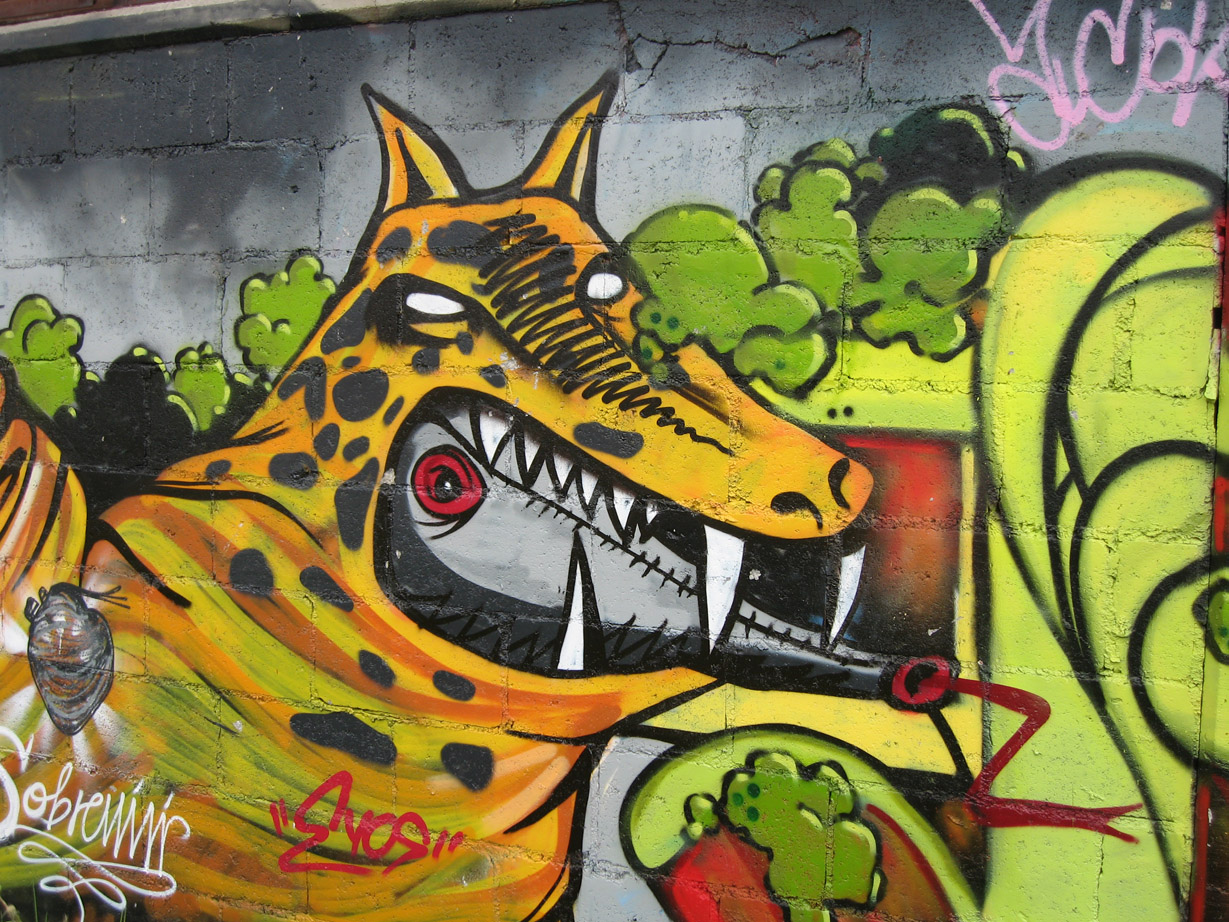 The back of the cultural center was covered with pretty pro graf, including some awesome yellow and black creatures that were some of the best characters I saw during the whole trip.

Our handler of the day was Ricardo, who was really interesting, and deeply engaged in the Other Campaign. His primary work is with micro-power and pirate radio stations, working with crews of people to set up stations in poor communities to give a voice to the community process and political mobilization. Of all the people we met that were connected to the Festival and Ecatepec, he was the most skeptical of the potentials of the PRD. He explained that nothing was ever going to come from the political parties down, but the other way around.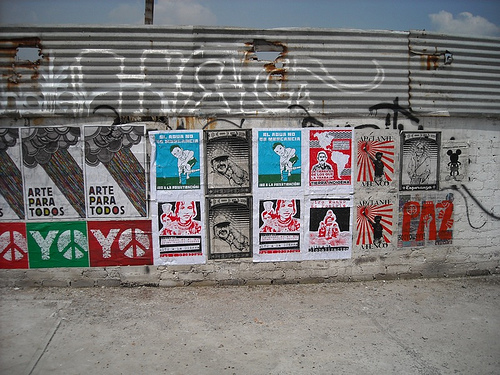 Although I had known some about the struggle and repression of the flower sellers in San Salvador Atenco, Ricardo explained that the repression there had been a joint effort by all three major political parties, right-wing PAN at the national level, supposedly centrist PRI at the State level, and the supposedly leftist PRD at the local level. Many people were tolerating the PRD for now, but had dreams of large-scale popular movements like those in Chiapas and Oaxaca.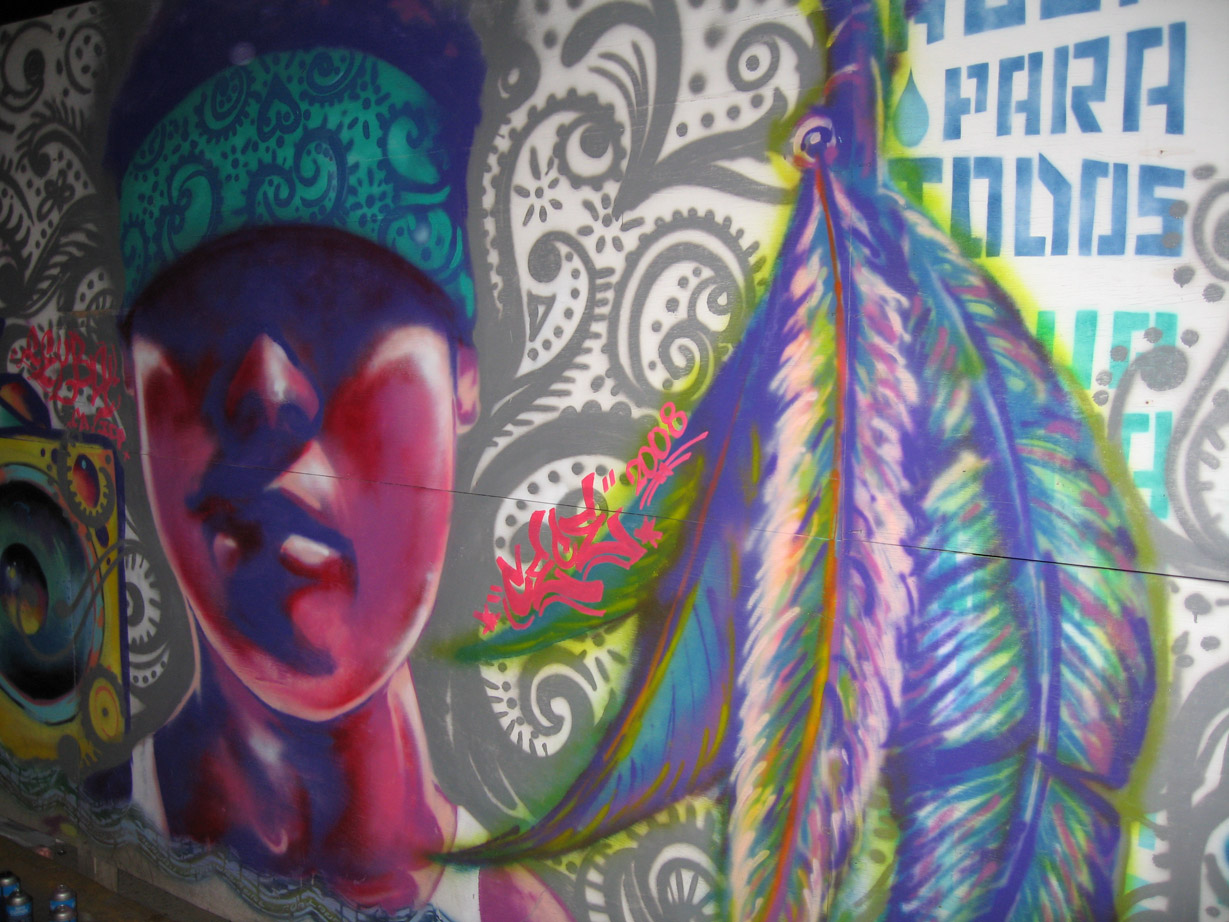 We sped off from Bugambilias to the Ecatepec city center, late as always. There was a 200 foot long (or so) wall that the muralist team had been working on but needed help finishing up. We dropped in and filled a bunch of the empty space with stencils and posters. I covered a chunk of wall with my Aqua Para Todos stencil I had cut that morning, and Melanie filled a ton of space with stencils too. Josue and Cece used the stencils as backdrop for their pieces, and really pulled the wall together.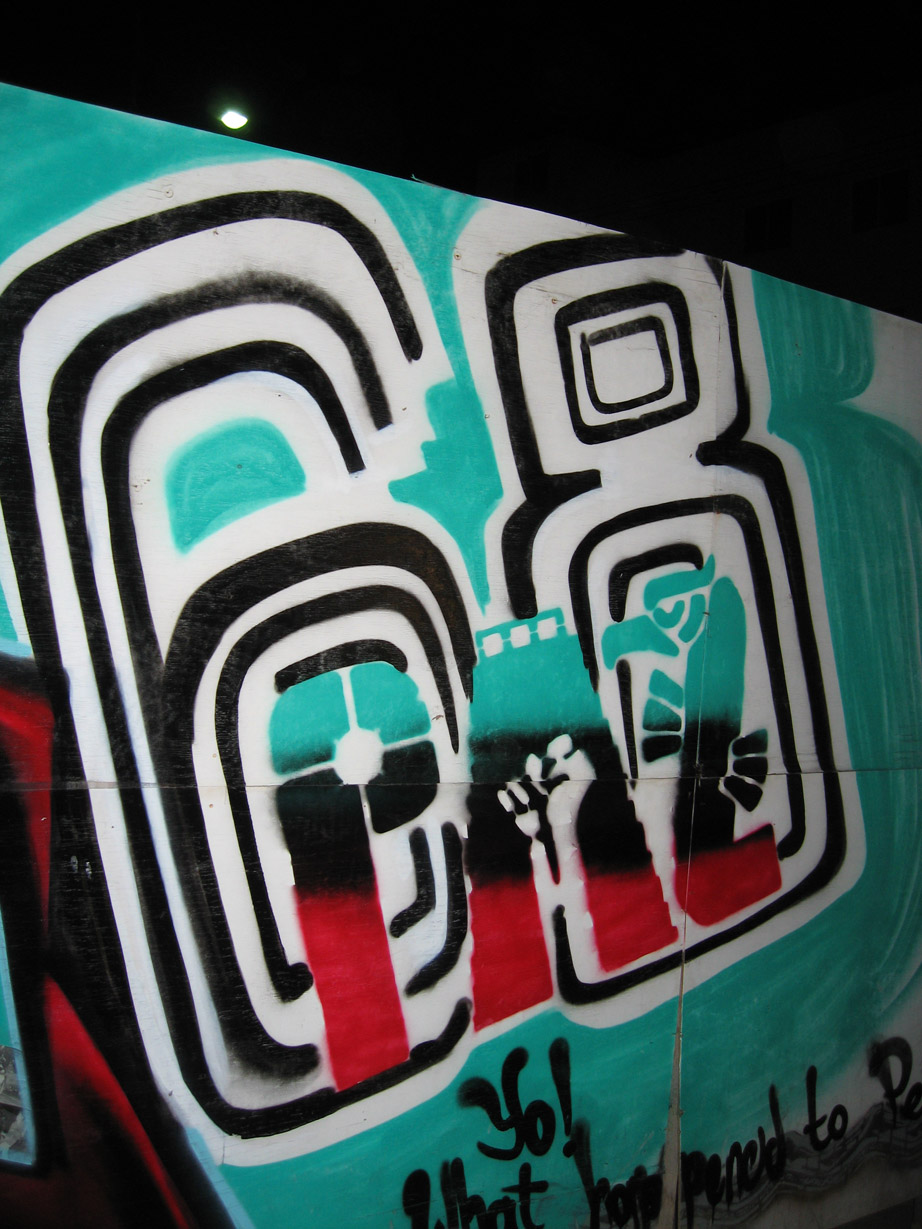 The city center has way more traffic than anywhere else we've been, and the alley we are working in was swamped with people. Tons and tons of teenagers hung around, watching and talking it. Almost all the kids had cellphones, and wanted to get their photos taken with the artists. The strange part was that even though 3/4 of the crew I went with where Latina/o or Filapina/o, almost all the kids wanted their pictures taken with me and the other white artists. We were more "exotic."

Around 5pm we had a panel discussion inside, with Jesus, Melanie, Favianna and myself. Everyone talked about their art, its connection to politics, and some of their goals and aspirations for cultural work. I gave an abbreviated run down of the history of reproducible political graphics, giving background for the Reproduce & Revolt book, and connecting it to Mexican graphic history.

After painting and pasting for awhile, we had a big art jam in the city square, where we set up live screen printing and Reed and Geraldine had a video feed where they were doing live video mixing. It was basically an outdoor version of what we had done at the museum the night before. A bunch of people came out, and were really into the screenprinting, and super excited to be able to bring prints home.


All in all the trip was amazing. I feel like I learned and took away more than I gave, but that seems unavoidable for an initial trip. I'd like to maintain some of the relationships started, build a better understanding of the Other Campaign, and see what, if any, ideas and lessons can be used to further activities here in the States. One thing that we did down there that points to further collaboration is a joint poster project with Komal. As part of the call Art is a Human Right, Komal Collective organized the printing and distribution of 8 posters withthis as their subject to be pasted up all over Mexico City and Ecatepec. 4 of the posters were created by Komal, and 4 by members of our crew. The Yo! crew made one, Favianna, Melanie & Jesus, and me. We only had about 24 hours to come up with and build a design, so I used pieces of other posters to build mine, "Arte Para Todos."