Fellow artist and activist Ethan Heitner told me about a great project he is helping with. I asked him to do a guest blogpost about the whole process of making art for the action. Here's what he wrote:
Jewish Voice for Peace asked me to make large images for a solidarity action that will take place on Tuesday, November 15th in New York City and hopefully other cities supporting a new phase of popular struggle in Palestine.
On November 15 Palestinian activists are going to assert their right to basic human needs: freedom of movement, access to their holy sites in Jerusalem, equality. In the tradition of the Freedom Riders of the American South, 50 years ago, who faced violent segregationists with the power of their bodies and their presence, they are going to attempt to peacefully board and ride settler buses.
Jewish Voice for Peace wanted to create a toolkit for a creative demonstration that could be held in front of, for example, bus stops around the country. Rabbi Alissa Wise, who is helping organize the actions, explained to me they were thinking about cantastoria, a very old human storytelling tradition of singing a story while gesturing to large illustrations.
I had to think about how to create large images that could be read clearly even from a distance, but also could be reproduced by activists of varying degrees of artistic and technological skill levels around the country. My friend Jordan Worley talked me through converting a scan of a line drawing into a vector graphic, which I then made into a huge .pdf. Hopefully activists will be able to simply walk into a Kinko's (*ahem* I mean locally-owned copy shop) and print as big as they like, then mount on some foamcore or something for the actions.
I also wanted the images to be a sequence that told a story, not simply an illustration of the demands, for example. While I'm aware a lot of y'all Justseeders are single-image poster types, consider the power of narrative to draw the viewer into a story and begin to identify with the protagonist, allowing a message to unfold itself in the reader's brain without having to be told necessarily in a didactic fashion.
Fortunately for me, JVP's songwriter had the same idea, and came up with song lyrics that immediately generated images in my mind's eye. Here is what we came up with: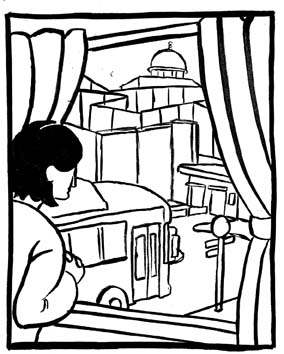 Freedom Rides Song
To the tune of "Can the Circle Be Unbroken"
I was standing by my window
I saw that bus for Jerusalem
And I wanted so bad to go
But they said you can't get on.
(chorus)
Can the occupation be broken Freedom Ride, yeah, Freedom Ride There's a better future waiting
In a free, free Palestine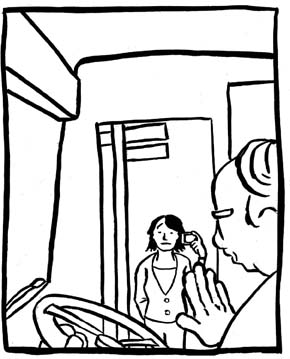 Well I told that bus driver
I won't stand for apartheid Because separate is never equal I'm gonna ride, I'm gonna ride
I've seen walls and I've seen checkpoints I've seen segregated highways
But I've never seen al-Quds
Even though I live ten miles away.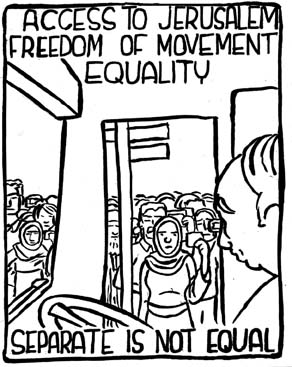 And if you lock me in your prison For demanding equality
You won't stop people from riding Toward a day when we're all free.
Hopefully after Tuesday I'll be able to post some photo and video of the art deployed on the streets.
Speaking of the power of Sequential Art, I would also be remiss if I didn't mention that Molly and I will both have art, alongside Jordan and many other great artists, in the new issue of World War 3 Illustrated, Tahrir (Liberation): From The Mid-East to the Mid-West, which will be released into the world at a party on Friday, November 18th that is also the gallery opening of a show containing art from the issue and from the artists made later to support Occupy Wall Street.