If you've found yourself at the levers of a small, even tiny, community project or non-profit, you've probably had to confront the uncomfortable reality of needing to pump people for money to keep your project going. If you're like me, you just don't make a lot of income, and #GivingTuesday is basically a great excuse to ignore your email for a whole day (or longer). I'm just being real – there are a lot of great projects out there that I want to throw my financial support to, but I can never do it all. Sometimes, I can barely do any of it.
So here's my pitch: in 2014 I planted a part of myself in the soil down in Matewan, in Mingo County, West Virginia. I was welcomed into a fantastic group of people who were building a people's history museum from the ground up. We actually made it happen! And it came out pretty damn well. The West Virginia Mine Wars Museum has been something of a zenith in my creative practice: an actual history museum, with real artifacts, telling real stories about working-class self-determination with a devoted cross-section of community members, historians, and anyone else with their hearts truly in it. As the Creative Director/Curator, I put a little bit of everything I know how to do into this museum, and I'm deeply, humbly proud of what we've accomplished.
The museum's board has just put together our newest, biggest fundraiser. Why now? I'll simplify:
We need to raise this money because we got a giant National Endowment for the Humanities grant (yay!), yet it's a matching grant (gulp). That means we don't get $XXX unless we also raise $XXX. It's not easy to raise $XXX for a brick-n-mortar project deep in the Appalachian coalfields – we've got a lot of supporters and even some museum members, but this is also just a giant grant! So, maybe you can help us out?
We're specifically raising money for a centennial event in 2021 celebrating the Battle of Blair Mountain (1921), but really organizing and running a project like this costs money like you wouldn't believe… We've already raised $15,000, but we need to raise that much more by the end of the year!
Thank you for reading, and thanks for considering throwing your support behind our amazing museum!
Check out our campaign here, there's loads of cool benefits (like some merch I designed)!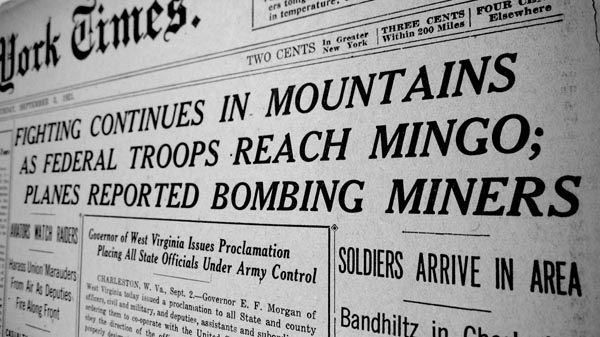 New York Times, September 5, 1921