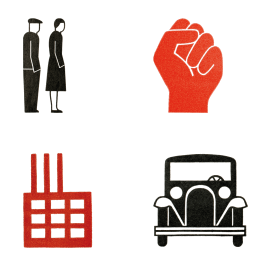 Pictograms are a type of visual language that is ubiquitous today. They are regularly used along highways and streets, in the olympics, or on bathroom doors. These symbols (often called 'peds') originally came from the same utopian dream as esperanto, to create a language that was simple, clear, and international.

One of the progenitors of this movement was Gerd Arntz. He was born in 1900, and associated with left (anarchist, socialist, communist) movements in his native Germany. In the late 1920s he moved to "Red" Vienna, then under a socialist government. There, along with Otto and Marie Neurath, he began developing the visual language of Isotype.


I first saw Anrtz' work on the
Institute for Social History's website
, and was hooked when I saw a block print of communist peds cutting phone lines and re-appropriating money from a bank. Beyond the obvious propagandistic images like this, I think there is something valuable in his and the Neuraths' work that tried to convey complex modern information in a graphic format. These type of info-graphics and pictograms are so commonplace today that it's shocking to think they were created with the radical intention of making geography, economics, and politics understandable across language or literacy barriers.
The images on this post are mostly from a new website devoted to Arntz' work (
the Gerd Arntz Web Archive
), it's lovingly assembled and rich with images, especially the work he did with Isotype. In contrast to a book of his work I have (from the 1980s) the website downplays (or excludes) much of his work with radical content. Aside from that, I'm excited for this new book, the new interest in his work, and I love the web archive.