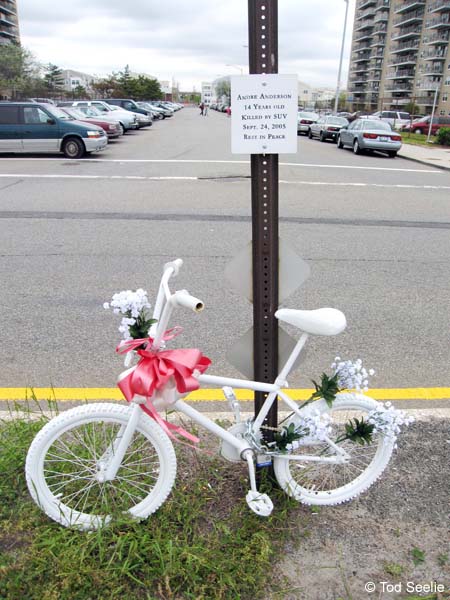 Tod Seelie sent us a link to his photos of the May 14 memorial ride in the Rockaways for Andre Anderson, a fourteen year old who was killed by an SUV on September 25, 2005. The memorial was attended by members of Andre's family, friends, and the bike community.
Andre's family has unsuccessfully been trying to press charges against the driver (who has openly made remarks about his lack of remorse) and have recieved lack of support from the authorities.
What makes Andre's death more of a shame is that according to Right of Way Andre's death falls into recognizable patterns, in accordance with their year 2000 analysis of cyclist deaths in New York, that Queens District Attorney Richard Brown has shown no interest in investigating Andre's death, and that the DoT has not taken any action to make sure that nobody else dies there by installing speed bumps and traffic lights.
Check out bikeblog.blogspot.com for more info. Tod Seelie has a report and photos on Suckapants.