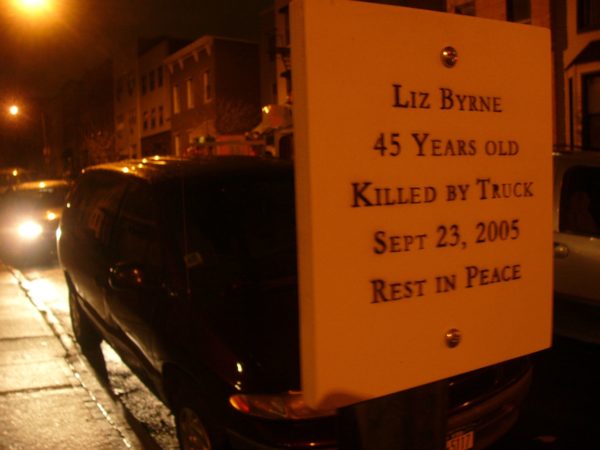 In the past several weeks members of VisualResistance have installed two more Ghost Bikes. Thus far this year has witnessed 21 deaths in the NYC bicycling community. Each loss profoundly impacts friends and family, leaving an indelible mark on the community that they were just a vibrant part of. Annie Byrne wrote us from Seattle and asked if we could install a bike for her sister Liz Byrne who was killed on Sept. 23, 2005.
Here is a just a little of what Annie shared with us about her sister:
As for Lizzie, she was the ninth of 13 kids in our family (ya, I know, crazy right? Irish Catholic ; ) ). Anyway, Liz was an artist from the very beginning, and it was a huge deal when she got accepted to Cooper Union and moved from St. Louis to NYC in the late 1970's.
After college, Liz worked professionally as a freelance designer (advertising and packaging design), but she did that just to pay the rent. Her true passion was painting and photography, and she continued to paint until her death last month. Liz was by far the most left-leaning in a pretty liberal family. Man did she ever hate George Bush. Not that that's so uncommon of course. ; ) She moved to Greenpoint in the late 80's and lived there ever since. Liz was also a serious cyclist, never owned a car. In fact, she was a bicycle messenger in the city during her years at Cooper Union. I'd say in the past couple of years she was riding something like 40 – 50 miles a week. To your point about the politics of this, I'm sure my sister would agree wholeheartedly in the cause of making our cities safer for people who choose alternative means of transportation. For her, cycling had a lot to do with her concern over the US's dependance on and politically abhorrent behavior with oil producing countries. (She emailed me this summer about a bumper sticker that said "What's our oil doing under their sand?" That makes me laugh even now.) Anyway, though I never talked with her about the Ghost Bike installations, I just know she would have loved the intent, and such a vivid form of social protest.
Liz's death was all the more tragic as it (as almost all bicycling deaths) was preventable. The driver was actually cited in her death and an investigation is ongoing as to whether there was negligence on the part of Budget Car Rental who had several vehicles parked at and around the intersection which may have obstructed the driver's view.
The second memorial which we installed was for Angel Quizphi, who was struck down by a drunk driver after finishing work at a Queens restaurent where he was a busboy. The driver, Yung Choe, was charged with vehicular manslaughter and driving while intoxicated. Quizphi had just days earlier proposed to Nancy Lazo who was waiting for him to come home that night.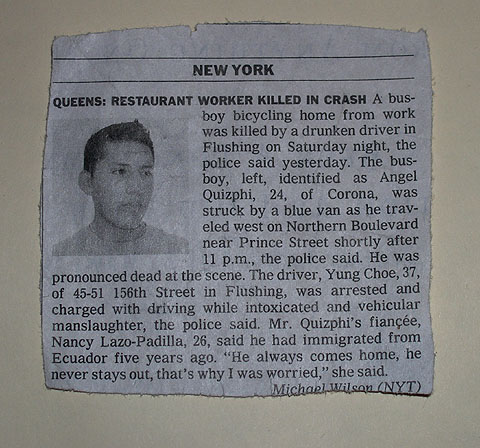 After we install a GhostBike there is no telling how the surrounding community will respond. Jen Shao's bike was removed almost immediately from its spot, whereas the bikes for Andrew Morgan and Liz Padilla have become a part of their community.
We all sincerely hope that as people pass by each bike they give pause–even if only for a moment.
For more info, see all Ghost Bikes.