Image is for the movement against the proposed Back Forty Mine on the MI/WI border. (Guy Reiter from the Menominee Tribe guided us on the image ideas and the text. The first Menominee was a Bear which originated from the mouth of the Menominee River)
Updated info from June 2017 / http://www.noback40.org/
"The Back Forty Mine project is a proposed open pit metallic sulfide mine located on the banks of the Menominee River in Lake Township, Michigan. Aquila Resources Inc. (TSX: AQA) ("Aquila"), a Canadian development stage company, is actively seeking the necessary approvals to mine and process gold, zinc, copper, silver and other minerals at the site.
To date the Michigan Department of Environmental Quality (MDEQ) has approved three of the four required permits for the project. The Nonferrous Metallic Mineral Mining Permit and the Michigan Air Use Permit to Install for the project were approved by the MDEQ on December 28, 2016. The National Pollutant Discharge Elimination System (NPDES) permit was approved on April 5th, 2017. The permit for wetland impacts is currently under consideration before the MDEQ.
The Menominee Nation and many allies including local citizens, local governments, environmental organizations, and grassroots organizations are opposed to the mine, committed to stopping the project and are organized in efforts to bring about public awareness about the harmful impacts the mining operation would have if approved."
Image screenprinted at the MREA Energy Fair, June 2017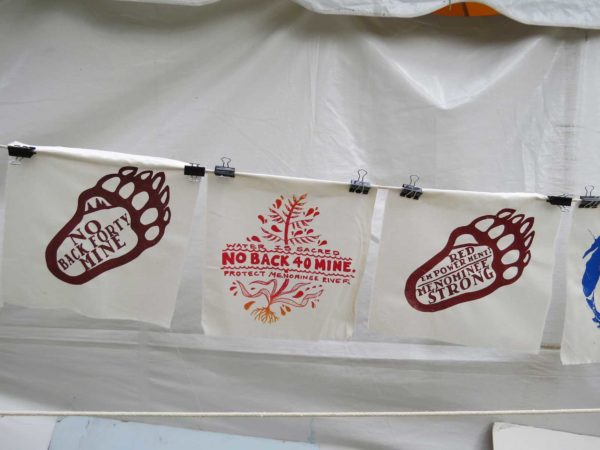 An outline of a red footprint of a bear. Inside we see evergreen trees, and the text: "NO Back Forty Mine."