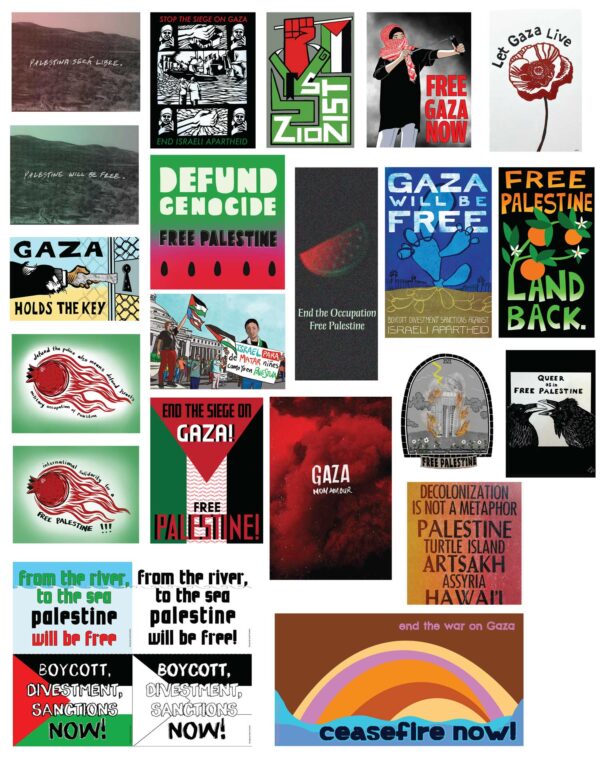 We, as Justseeds artists, stand in solidarity with Palestine. We condemn the ongoing waves of military
and settler colonial violence against the Palestinian people unleashed by the Israeli state. We condemn
the funding and support from the US government and we demand the end of the occupation.
Nosotrxs, como artistas de Justseeds, nos solidarizamos con Palestina. Condenamos las continuas
olas de violencia militar y colonizadora contra el pueblo Palestino desatada por el Estado de Israel.
Condenamos los fondos y el apoyo que brinda el gobierno de EUA y demandamos el fin de la
ocupación.
END THE OCCUPATION! FREE PALESTINE!
¡ALTO A LA OCUPACIÓN! ¡VIVA PALESTINA LIBRE!
Artists and Instagram handles:
Carlos Barberena @carlosbarberena
Micah Bazant @micahbazant
Osvaldo Budet for AgitArte @osvaldobudet
Vin Caponigro @vincaponigro
Amber Capwell (Softvvear) @softvvear
Dio Cramer @dioishh
TK Dinh @tkdinhart
Wendy Elisheva @wendyelisheva
Emitxin @emitxin
andrea ene @graficanarno
Molly Fair @mollyfdoom
Sarah Farahat @ankh.inkh.studios
fernfriend5000 @fernfriend5000
Christeen Francis @missprints
Sanya Hyland @sanyaillustration
Eric J Garcia @elmacheteillustrated
Nicolas Lampert
Josh MacPhee @jmacphee
Claudio Martinez @claudiomke
Tina Orlandini for AgitArte @orlandini
Roger Peet @toosphexy
Radici Studios @radicistudios
Saiyare Refaei @_saikick_
Erik Ruin @erikruin
Keysha Rivera @hoodsensitive
Swanna Rose
Symone Salib Studio @symonesalibstudio
Kevin Yuen Kit Lo @lokimon
Spill Paint Not Oil Art Collective
Zola @zola_mtl