Justseeds artists from across the continent designed graphics for the movement to #StopLine3. 
Today, Wednesday, February 17, the movement to Stop Line 3 has organized an Art Storm and they are asking you to help mobilize art on social media. Use graphics in this care package or create your own "Stop Line 3" art and then post and share on social media with the below hashtags to help spread the word.
Line 3 is currently under construction—violating treaty rights, risking over 200 bodies of water with the threat of an oil spill, and reversing progress made in the fight for climate justice. President Biden recently revoked federal permits for the Keystone XL pipeline, and he can do the same for Line 3 and halt construction with the stroke of a pen.
Biden has the power to stop this pipeline that will carry nearly a million barrels of tar sands per day through untouched wetlands and the treaty territories of Anishinaabe people, through the Mississippi headwaters, and to the shores of Lake Superior. Now is the time to show the strength of the opposition to this illegal project and demand a stop to Line 3. 
MN350 and allies are leading an escalating campaign against this pipeline and fighting alongside an Indigenous-led frontline resistance in northern MN. Lawsuits against Line 3 have been filed by many opposing groups, including sovereign Indigenous nations, yet construction on the ground is accelerating by the day. The dangers of COVID-19 and drastic escalation we've seen from local law enforcement against Indigenous water protectors continues to emerge across media platforms. If we are loud enough, Biden will have no choice but to hold true to his ambitious climate and racial equity promises and Stop Line 3. 
Hashtags: #StopLine3 #NowDoLine3 #BidenStopLine3 #HonortheTreaties #WaterisLife #ActOnClimate
Artists: Sarah Farahat, Josh MacPhee, Roger Peet, Kevin Yuen Kit Lo, Zola, Pete Railand, Sanya Hyland, Aaron Hughes, Eric J. Garcia, & Andrea Narno
---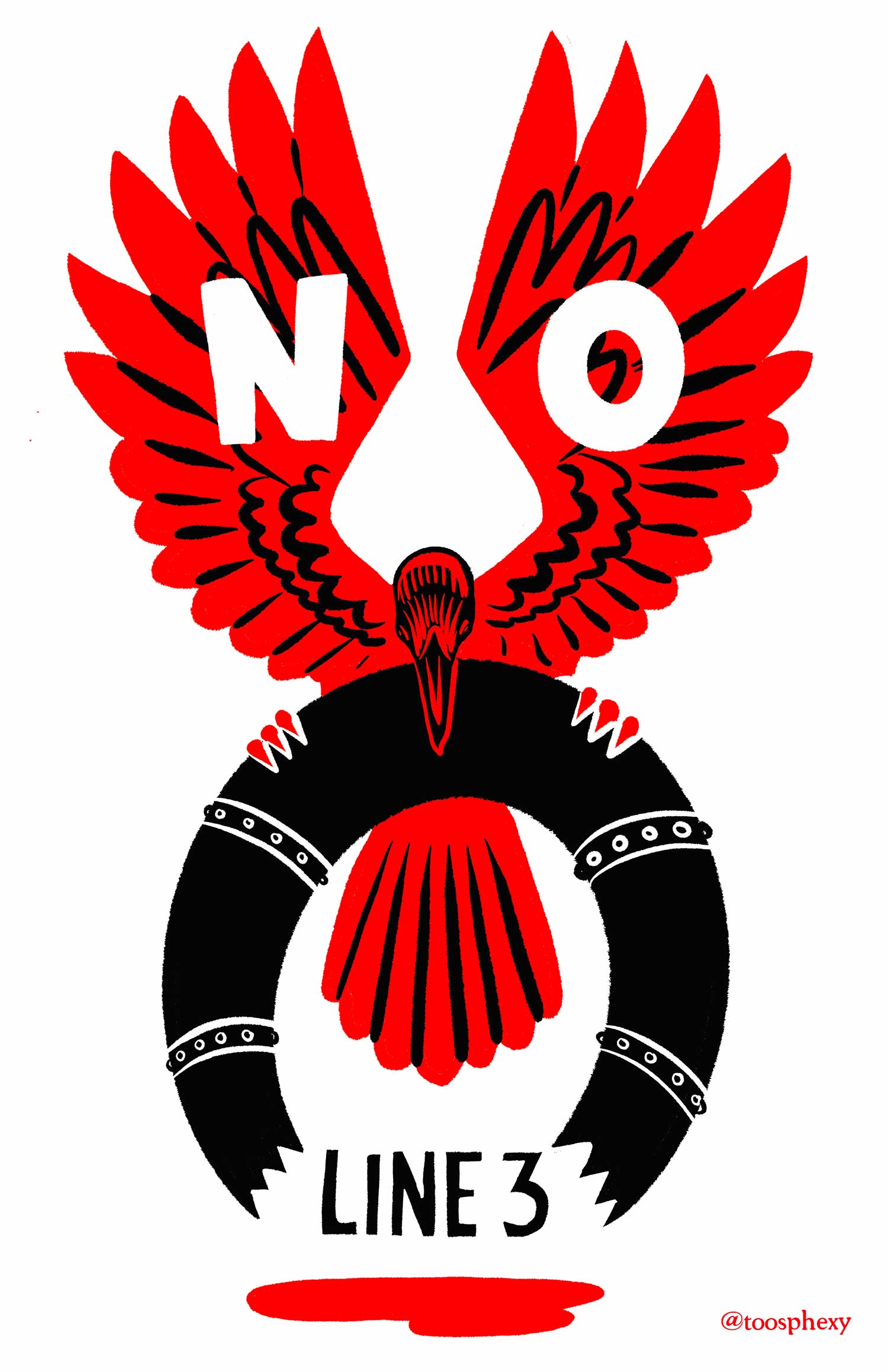 A red bird grasps and bites a circular, broken, black pipeline. Its wings are spread high and feature the word "NO". At the bottom: "LINE 3".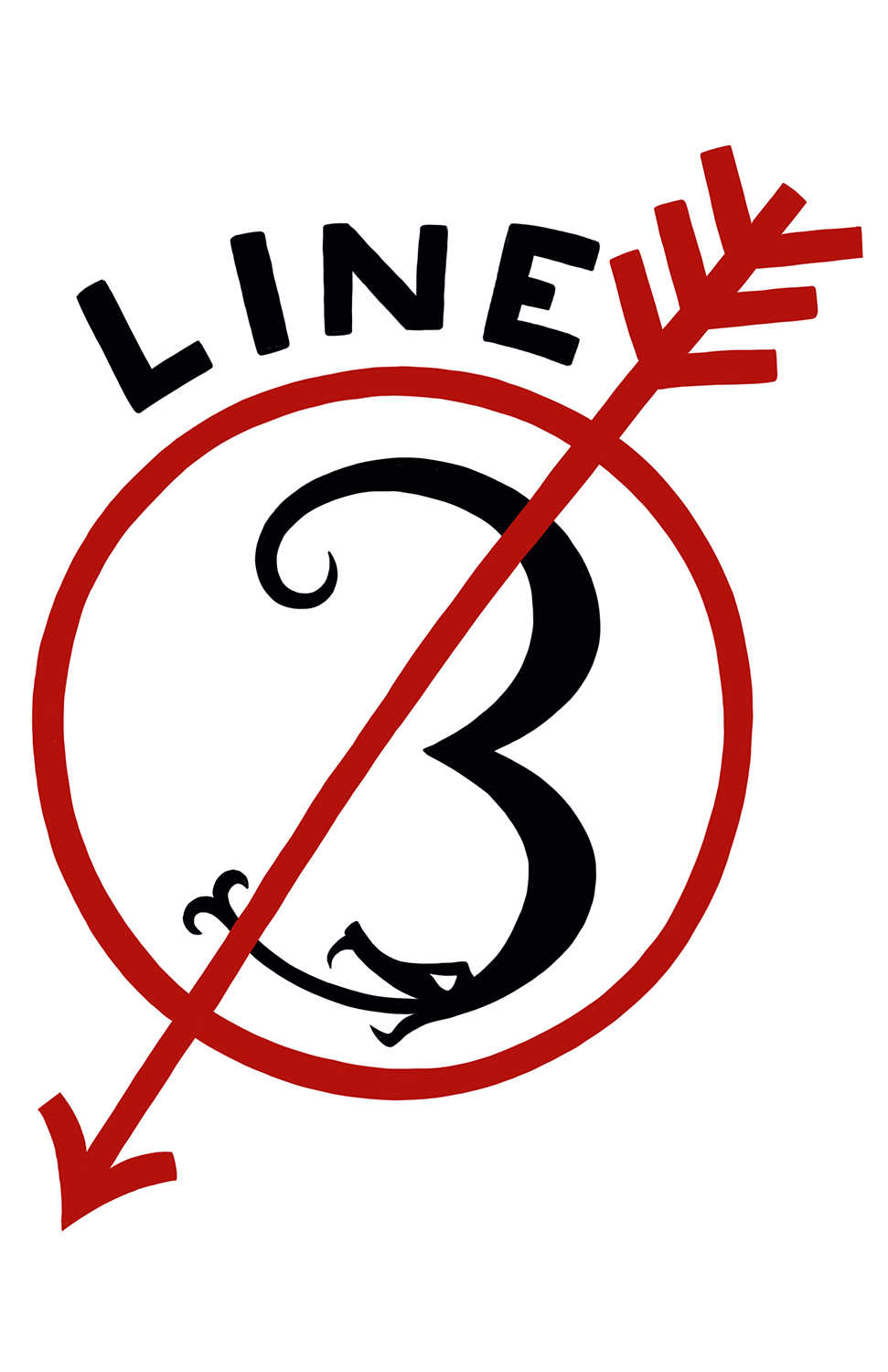 A red arrow crosses through a snake in the shape of a 3.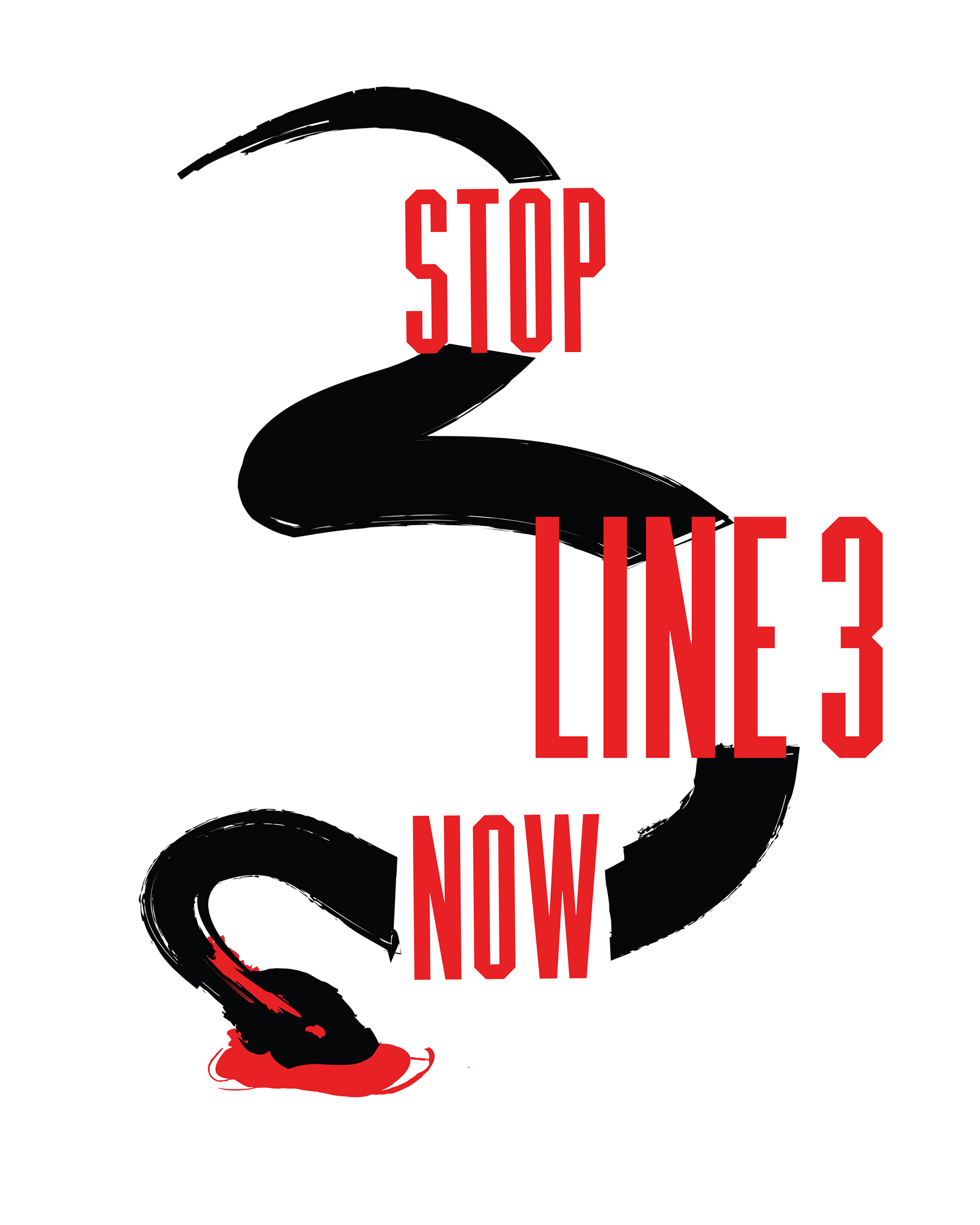 "STOP LINE 3 NOW", in red, chops up a black snake in the shape of a 3.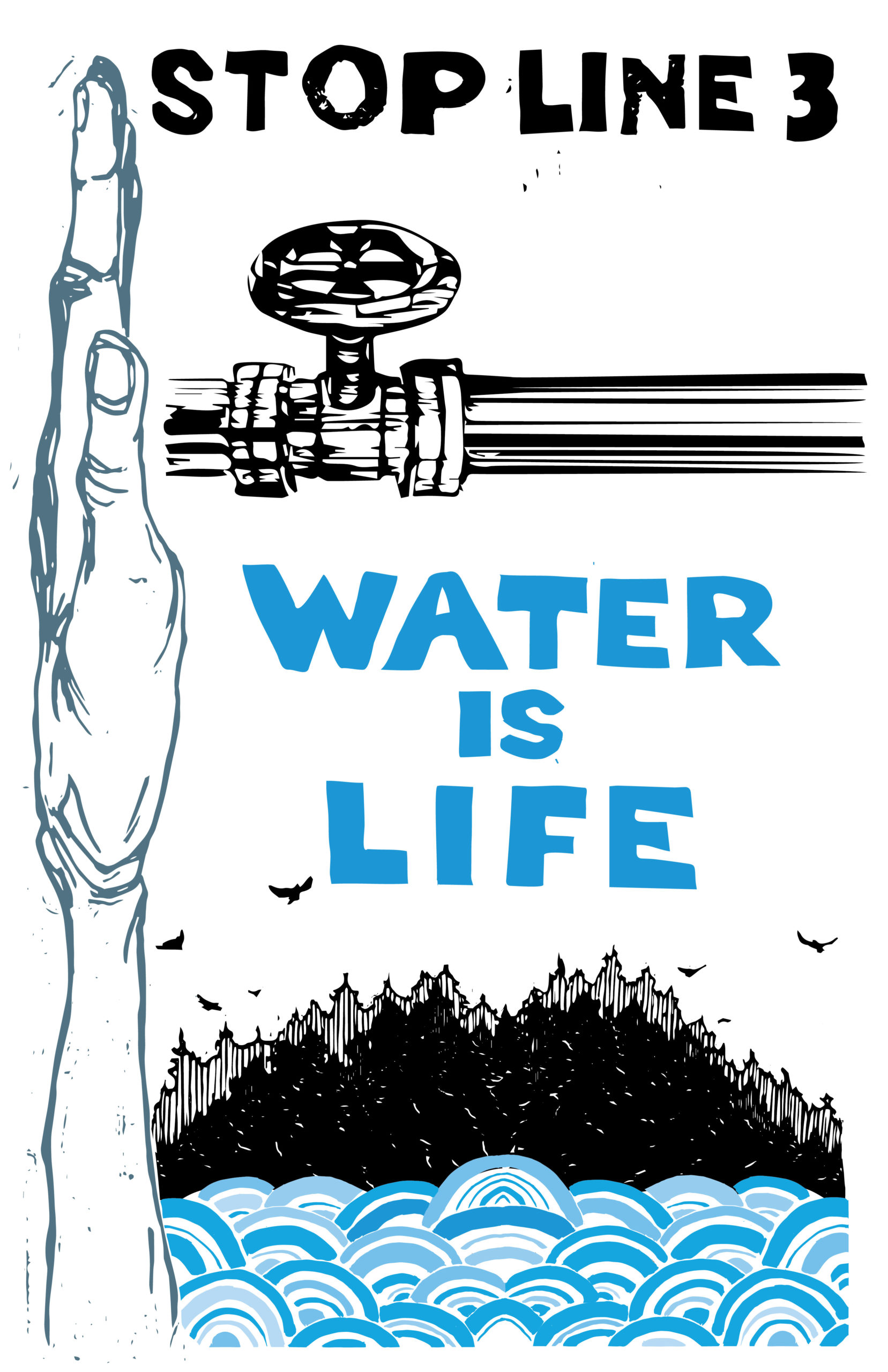 A hand is held up in front of a pipeline. "STOP LINE 3" and "WATER IS LIFE" frames it in black and blue. The hand rises out of a blue sea and a black forest background.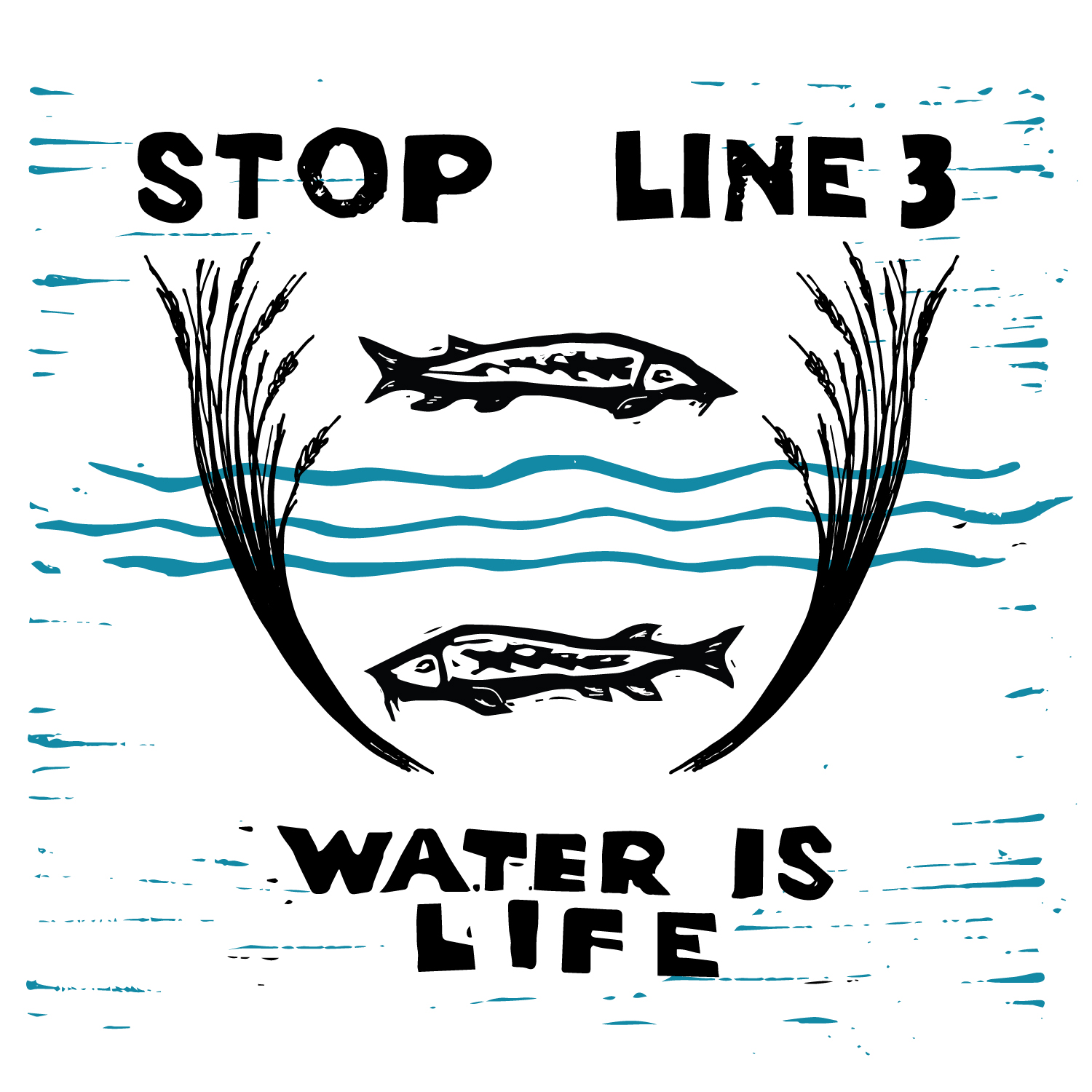 "STOP LINE 3, WATER IS LIFE" frames a linocut graphic image of water and two fish making a circular shape with blades of grass.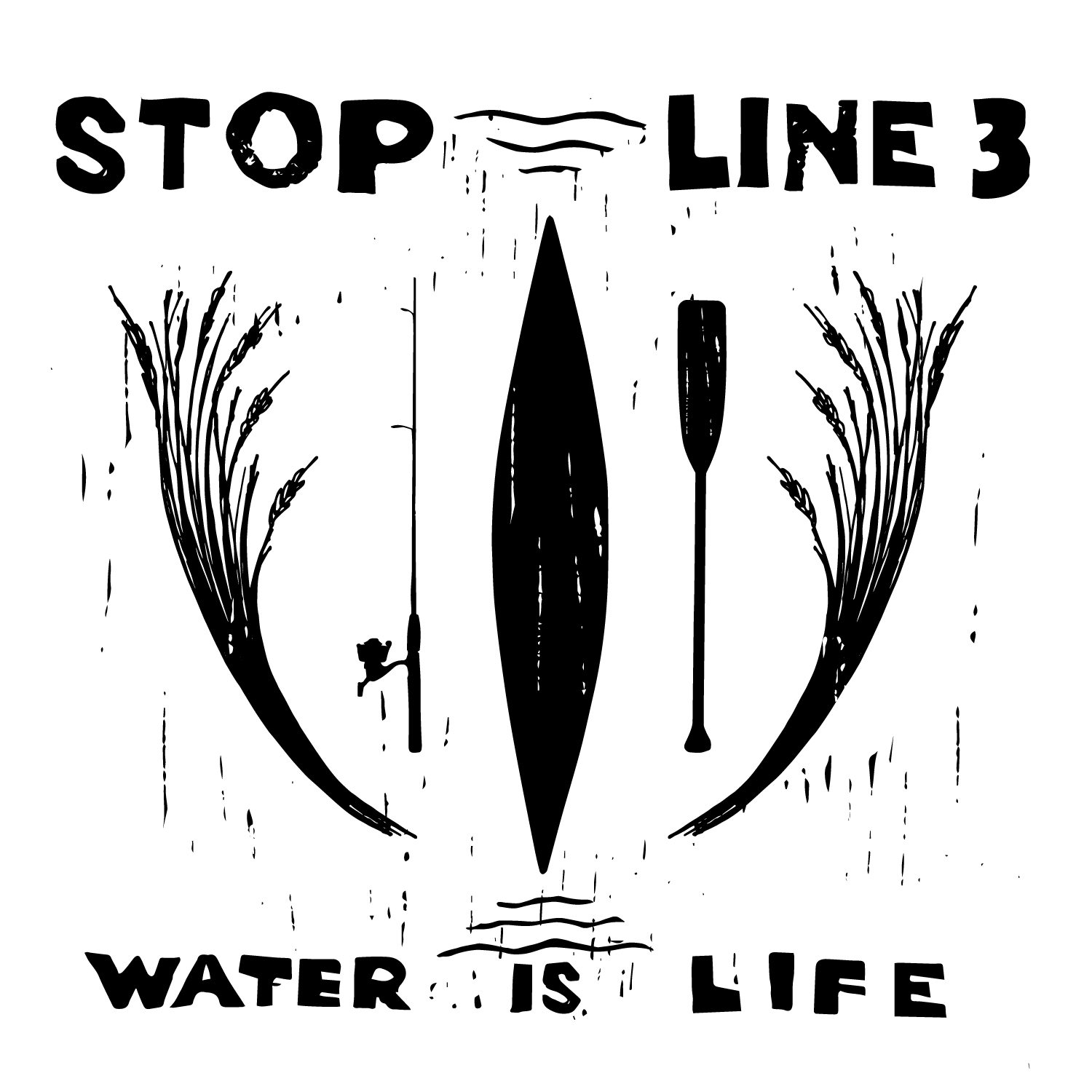 "STOP LINE 3, WATER IS LIFE" frames a linocut graphic image of a boat, oar, fishing rod, and framed by circular blades of grass.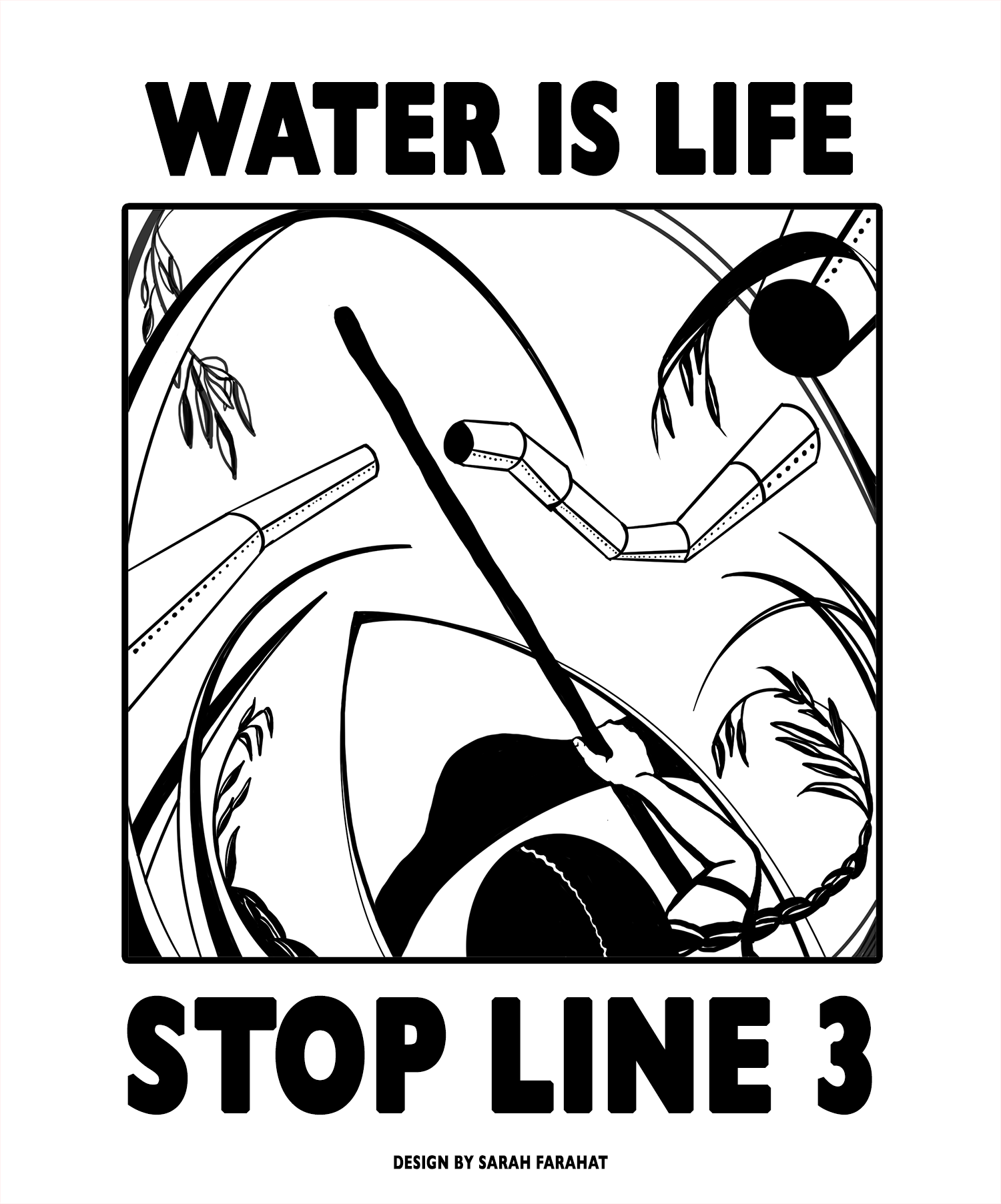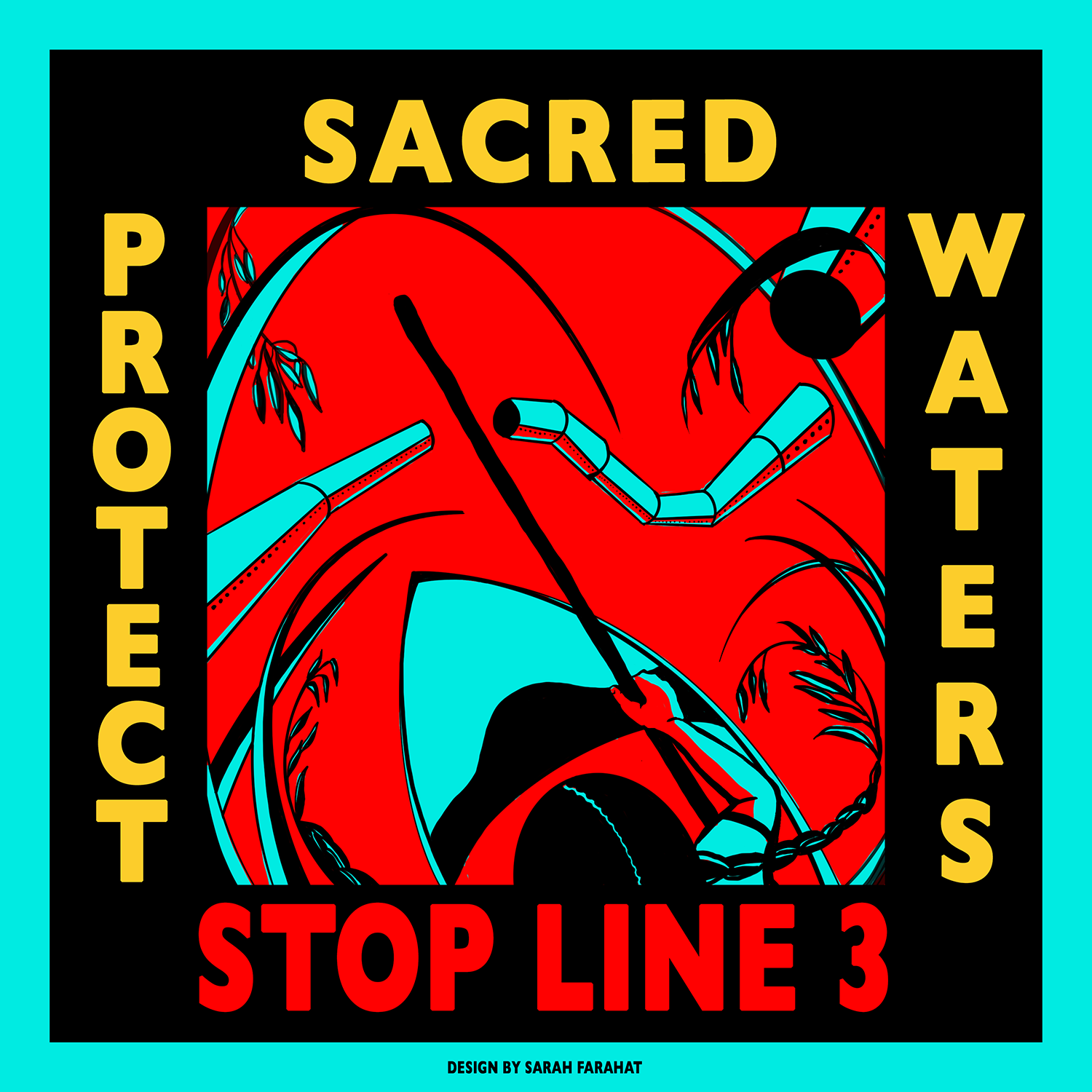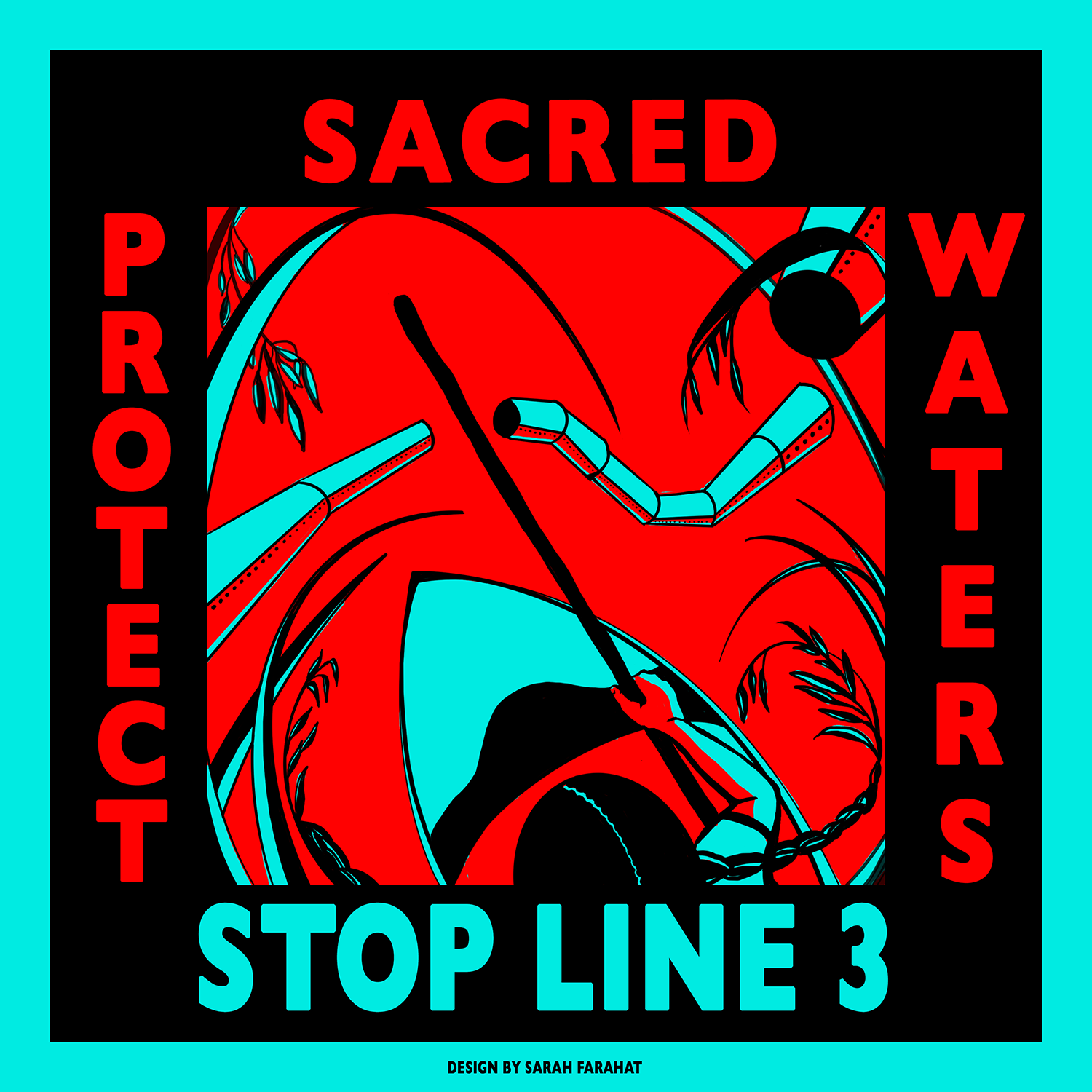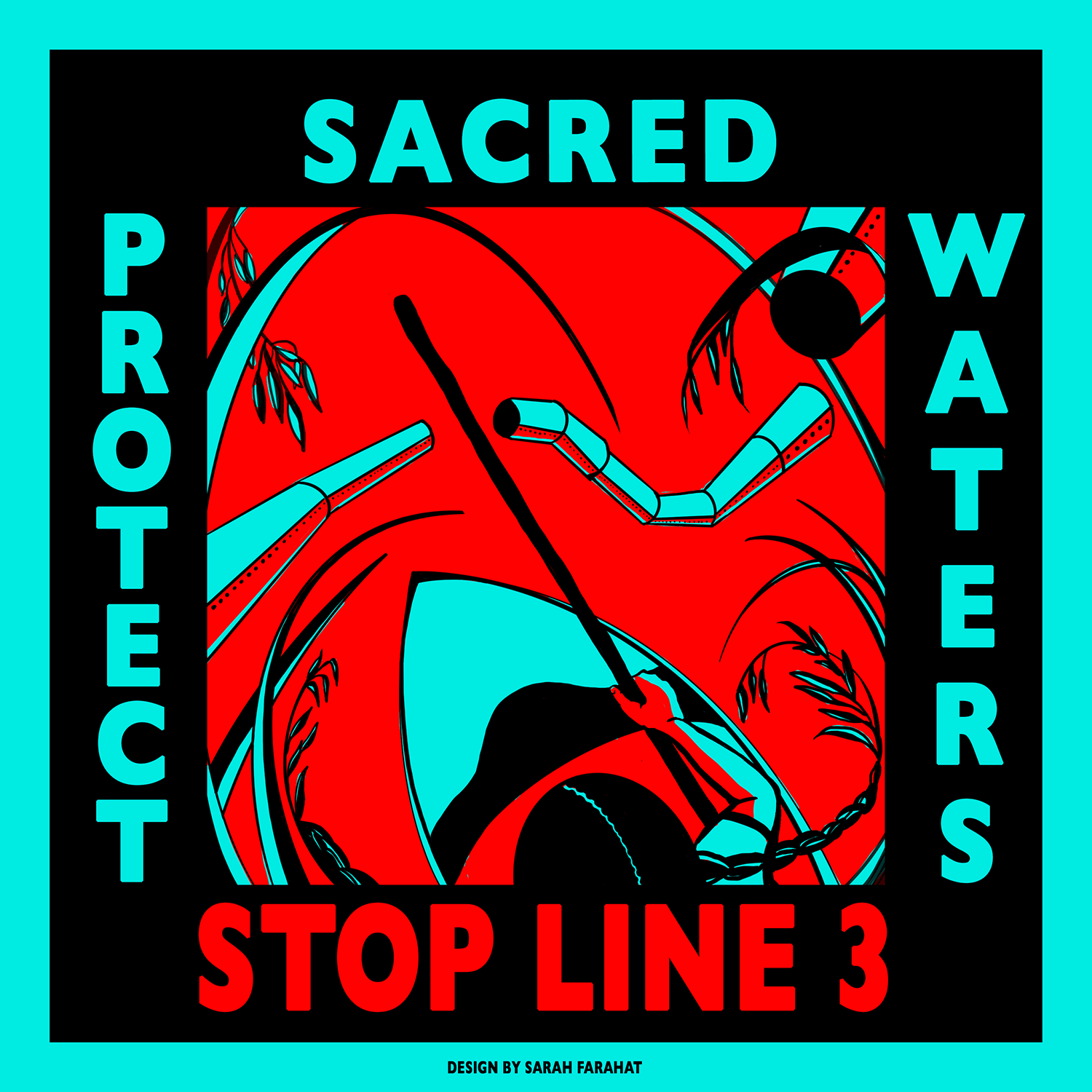 Black, Red and Turquoise image. Left, Upper middle and right reads "Protect Sacred Waters" in Turquoise block text. Bottom reads "Stop Line 3" in Red. The red square in the middle features an image of birds eye view of water with wild rice and a person in a canoe with braids turning into wild rice, holding a ricing stick that is breaking a pipeline.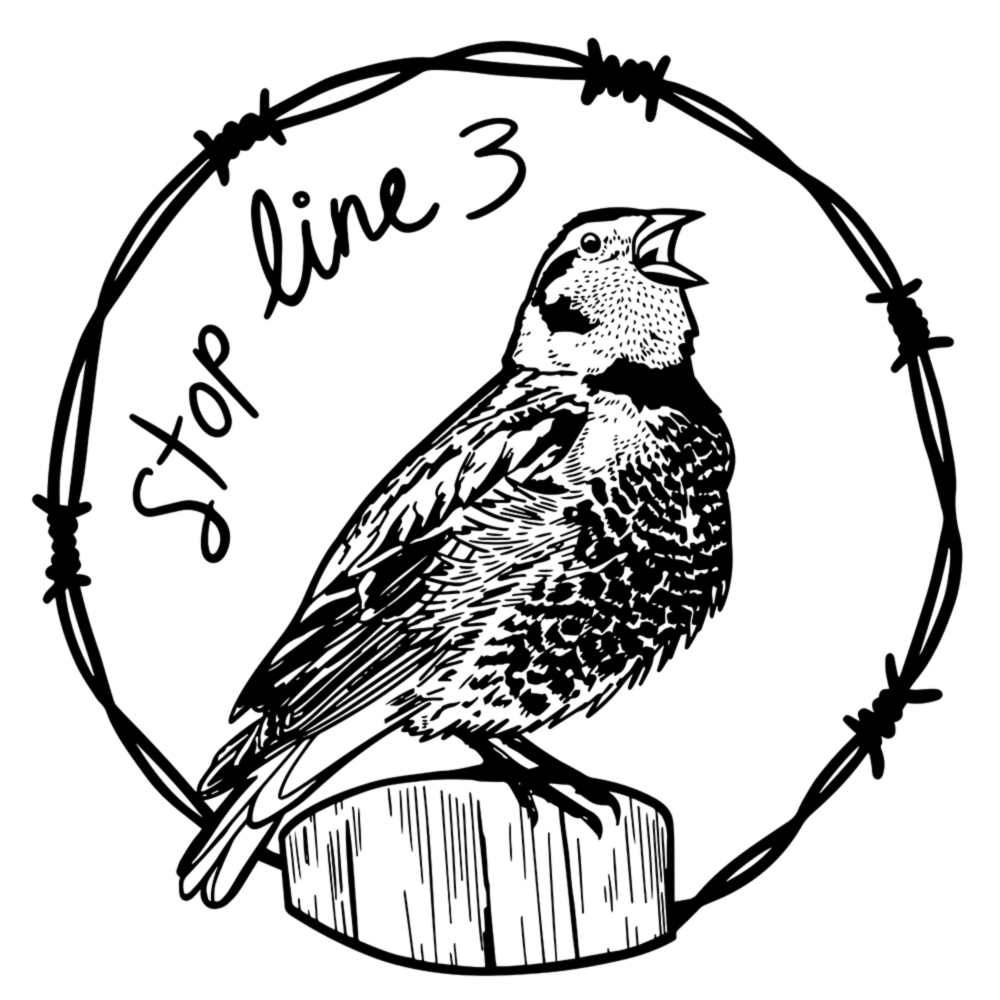 A circle of barbed wire frames a singing bird. "Stop Line 3" is handwritten.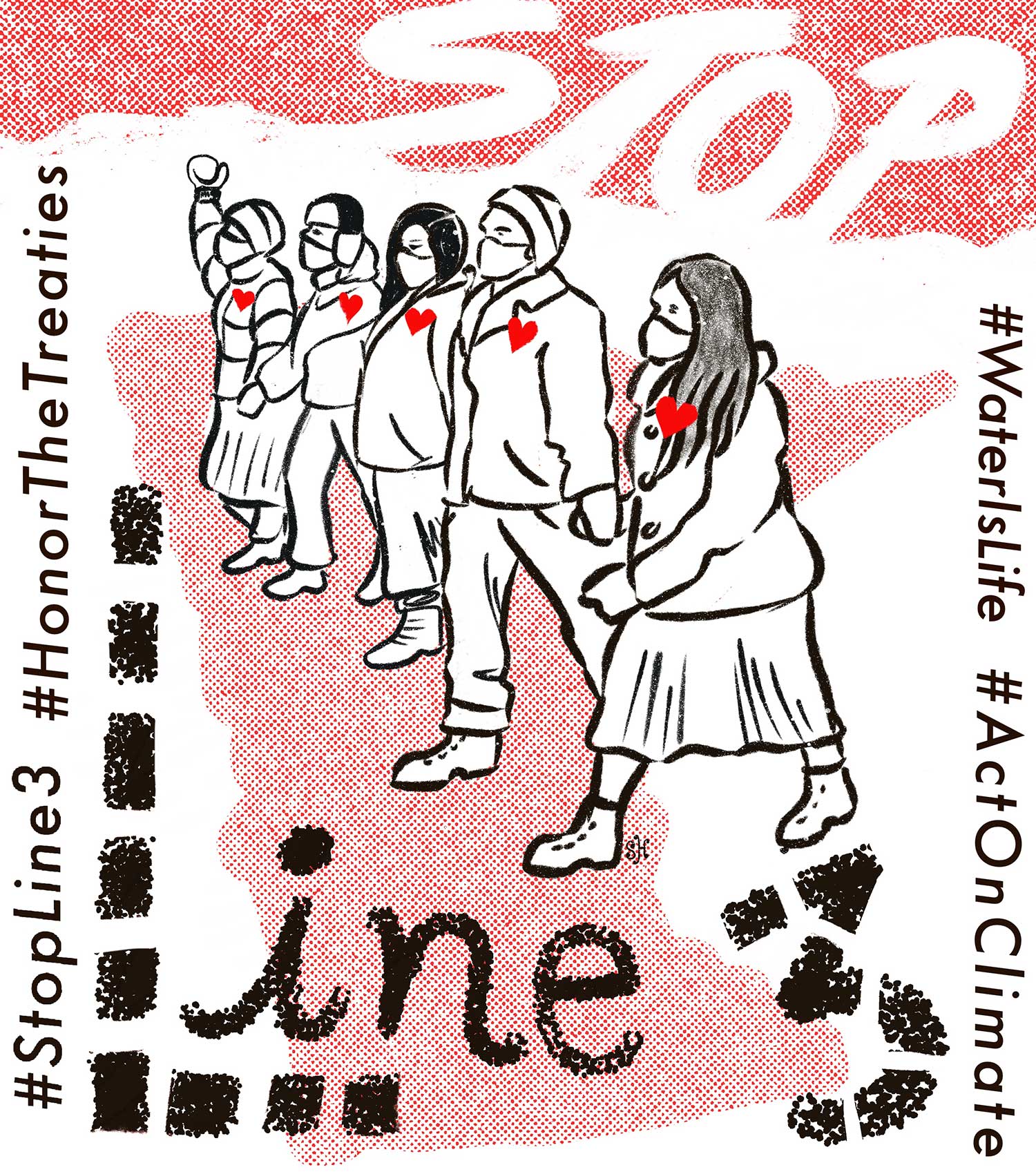 Five people dressed in winter clothes hold hands and march forward with red hearts on their chests against a background of a silhouette of the state of Minnesota . "Stop Line 3" is written in artistic style above and below. Hashtags include #ActOnClimate, #WaterISLife, #HonorTheTreaties.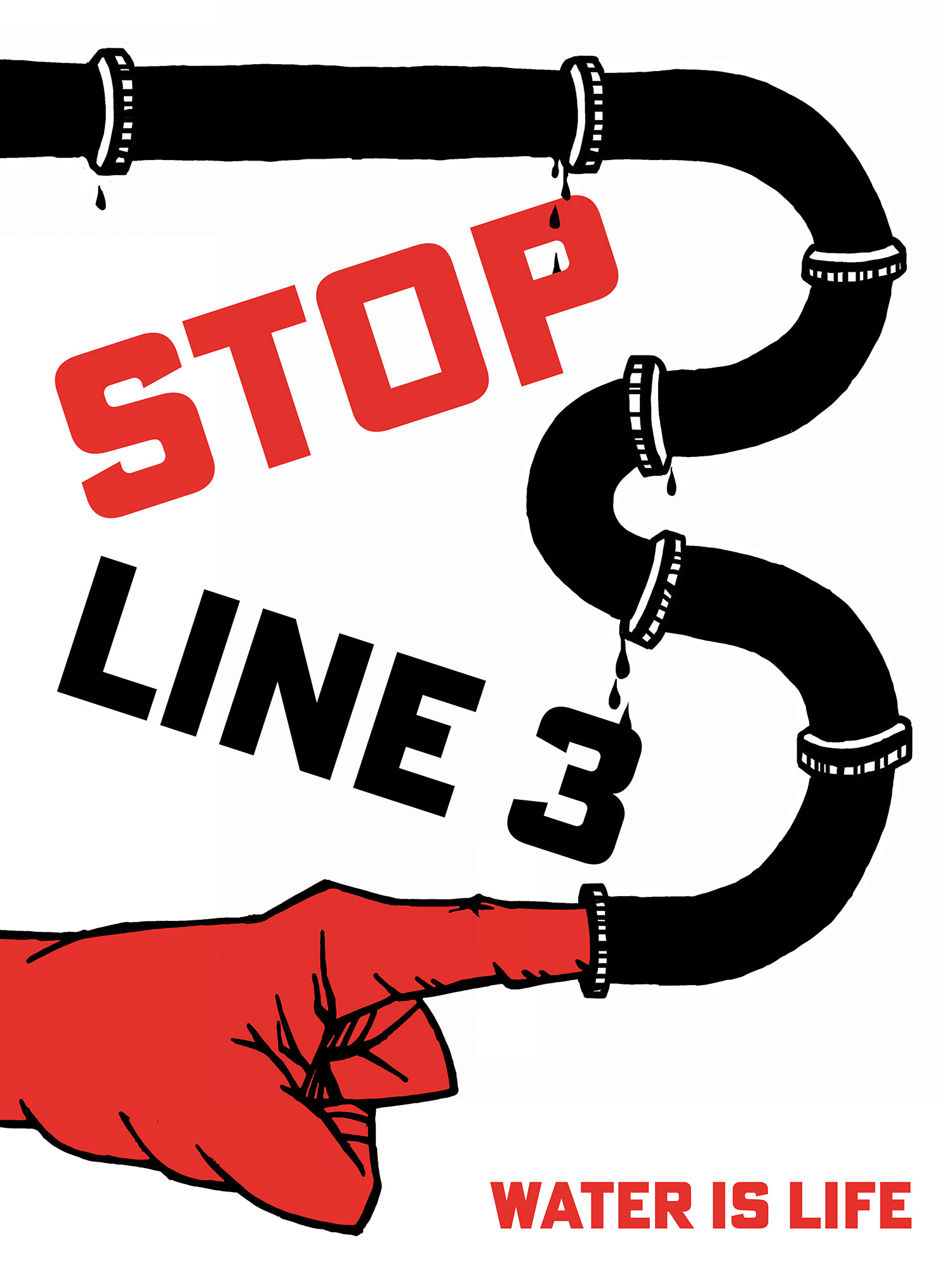 A black pipe curves down in the shape of a "3" until it reaches a red hand which plugs up the pipe with its finger. "STOP LINE 3" in bold lettering above, and "WATER IS LIFE" below.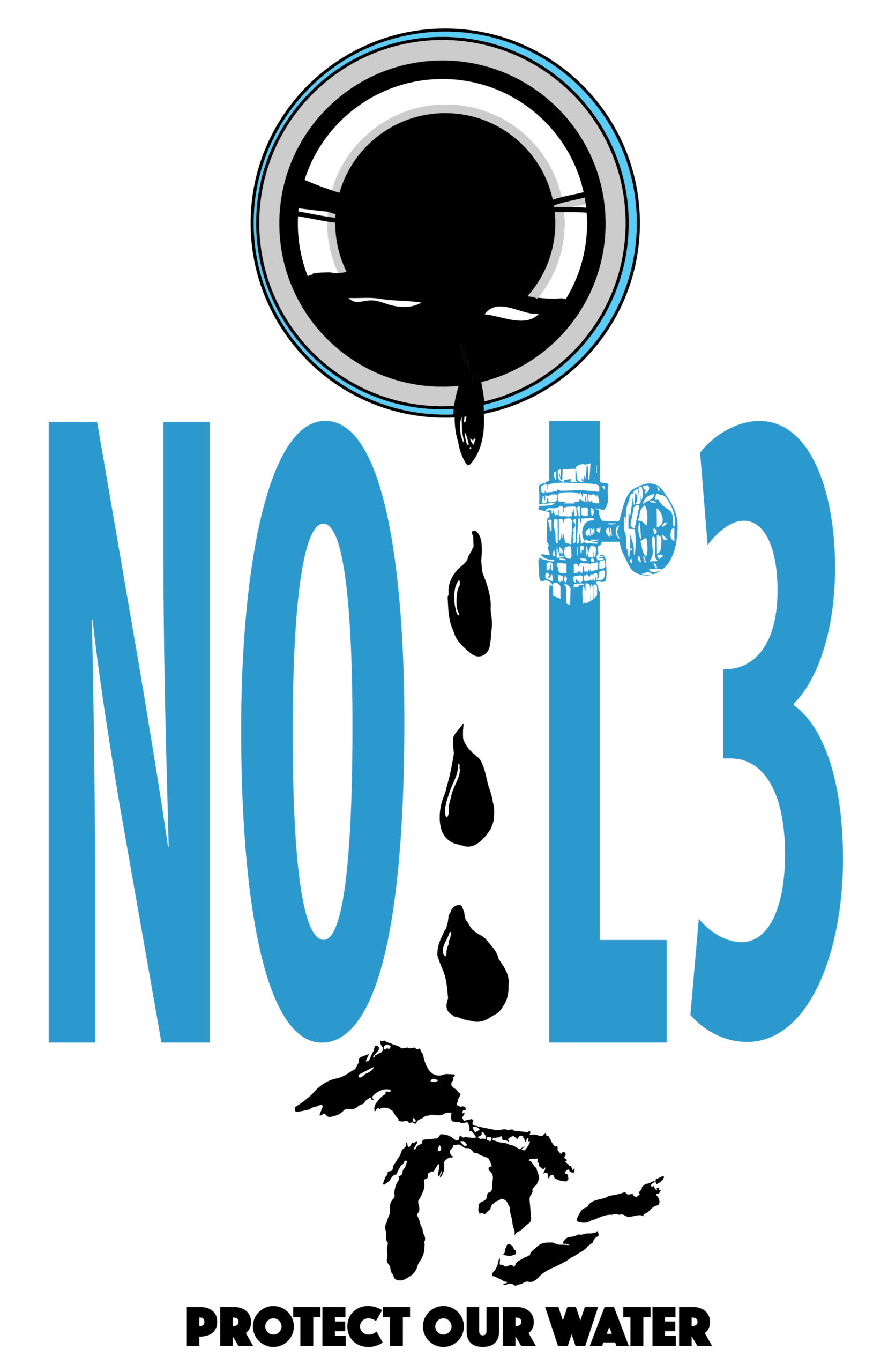 We're looking straight into a pipeline head-on as it drips black oil to a map of the Great Lakes region below. "NO L3" in large blue type, and "Protect Our Water" below.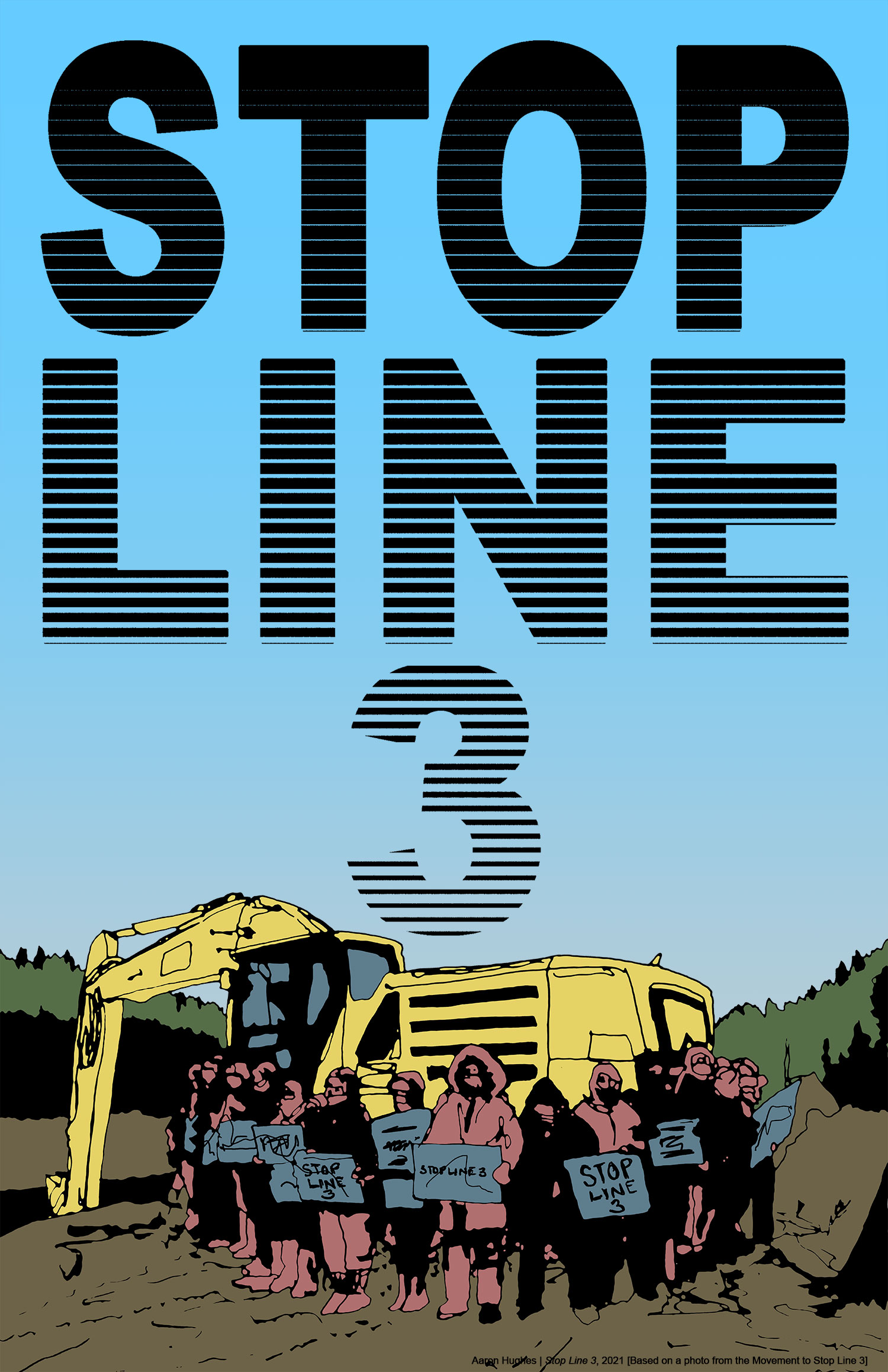 An image of a group of protestors holding signs to "Stop Line 3" in front of a yellow excavator, or backhoe loader tractor. Large text above states "STOP LINE 3" in black against a blue sky.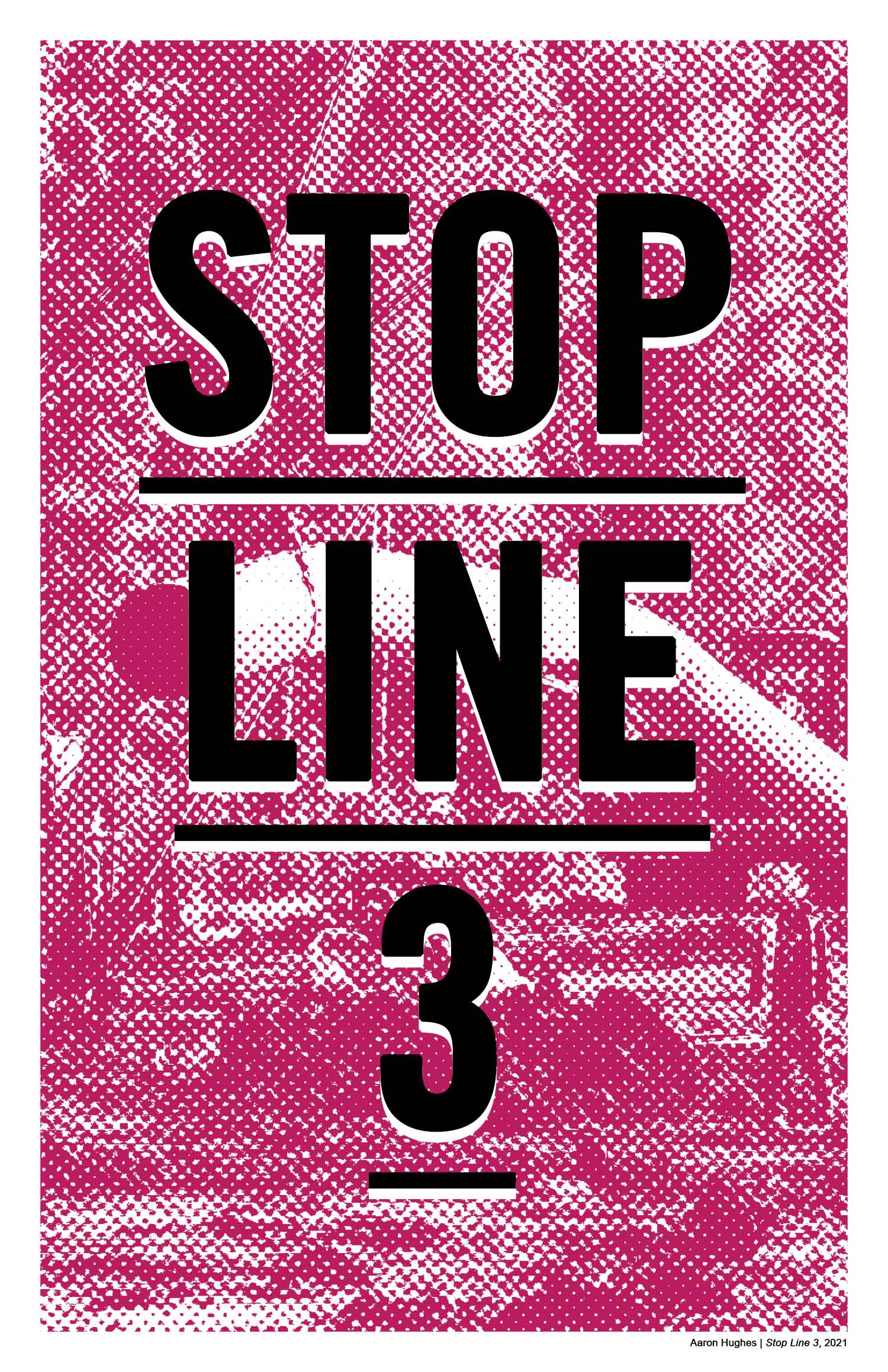 "STOP LINE 3" in bold black and white against a halftone pink and white image of the installation of a pipeline.
A linocut image of water in blue and gray. Black lettering states: "STOP LINE 3, EL AGUA ES VIDA."