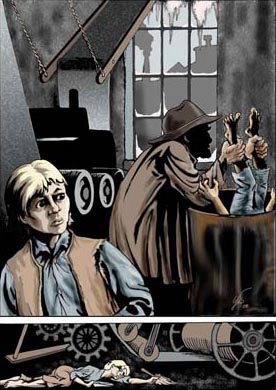 Pittsburgh-based artist Bill Yund (Insulator's Union, retired) has just launched an online collection of his drawings and stories about child labor,
"Hardbred"
. I was first turned on to Bill's work through his full-page illustrations of regional Pennsylvania labor struggles like the
Battle of Homestead
(1892) and the little-known Allegheny Cotton Mill Strikes (1848). The
"Kids@Work – then and now"
series is based on actual accounts of young, exploited labor. Yund's illustrations are bold and poignant, and it's great to see them collected online. The website has PDF's available of the "Kids" series in a booklet form as a teaching aid, and powerpoint versions are available as well.