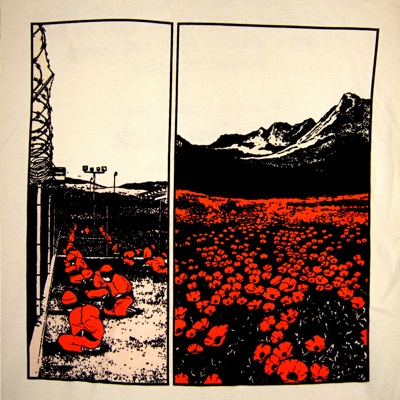 Our friends and awesome t-shirt makers
Liberation Ink
are struggling to survive at the moment, and need our help! Liberation Ink is an Oakland-based artist and activist run shirt shop that has created a number of shirts by Justseeds artists, including Favianna Rodriguez, Fernando Marti, and myself (Josh MacPhee), and always gives a portion of the money they bring in to local political projects. They have just set up a membership drive in order to raise the capital necessary to keep the gears turning, so if you're into political art on shirts, check them out, become a member, and buy some shirts!
Here's their call:
Join Liberation Ink as part of our new Membership Program and help us continue to sustain and grow our business to support social justice organizing! Your membership will help cover the basic overhead costs so that we can keep Liberation Ink open. So please join today and help us spread the word. We need to sign up 200 Members by October 31! For as little as $30 a year, you can help sustain and grow Liberation Ink and our efforts to fund social justice organizing from the grassroots.
Join at $30 a year (includes a free tee shirt) or at $50 a year (for free shirt and additional discounts). Click HERE.

**if we are not able meet our membership challenge, your membership fee will be refunded. if we are able to meet our membership challenge, instructions for redeeming your free shirt will be sent in December 09.
Image is Fernando Marti's "Prisons and Poppies" T.