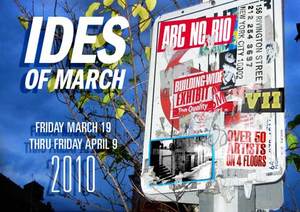 ABC No Rio's bi-annual building-wide show is opening this Friday! There is a contribution from Justseeds member Kevin Caplicki, in the computer center on the 5th floor, check the flicks below. This will be the last Ides show in the current building, since ABC has raised enough money to construct a new building in the same location. Come out!
ABC No Rio's Ides of March
The Seventh Biennial Building-Wide Exhibition
March 19 – April 9
Over 50 Artists on 4 Floors
OPENING: Friday March 19 at 7:00pm
PARTICIPATING ARTISTS: Cesar Arredondo, Fabian Berenbaum, Doris Cacoilo, Kevin Caplicki, Christopher Cardinale, Michael Cataldi, Chris Clary, Barrie Cline, Peggy Cyphers, Michael De Pasquale, Nanna Debois Buhl, Charlotte Doglio, Ian Dolton-Thornton, Jade Doskow, Es Muss Sein Quartet, Mike Estabrook, Lambert Fernando, Fred Fleisher, Flux Factory, Julie Hair, Suckzoo Han, Joann Harrah, Rebecca Howland, Akiko Ichikawa, it/EQ Community Arts Collaborative, Vandana Jain, Darren Jones & Ryan Roa, Christina Kelly, Sarah Kipp & Phyllis Kipp, Ben Knight, Vikki Law, Emilie Lemakis, Liz N Val, RTST, Jens Maier-Rothe, Julie McCabe, Judith Modrak, Alan Moore, Nsumi Collective, Jann Nunn, Olek, Angela Organ, Douglas Einar Olsen, Perfect 8, Dave Powell, Dave Pugh, Ed Radford & Rob Shepperson, Michelle Rollman, Scott Seaboldt, Chanika Svetvilas, Subject to Change, Three Wise Goats, Seth Tobocman, Cat Tyc, Vydavy Sindikat, Carol Warner, and Jen Zarkzewski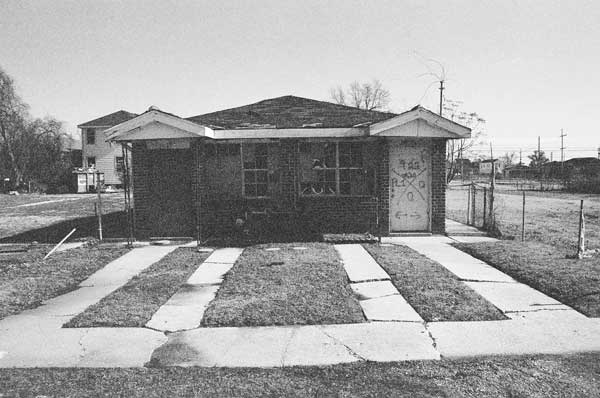 The image used was taken on a recent trip to New Orleans. The idea was to incorporate a new image in the mural that was painted, two years ago, at the last Ides of March show. The title of the previous mural "Let us wait no longer" resonated with me, while riding bikes around the Lower Ninth Ward over 4 years after the devastation of Hurricane Katrina. The people waiting to be rescued, waiting for services, waiting to return home, and now waiting to rebuild.
I'm not a painter, and didn't manifest exactly what was on my mind, but I had fun working in a different medium & I'm happy with the end product. Come check it out!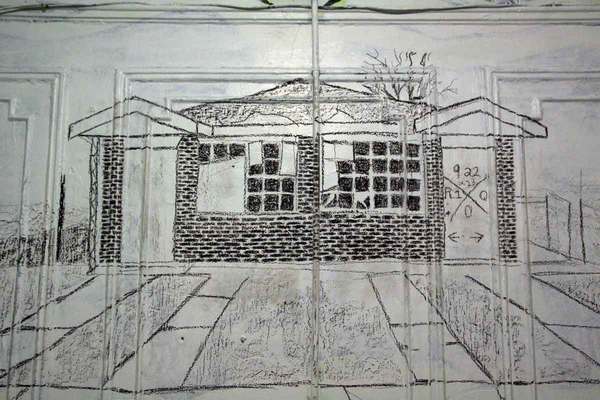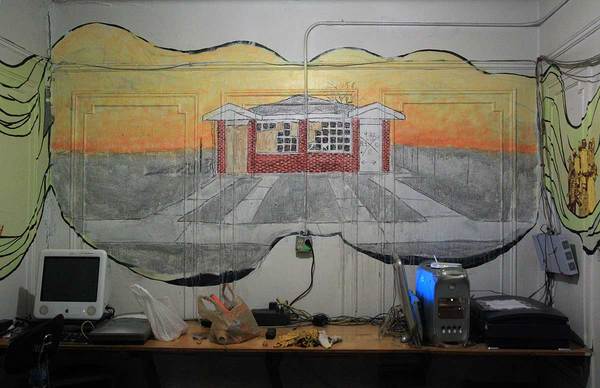 ADDITIONAL IDES EVENTS:
Friday March 26 at 8:00pm
Don't You Find Us Charming?
Chester Comedy Improv
Special One-Year Anniversary Performance
Sunday March 28 at 7:00pm
A Special COMA Concert
– Andrew Haas soprano sax and Dee Pop drums
– Dom Minasi guitar Blaise Siwula alto sax

Friday April 2 at 8:00pm
Fin de Siècle
Z Collective with Insurgent Theatre
VIEWING HOURS: Sun 1:00-6:00pm
Tues, Wed, Thrs 5:00-9:00pm
CLOSING: Friday April 9 at 7:00pm