Photos from the Printervention show at the Chicago Tourism Center Gallery. The show is a series of prints by artists who visualized what the WPA might look like if it was today. Three artists from the Justseeds Artist's Cooperative included work – Mary Tremonte, Colin Matthes, and Nicolas Lampert whose image "Books Are Weapons" can be found here.
Great work is found throughout the show, including a mobile silk screening cart by Mike Slattery.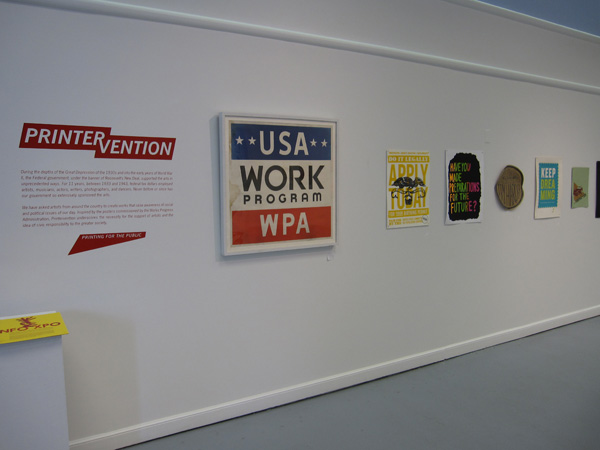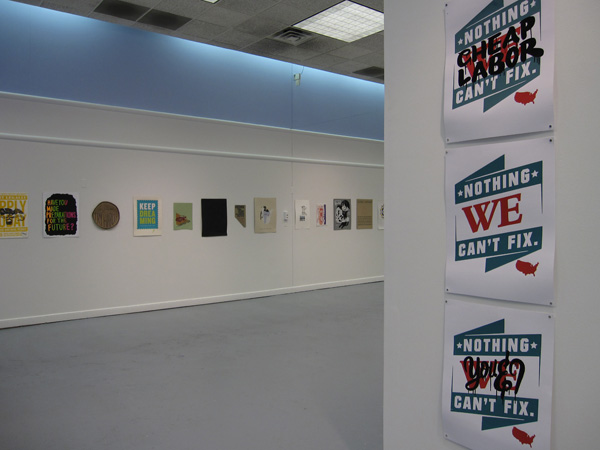 The middle print (red) is by Mary Tremonte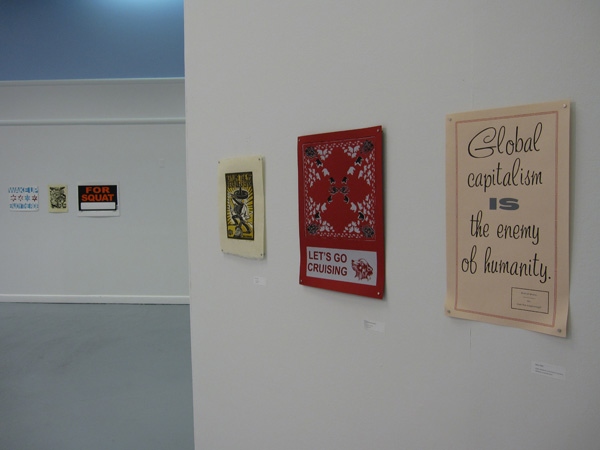 Print on the far left by Colin Matthes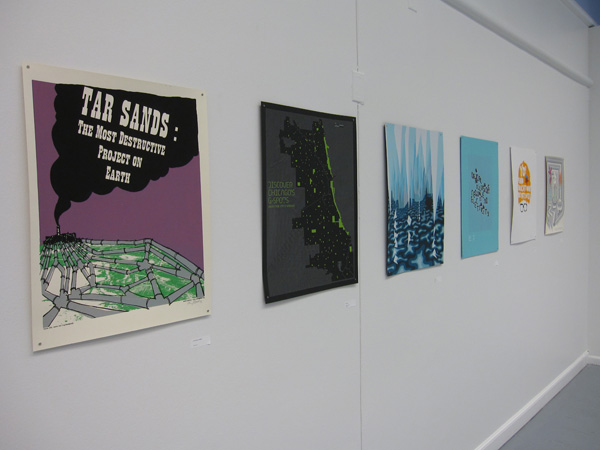 Print on the left by Laura Klein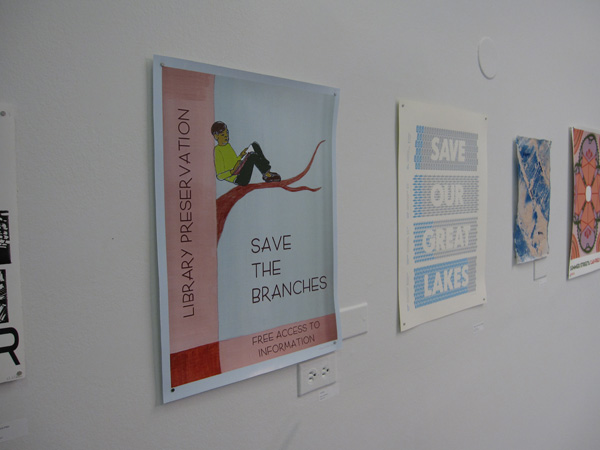 Print by Salvador Jimenez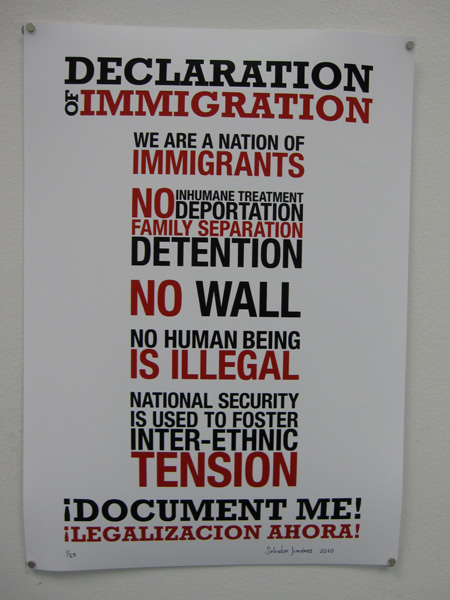 Print by Dan S. Wang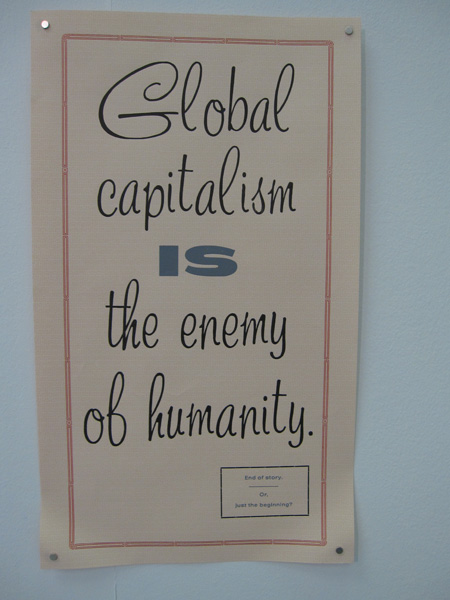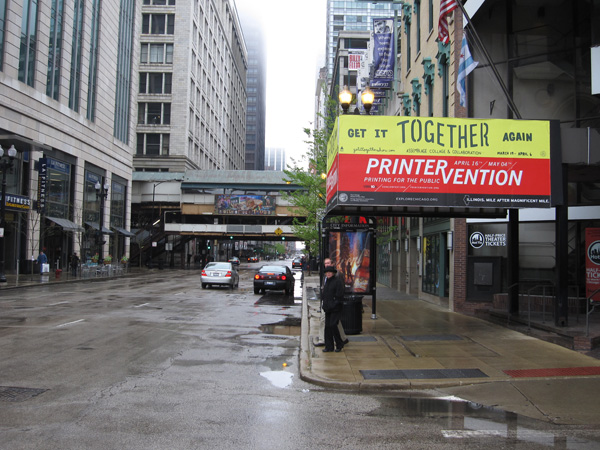 Info on the show:
Printervention
.
Chicago Tourism Center Gallery, 72 E Randolph.
April 16th – May 4th
Presented by Chicago Department of Cultural Affairs, Office of Tourism, part of Version 10, and sponsored by the Society of Typographic Arts and organized and curated by Emily Clayton, Chris Roberson and Ed Marszewski of the Public Media Institute.
The show will travel and expand over the year making stops in Detroit, New York and other American cities over the next year.
Printervention features work by
Alex Valentine, Andrew Blackley, Andy Luce, Angee Lennard (Spudnik Press), Antonio Pazarán (Instituto Grafico de Chicago), Bryan Christopher Baker (Stukenborg) Chad Kouri, Christina Vantzou, Cirilo Esquivel, CJ Mace, Clay Hickson, Cody Haltom, Colin Matthes, Justseeds, Cynthia Marris, Damon Locks, Dan Grzeca, Dan S. Wang, Danimal, Delicious Design League, Billy Baumann and Jason Teegarden-Downs, Derek Dietrich-Muller, Dominic Fortunato, Eric J. Garcia, Gregory Calvert, Ina Weise, Jennifer Farrell, Jenny Beorkrem, Jeremiah Chiu, Jessica Owings, Jessica Taylor, Jon Resh, Jose L. Gutierrez, Renata Graw, Julia V. Hendrickson, Justin Cox, Katie McCauley, Keith G. Herzik, Alamo Igloo, Kenton Quatman, Laura Klein, Julie Morelli & Andy Schwegler, Lise Haller Baggesen, Luke Williams, Margot Harrington, Marvin Chan, Mary Tremonte, Mat Daly, Michelle Mashon, Nick Adam, Nick Bahr and Janet Webber, Nick Du Pey, Nicolas Lampert, Rand Renfrow, Rebecca Ann Rakstad, Ricardo Serment, Richard Repasky, Richie Bearden, Reuben Kincaid, Ryan Duggan, Salvador Jiménez, Sanya Glisic, Seripop, Shaun Lind, Sonnenzimmer, Nick Butcher and Nadine Nakanishi, Steve Walters, SuperKonductor, David R. Head, Jr. and Jen Hazen, The Little Friends of Printmaking, Thirst, John Pobojewski + Bud Rodecker, Tyler Galloway, Vanessa Sanchez, Veronica Corzo-Duchardt, Renata Graw, and Will Bryant