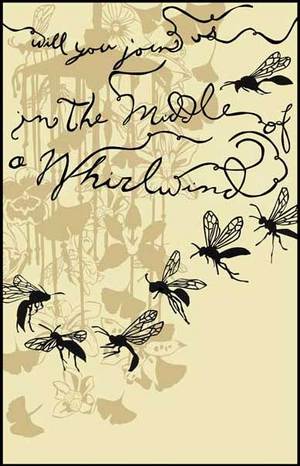 Justseeds member Kristine Virsis coordinated with the Team Colors crew to produce the accompanied image for their upcoming project "In the Middle of a Whirlwind"
In the Middle of a Whirlwind (Whirlwinds) inquires into current organizing efforts in the United States, and through that process, assembles a strategic analysis of current political composition as a tool for building political power.
Whirlwinds' strategic context is this summer's RNC and DNC protests; through these documents and the discussions that erupt from them we hope to directly impact the anti-Convention organizing. In a larger sense, and in the long-term, Whirlwinds is intended to provide a set of useful documents for contemporary radical organizing. Each essay and interview addresses the issues of movement, working class power and composition, and/or gives strategic insight into organizing, and the strengths and weaknesses of current movement/s in the U.S.
A one-off online journal of theory, art, activism and organizing to be released May 25th!

Will you join us in the middle of a whirlwind?
In the Middle of a Whirlwind:
2008 Convention Protests, Movement and Movements
Coordinated by: Team Colors (Militant Research Collective)
Published by:The Journal of Aesthetics & Protest Press
Contributions From:
Jen Angel | Bay Area Radical Health Collective | Bluestockings Books, Café and Activist Center (NYC; written by Malav Kanuga) | George Caffentzis | Chris Carlsson | Maribel Casas-Cortest & Sebastion Cobarrubias (Counter Cartographies Collective) | Emma Cosse (Precarity Map Europe) | Crimethinc | Direct Action to Stop the War (San Francisco) | Domestic Workers United & Right to the City Alliance in dialog (facilitated by Harmony Goldberg) | Brian Holmes |Family Farm Defenders | Silvia Federici | Michael Hardt | The Icarus Project | IWW Starbucks Workers Union | The Journal of Aesthetics and Protest | El Kilombo Intergaláctico (Durham, NC) | Latino Health Outreach Project (New Orleans; written by Jennifer Whitney) | Peter Linebaugh | Brian Marks | Daniel McGowan | Philly's Pissed & Philly Stands Up (PSU written by Esteban Kelly) | Roadblock Earth Frist! | Restorative Justice Community Action (Minneapolis; written by Stevie Peace) | Gigi Roggero (Edu-Factory) | Maggie Schmitt (Precarias a la Dervia) | Ben Shepard | Basav Sen | Smalltown, USA Workers Center | smartMeme | $pread Magazine | Brian Tokar | Daniel Tucker (AREA Chicago) | Ultra-red | US Federation of Workers Cooperatives | United States Social Forum (Documentation Committee; written by Marina Karides) | Art by: Kristine Virsis of Justseeds, Brett Bloom of Temporary Services, USSMEAC, Lex and Lize of An Atlas for Radical Cartography, and others. | Interviews with: Ashanti Alston, Critical Resistance, Robin D. G. Kelley and various anti-RNC/DNC organizers & groups |
An Appeal for Donations: While Whirlwinds is a free online publication there are still serious costs involved, and with no outside resources or sources of funding, we still need your help to make this a reality. Whirlwinds will be printing and shipping posters and postcards (designed by Justseeds) to nearly 400 radical spaces (infoshops, bookstores, workers centers, food coops, zine libraries, bike spaces & other community centers) across the U.S. Your contribution toward Whirlwinds ensures making this project a success.
Contact:
Journal
Team Colors