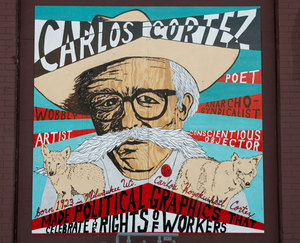 There is an article about Colin Matthes' Carlos Cortez mural at OnMilwaukee.com:
Mural project is a work of admiration and kindred consciousness
"The campaign increased my desire to make something really graphic with a specific message but it also made me want to focus on something that celebrated something a little more than 'Stop this. Or no that.' I wanted to do something celebratory about someone I admire and don't hear much about and that is how I got to Carlos Cortez," Matthes said.
There is a review of Justseeds book Firebrands: Portraits From the Americas on the ElevateDifference.com by Clarisse Thorn:
I was initially unimpressed by Firebrands, but that was because I approached it wrong. I tried to sit down in my living room and read it cover-to-cover, and that's not what this book is for. It's a pocket-sized compendium of amazing people—people "left out of the schoolbooks because they were too brown, too female, too poor, too queer, too uneducated, too disabled, or because they daydreamed too much." Each firebrand gets a page-long description, a lovely illustration, and a number of suggestions for further reading.
Read the rest at: Elevated Difference Firebrands Review