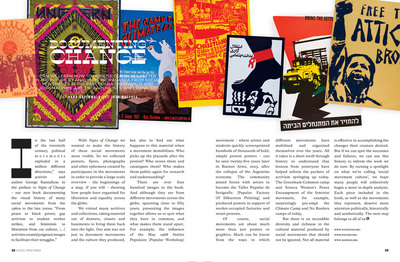 Here's another short round-up of recent news and reviews:
UK's Huck Magazine has printed an excerpt of Dara and my intro to Signs of Change: Social Movement Cultures 1960s to Now in both their issue #25 and their winter mini-mag. Neither is online, but to the left is an image of the min-imag spread!
After reading Celebrate People's History: A Poster Book of Resistance and Revolution, the UK's Red Pepper magazine says they were "tempted to go out and form a revolutionary poster collective of their own." Check out the full review HERE.
A Limited Rebellion design blog calls Signs of Change: Social Movement Cultures 1960s to Now, "truly essential reading." The full review can be found HERE.
In a second review A Limited Rebellion had this to say about Celebrate People's History: "This beautiful volume is the kind of coffee table book that will definitely spark conversations and should certainly be on the shelf of anyone who considers themselves a design activist." Read the rest HERE.
Jori, a great photographer from Providence, was at the Justseeds HQ a couple months back taking photos for the new Outpost magazine. She sent me a link to a flickr set of the photos, which look great! If you have any interest in what our space looks like, or what Justseeds does behind the scenes, check these out HERE!

Awhile back Printeresting ran a studio visit piece on Montreal's Seripop, but since Seripop share a studio with our very own Jesse Purcell, there is some nice photos of Jesse's prints and workspace in the post as well! You can check it out HERE.
UK socialist paper Morning Star says of Celebrate People's History: "Many a modern protester would be well advised to leaf through this book." Review HERE.