Pittsburgh is breathing a little easier since the G20 Summit has come and gone, but I think we'll be feeling the repercussions for quite a while.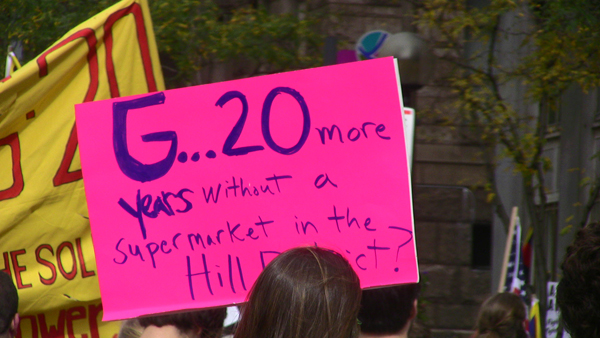 (all images from twin cities indymedia) Many protesters pointed to the diversion of resources from the Pittsburgh and its residents to G20 security measures—$18 million at last count, not to mention all the time and $ towards 'reddin' up' Pittsburgh to look nice for the important world leaders
The best place, in my opinion, to find grassroots reports from the protests is the Pittsburgh Independent Media Center's G-Infinity Media Project,at
www.indypgh.org
, with a steady stream of breaking news tweets and videos throughout the weekend and beyond..

Also, some friends just completed this video reportback for the Nation, which I think is quite good:
http://www.youtube.com/user/videonation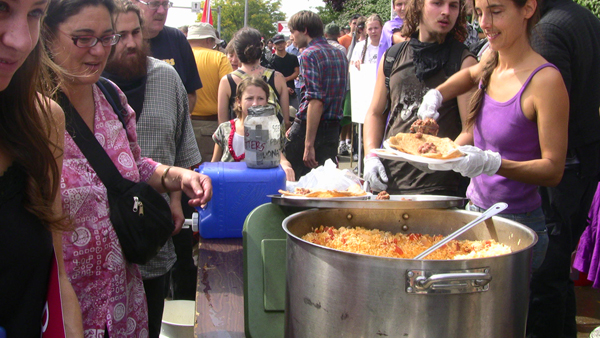 Seeds of Peace serving food at the People's March on Friday. Like many others, they received much police intimidation and harassment in the days leading up to the G20, including having their legally parked bus impounded
By an order of the Pittsburgh Police, media were treated the same as any civilian during the G20 weekend, getting swept up in mass arrests with other 'non-protesters.' Among those arrested was Sadie Gurman, a reporter for the Pittsburgh Post-Gazette, who has actually written
some @-sympathetic press
. She was among those arrested at Friday's Anti-Police Brutality gathering. About 100 arrests were made on Friday evening, mostly University of Pittsburgh students. Many were there in response to the police teargassing dormitories on Thursday night as part of an overreaction to a Queers Bash Back march; many others were just passing through on their way home from bars and parties. It has been interesting how many folks, particularly students, differentiate between 'protesters' and 'non-protesters'…it seems the only way to be a protester is to either be an 'anarchist' or 'hippie.' A very 'us' versus 'them' mentality, which became confusingly blurred on Thursday and Friday nights in Oakland.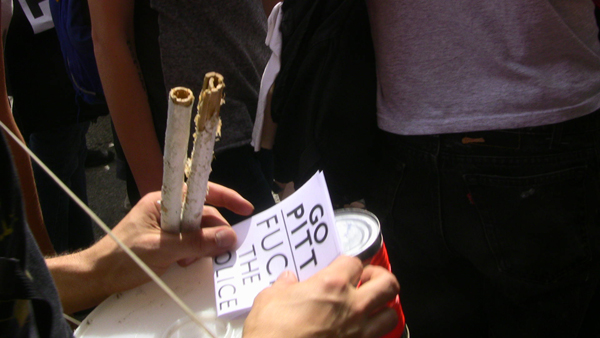 Fliers handed out around Oakland after Thursday night. school spirit + anti-police brutality?
Will this have a resounding politicizing effect on students in Pittsburgh? I am interested to see what the future holds.