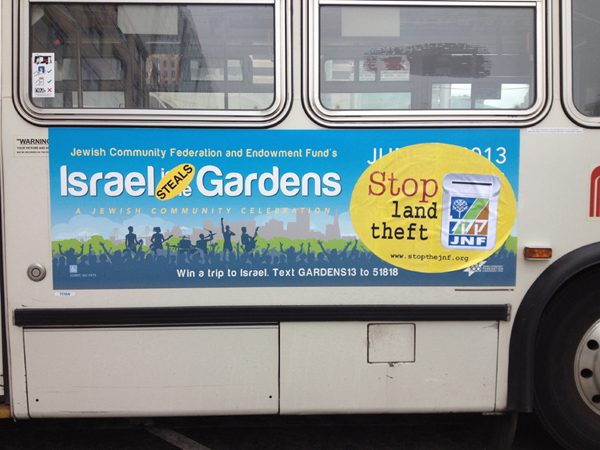 From Bay Area Queers Unleashing Power!
"Israel Steals Gardens." StreetCred artists modified bus ads in San Francisco over the past few weeks to highlight this truth. "Palestinian farmers face the brunt of Israel's land confiscations, demolitions and water theft," explains a recent call issued by Palestinian farming organizations. "An estimated 10% of the Palestinian GDP ($480 million) and 110,000 jobs are lost annually because of the negative effect of Israeli policies on Palestinian agriculture in the occupied Palestinian territory," the report continues.
The bus ads were modified promote the annual "Israel in the Gardens"festival, which celebrates the 1967 annexation of the West Bank, Gaza and East Jerusalem by the Israeli army. These areas remain under Israeli military occupation today, one of the longest-standing occupations in the world. Since 1967, Israel has moved half a million Jewish settlers into Palestinian territory, confiscating over 63% of the agricultural land, in violation of the Fourth Geneva Convention and other international laws. Israeli settlements in the West Bank expanded by 1977 acres in 2012, according to the Israeli newspaper Haaretz.
The artists' action comes at the same time that a controversy has erupted over a series of ads placed on buses by American Muslims for Palestine. The AMP ads read "End Apartheid Now: Stop US Aid to Israel" alongside a picture of the Apartheid Wall which runs through over 300 miles of Palestinian land in the West Bank:

Pro-Israel organizations and seven city supervisors have claimed that the AMP ads are "deceptive" and"inflammatory" because of its use of the word "apartheid," Supervisor Scott Wiener and six other supervisors sent a letter to the Metropolitan Transit Agency calling on the agency to fork over the $5,030 from American Muslims for Palestine to the Human Rights Commission to combat "growing intolerance alienating the Jewish community." The supervisors demand equates the AMP ads to a previous campaign, by Islamophobe Pamela Geller, which called Muslims "savage."
As pointed out in a statement by Jewish Voice For Peace, Israeli officials themselves have used the word "apartheid," which means "separation,"to describe its policies toward Palestinians. Israel's calls the Wall pictured in the AMP ad its "Separation Barrier."
"It's Israel in the Gardens, not the AMP ads, which is deceptive," said StreetCred member KD. "The ad calls it a 'Jewish community celebration' but it's really a celebration of land theft. We call for the proceeds of these ads be donated to study the harm done to Jews and non-Jews alike by the conflation of the Jewish community with the Israeli state, and/or the harm done to Palestinians by the theft of their land."
Numerous different modifications to the Israel in the Gardens bus ad have been posted on buses in various San Francisco locales. Additional photos can be seen here!