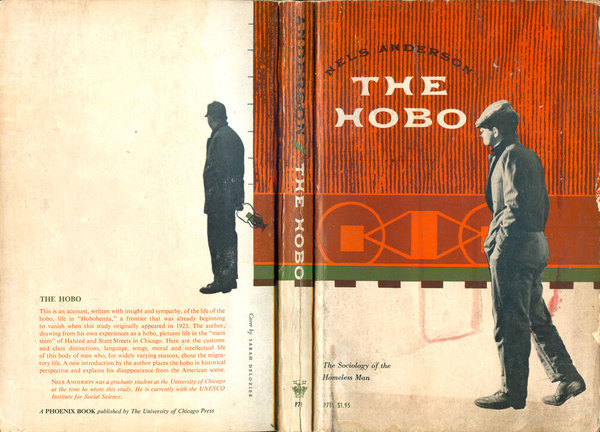 I found this great book on a dollar rack here in New York City. It's a 1961 edition (Phoenix Books, a division of the University of Chicago Press) of a Nels Anderson's sociological study of The Hobo, originally published in 1923. The cover, designed by Sarah Delozier, is a nice montage of photography, geometrics, and hand-drawn lines. A hobo "tough" strolls into the frame in front of a freight car. He looks casual, but once you open the book, and absorb the back cover, you can see he's on the look out for a train yard security guard, or "bull." The black and white figures contrast strongly against the colors of the train.
On one hand the dominance of orange, brown, and green on the cover seem to date the book, but then again, it's subject and writing are from the early 20th century. The subtitle "The Sociology of the Homeless Man" is striking in how much it illustrates how conceptions and conditions of homelessness have changed. I find it hard to imagine a 21st century volume on the subject being so focused on the choices men made to become homeless and the depth and complexity of the culture they built themselves. The hobo here is a social actor who defines their own life as much as, or more than, it is defined for them.
The inside of the book is full of all kinds of gems, including lists of slang and hobo language, songs, maps, markings, and photographs. Check some of it out below.