Over the next couple weeks I'm going to dig through the rest of the Peter Kropotkin covers I've found. Most are beardless, and many are banal at best, but there are some gems hidden in here. The cover to the right, for instance, is really interesting and strange. A giant generic pink head fills the field of the cover, with a large albatross flying out of the head, out of the person's mind? I'm not sure if the bird is an oblique reference to Mutual Aid, Kropotkin's most influential work, but this is definitely not that book, it's a German edition of his overview of anarchist philosophy and politics. The type is unfortunate, this would actually be an even more challenging and engaging cover if the title was in a cleaner sans serif font and dropped to below the chin, leaving the entire space of the head empty except for the bird in flight.
The British editions of Anarchism I found are much less compelling. The Freedom edition to the left from 1987 was designed by the usually amazing Rufus Segar (designer of the sharp looking UK journal Anarchy from the 1960s, you can see some examples of those covers on the Signal website HERE), but this is a real flop. I'm not sure if it read differently 25 years ago, but it doesn't stand the test of time. This is the general design, with the colors changing, for the entire Freedom Press "Anarchist Classics" series of that period, and it is clear that someone had some ideas of what "classics" should look like. But rather than pulling out a single or coherent set of visual ideas to convey seriousness, age, historical value, etc., a bunch of half-formed concepts have been thrown on top of each other. The background is made of bricks, but the corners are cut off with an outline, creating the appearance of a schoolbook, or ledger. The title is in this tall oval, with the publishing info in a diamond below, but the way they are stacked makes them look like a cheap medal, like something you would get for honorable mention in a contest. It just doesn't all add up.
To the left is a bearded cover that slipped through the cracks, a pamphlet version of Anarchism produced in London in the 1970s I think. Not much to say about it—I do like the overly ornate lettering, and the awkward spacing, I assume caused by each letter being individually rubbed onto the master cover via zippotone rub-on letters.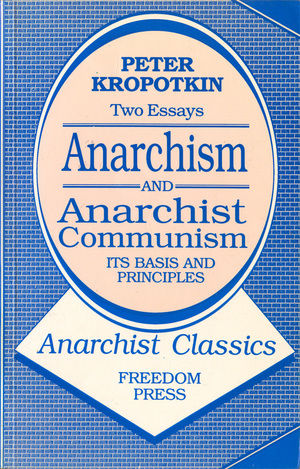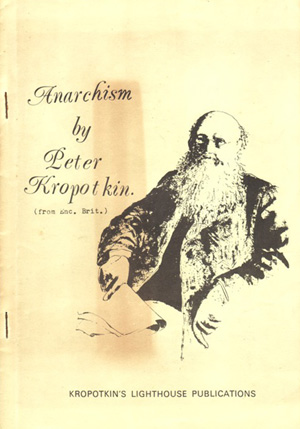 Conquest for Bread is currently a popular Kropotkin title (in English at least), but I wasn't able to find many different editions. Here are two recent paperbacks, the first is the 2007 edition by AK Press, part of its "Working Classics Series." The covers of entire series were designed by Juston Coyne, and are clean and solid. Their sparseness and design efficiency go much farther to imply "classic" than the aforementioned Freedom series. To the right is a fairly new edition by the small Canadian anarchist publisher Black Cat Press. In ways very different than the German Anarchism cover above, this one is both striking and strange. First, most editions of this book tend to include green, a nod to Kropotkin's utopian ideas about food production and harmony with nature. This cover is instead bright reddish orange, with the color literally dripping down the page like blood. And people are lined up to go into the smog producing factory like an industrial assembly-line. I guess the idea is to show the inverse of his vision for a new society, but without any clear exposition, it is a strange way to sell a book!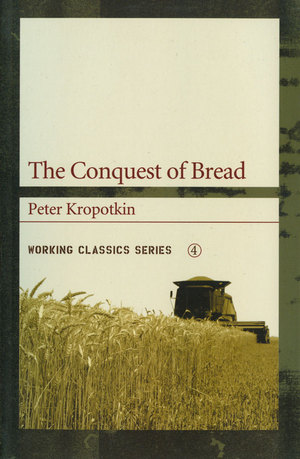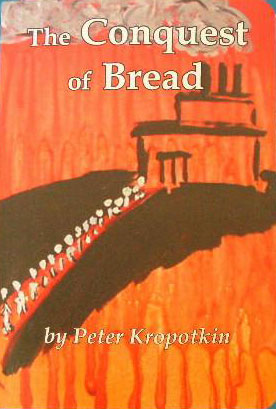 Mutual Aid is probably Kropotkin's most popular and most referenced work, and there are lots and lots of editions floating around out there. Here is a small selection, far from all of them. The first book is one of my favorite of all the covers here, a really nice integration of illustration and type, all in duotone red and and green, an unexpected color combination. This is the Porter Sargent Publishers/Extending Horizons Books edition, cover designed by Nancy Brigham. There is no date on the copy I have, and the web brings up a huge range, from 1960 to 1976. The one I have seems likely from the mid 60s. As a side-note, the inset illustration of the bees is one we used back in 1993 as part of the a log for the Beehive Infoshop in Washington DC! We used it on flyers and on pamphlets we produced, and maybe even on some patches and t-shirts. To the right is the 1955 Extending Horizons Books edition. The rough and expressionistic cover is kind of cool, but I've never been able to figure out if it is supposed to representative of something, or is simply abstract.
An elephant caravan is the focus of the cover of the new Freedom Press edition from 2009, and although I commend Freedom for trying to create a contemporary-looking cover, it looks a little bit too much like stock photography, and the clouds evoke a religious book, as opposed to Kropotkin's attempt to grapple with evolutionary science. next to it is a 1930s condensed pamphlet version I picked up somewhere for $1 I think. Nothing fancy, but the cover is actually letter-pressed, and I almost prefer the simplicity to the grandiosity of the elephants.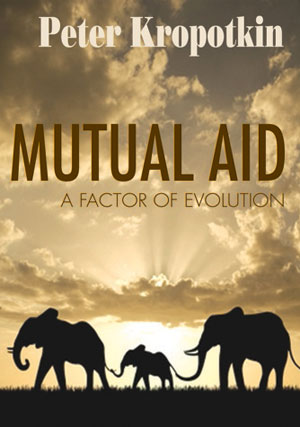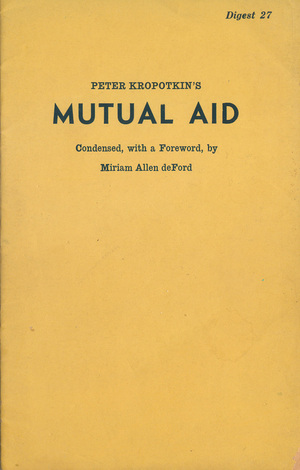 The last copy of Mutual Aid is a Spanish edition by Editorial Zero from 1970. The youthful piercing eyes are so contrary to the popular "old man" Kropotkin it is pretty jarring. The asymmetrical cropping of the image, the right and left justification of the title, and the repetition of his name (one vertically) make the cover feel almost proto-punk.
The Kropotkin book that bridges the gap between Mutual Aid's science and the Conquest of Bread's political economy is Fields, Factories, and Workshops. This is a great looking Spanish hardback edition, with a really awesome embossed multi-color illustration. It's from 1978 and published by Biblioteca Historica del Socialismo.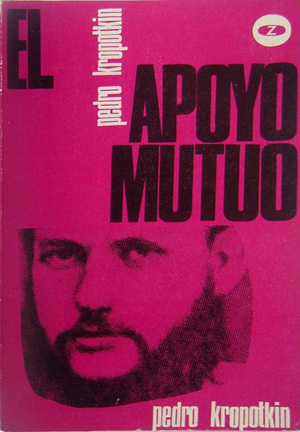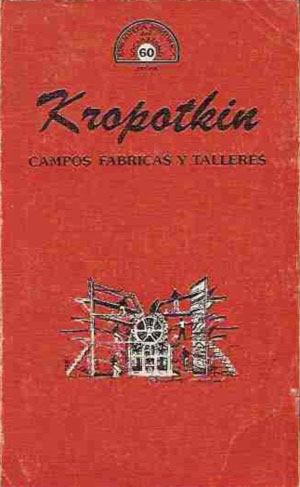 In 1974 the British anarchist, public planner, and political Renaissance man Colin Ward took Kropotkin's book and updated it, creating a new text titled Fields, Factories, and Workshops Tomorrow. Below are the British and American editions. The UK version was once again published by Freedom, and has a passable but not great cover. It unfortunately looks like a powerpoint slide. The American edition is on Harper, a major publisher, and has a very cool 70s montage construction of a mini-factory popping out of a potato. I'm not sure of the designer/illustrator, but it is reminiscent of some of the work of British political photomontage-ist Peter Kennard.
Next to those is this strange book titled The Black Flag: Kropotkin on Anarchism. I'm unsure if this is simply a new repackaging of Kropotkin's Anarchism, or a different book. It is published by Red and Black (not to be confused with Detroit's Black & Red publishers run by Fredy and Lorraine Perlman), and I believe is a print-on-demand (POD) book. The cover is classic POD crap, but it is interesting that the flag doesn't appear to be clip-art, someone might have actually created it in Photoshop or Illustrator for this particular cover. Ugh.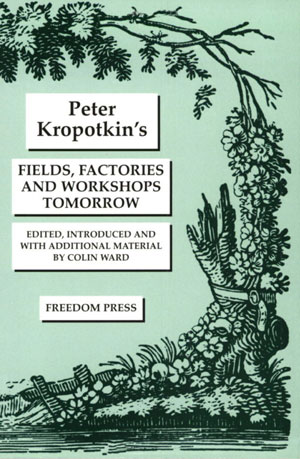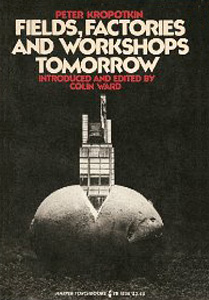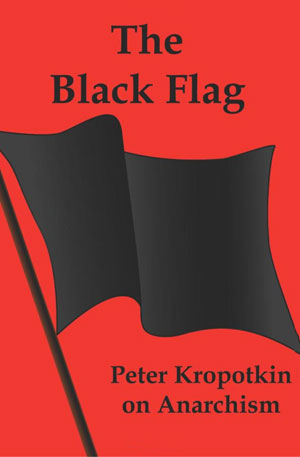 I'm going to round up this week with some bits and pieces and pamphlets. The two covers below are from small Canadian-produced pamphlet reprints of short pieces by Kropotkin. On Order is put out by Black Cat Books, and has a cover that harkens to a classic age, but reads more as dull than efficient. Profit and Exploitation on the other hand has a snappy cover, the nice block-print style illustration overlaying the large Kropotkin title that anchors the design. The orange and black on the raw paper stock looks great.
Anarchist Morality if another reprint by Black Cat Press, the cover is much more simple than the Conquest of Bread above, and basically looks like a photocopy. I'm thinking the image is of Kropotkin as a youth, but I'm not sure where it is from (and I'm certainly no Kropotkin expert…).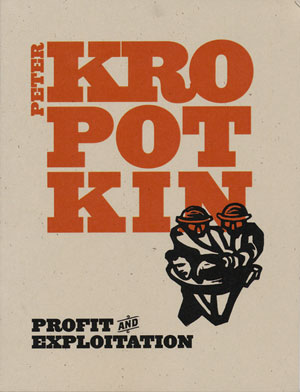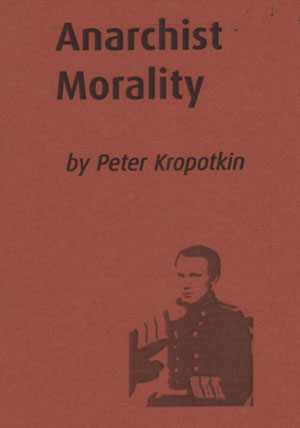 That's all for this week, stayed tuned next Monday for the Kropotkin wrap-up. We'll look at Memoirs of a Revolutionist and other books!