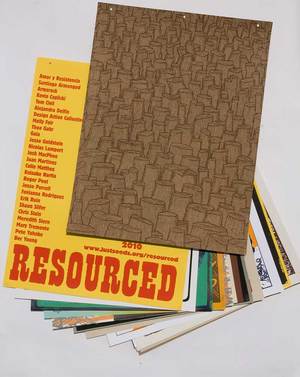 Justseeds Artists' Cooperative has released the highly anticipated project, RESOURCED, a portfolio of 26 hand-made art prints that explore the devastating effects of resource extraction and environmental devastation. The collection provides a critical look at what people can do in defense of the planet. Graphics have always played a vital and powerful role in exposing injustices throughout history, and RESOURCED follows this tradition, offering urgent messages about sustainability, environmental justice, and clean energy. Included in the portfolio are some of today's most exciting street artists and poster makers, including Gaia, Chris Stain, Favianna Rodriguez, Armsrock, and others. Artists collaborated with organizations to produce images illustrating topics around environmental destruction, food sovereignty, workers' rights, Indigenous struggles, and examining the effects of mountaintop removal, oil extraction from tar sands, hydro-fracturing, mega-dam projects, mining, over-fishing, and much more.

RESOURCED is an oversized "exhibition in a book", a teaching tool, and a dialogue-starter for community spaces, schools, conferences, and galleries. It can be used as a tool to ask timely and important questions about the environment, such as:


• Who benefits from the extraction of natural resources and who pays the costs?
• Are there viable possibilities for alternative energy sources?
• Could all the energy produced be more equitably distributed?
• Under what labor conditions is alternative energy produced?
• What are Western and corporate climate policies? What does resistance to these
look like?
• How does environmental devastation effect different communities along the lines
of race, class, and gender?
The portfolio is available in a limited edition of 125 copies. In addition to the portfolio, Justseeds has created an informational micro-site (http://justseeds.org/resourced/) where users can freely download all images in the portfolio. The free, digital versions are intended to compliment the work and efforts of organizers and activist campaigns.
Participating artists and organizations include: Members of the Justseeds Artists' Cooperative, Gaia (NYC), Amor y Resistencia (NYC), Armsrock (Denmark), Tom Civil (Australia), Alejandra Delphin (NYC), Design Action Collective (Oakland), Narita Keisuke (Japan), Juan Martinez (Beehive Collective) and Jesse Goldstein (NYC), Asian Pacific Environmental Network (San Francisco, CA), BARK (Portland, OR), Centro Autonomo para la Creación Intercultural de Tecnologias Apropriadas (Oaxaca, Mexico), Environmental Justice League of Rhode Island (Providence, RI), Detroiters Working for Environmental Justice (Detroit, MI), Movement Generation (Oakland, CA), The Point (Bronx, NY), Indigenous Environmental Network and others. A full list of creators is available on the website.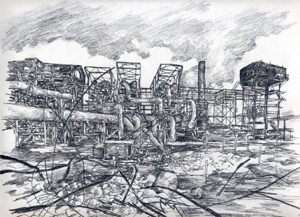 RESOURCED
portfolios are available on limited basis in the Justseeds online store for an introductory price of $250. You may purchase one in the
Justseeds online store
and support this groundbreaking project, support the Justseeds Artists Cooperative, and invest in ongoing handmade portfolios.
RESOURCED
can be viewed, currently, at the Justseeds Headquarters, 3410 Penn Ave 2nd Fl, Pittsburgh, PA and the exhibition opening Friday August 6, at Marketplace Gallery, 40 Broadway Albany, NY. More events to be announced!