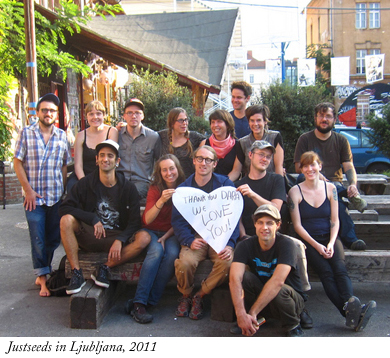 2011 was a busy year for Justseeds! Amidst all of the art-making, art shows, installations, posters, murals, occupying, teaching, protesting, de-colonizing, DJing, graphic making, illustrating, book designing, book writing, blogging, mud stenciling, protesting, organizing, wheat pasting, speaking engagements, and slide shows done by individual members of Justseeds, we also found time to come together and work on many projects collectively. Here's a rundown of our last year:

Place:
2011 was our first full year in Pittsburgh. We've been filling orders and operating physically out of a space on Penn Avenue, in Lawrenceville, over the top of Bike Pittsburgh (PGH's bicycle advocacy group). Mary and Shaun fill the orders with occasional help from our comrade Artnoose, and Bec deals with trying to keep the books straight for a 26 member art collective. We've had numerous events in the Pittsburgh space: several art shows, some readings, and some art/organizational style events with Iraq Veterans Against the War (IVAW) and Occupy PGH (amongst many others).
Portfolios:
2011 saw the creation of the War Is Trauma portfolio. This was done in collaboration with IVAW and Booklyn. This portfolio grew out of an 2010 collaboration with Justseeds and IVAW, Operation Exposure, in which we wheat pasted posters around Chicago trying to raise awareness about the re-deployment of traumatized troops. The War Is Trauma portfolio built upon this, and added several vet (and non-vet) artists. The cover is printed on Combat Paper (paper made from old uniforms by veterans). We've had shows thus far in Brooklyn, Pittsburgh, and Chicago.
Resourced, our portfolio from 2010, about resource extraction and the environment continued to be used, with shows in Montreal and Black Butte, CA.
And our first portfolio, Voices From Outside from 2008—made in celebration of Critical Resistance 10th anniversary was part of a Books Through Bars benefit in Brooklyn.
The Celebrate People's History Poster Series continues to grow with more posters being prepped for printing as we speak. There were several CPH shows (and/or mass wheat pastings) through out the year in San Cristobal de Las Casas, Pittsburgh, Okinawa, Lawrence, and Milwaukee.
Group Installations:
We had two large group shows this year. Within a month of each other, actually. The first was in Carnegie Mellon University's Miller Gallery, as part of the Pittsburgh Biennial. In this, we created a billboard landscape on the second floor of the gallery, all themed around immigration.
The second show took place in Ljubljana, Slovenia as part of their Graphics Biennial. This show, with a lot of wheat paste, prints, and a shipping container sculpture, was themed around migration (similar to the Pittsburgh install, but adding animals to the mix too!).
Non-Justseeds related collectivity:
Many of us were involved in creating graphics and protesting the right's attack on organized labor last spring.
More recently, most (all?) of us participated one way or another in the various occupy movements happening around the country. From print-making in occupation encampments, to contributing to Occuprint, the Occupied Wall Street Journal, etc…
Several Justseeds members participated in making graphics for the No Redd Papers pamphlet, which was about the UN's carbon trading scheme. It was made to be distributed at the climate change conference in Durban.
The Interference Archive opened up in Brooklyn at the end of this year. Started by Justseeds members Josh MacPhee, Dara Greenwald, Kevin Caplicki, and Molly Fair, Interference Archive's hosts a large (and growing) collection of contemporary and historical political graphics, posters, and books. Keep you eye on this space for regular hours to peruse and/or study the collections as well as upcoming talks, slideshows, screenings, and workshops.
Blog:
This last year saw Josh really going for it with his ongoing blog series Judging Books By Their Covers, in which he analyzes, reviews, admires, and critiques book and pamphlet design associated with various political struggles. This has been a really great series for looking at aesthetics and ideas and how they've related to various political movements and eras. He made 51 entries in the last year and is still going strong into 2012.
Shaun started a new series on our blog, DIYDPW (DIY Department of Public Works), in which he's been sharing photos of home-made street signs and interventions.
Three ongoing blog series have been pretty quiet for most of the year: Mary's Rad Teen Print of the Week- in which she's shared prints and posters from teenagers she's worked with, Colin's Drawing All The Time- collecting his sketch book series, and Kevin's I Can Read the Writing On the Wall- photos of graffiti. These will all hopefully will be back in 2012.
Our blog continues to be a great source of information about political art, posters, and actions around the world, we had something close to 600 entries in the last year!
Other stuff:
Roger organized our 2012 daily organizer (in conjunction with Eberhardt Press), our third. We donated over $700 dollars worth of prints, posters, books and postcards to Charm City ABC, a benefit for Marie Mason, an ELF prisoner benefit, the Coalition of Immokalee Workers benefit, a Portland IWW benefit, the Zinn Education Project benefit, Occupy/Decolonize SF, a Daniel McGowan benefit, and a National Lawyers Guild (MA) benefit.
Plans for the next year include a new portfolio organized by Favianna, with help from Roger. This one will be about migration, and each artist is tying their entry with an organization working with the issue.
Also:
A redesign of the website.
More downloadable graphics.
A group installation in Berlin in May.
And, I'm sure, a ton more…
This state of the collective was done in one sitting, relying on my own poor memory, blog entries, and internal wiki postings for the last year. I'm absolutely positive I've missed something important, so apologies in advance.