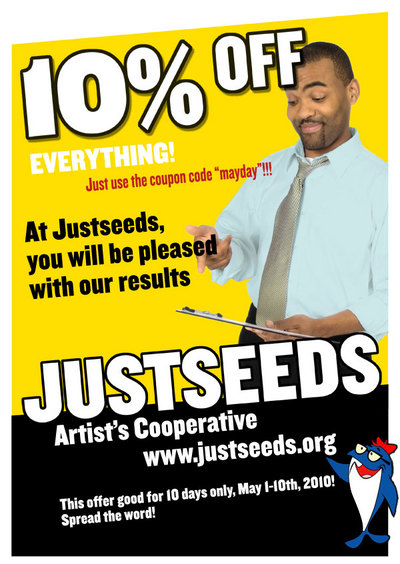 Justseeds is uprooting our physical plant from its' cookie-scented north Portland (Oregon) location and moving cross-country to Pittsburgh in mid-May. To commemorate this historic occasion (and in an attempt to lighten the load on the truck) we've decided to throw a sale: A MayDay sale! This is your chance to get your hands on all of the Justseeds art objects you've been coveting, covetously, for ten percent off.
For the first ten days of May (starting at midnight tonight!!), everyone that uses the coupon code "mayday" when placing their order on our site will get a ten percent discount on ANYTHING in the store…prints, books, zines, posters, postcards, everything. To use the coupon, place your order, and on the way to entering your billing information you'll be asked to enter a coupon code. Do so, and all of your art needs will summarily be met!
The coupon code expires on May 10. Also: make sure to share the coupon code with your friends, relatives, enemies, and random people on the street. Thanks, to all of you, from all of us at Justseeds, for continuing to support us, and look for thrilling prospects to emerge from our new Pittsburgh home!