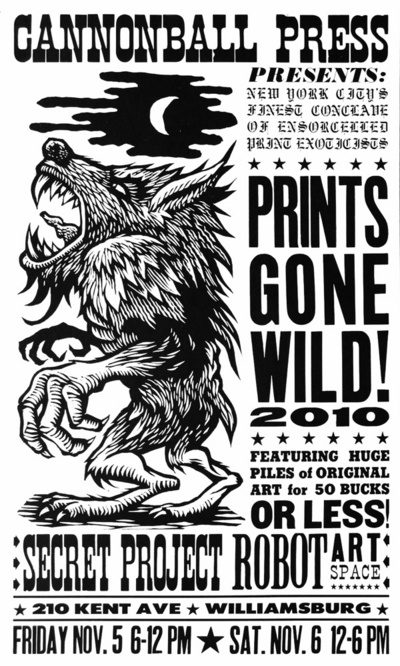 Cannonball Press proudly presents: PRINTS GONE WILD 2010!
The fifth-ever annual vernacular printacular mega-hairy Brooklyn affordable print fair!
The ORIGINAL AND ONLY 50 bucks and under American print fair, November 5-6th.
Brooklyn's own legendary Cannonball Press has again assembled an extraordinary menagerie of graphic artists under one roof, who will be present, displaying their prints, and selling them for $50 or less for two days only at SECRET PROJECT ROBOT, the Place with the Best Name.
Long-time champions of the affordable art cause, Cannonball Press has brought together these great artists as part of New York Fine Art Print Week so that New York can have a chance to see first-hand the incredible resurgence in affordable fine art printing that is happening across the country.
Featuring:
Dirty Printmakers of America Austin, TX
Wolfbat Studios Brooklyn, NY
Sean Star Wars Laurel, MS
Czentrifuga Berlin, Germany
Evil Prints St. Louis, MO
Yeehaw Industries Knoxville, TN
Space 1026 Philadelphia, PA
DRock Press Lexington, KY
Justseeds Brooklyn, NY
Kayrock Brooklyn, NY
The Amazing Hancock Bros. Austin, TX
Fri, Nov. 5th, 6pm-12am- Opening reception and party
Sat, Nov. 6th, 12-6pm- Fair is open all day
Secret Project Robot
210 Kent Ave.
Brooklyn, NY
Come join us for music by Tyromous Rex, beer, and a big fat stack of prints!!!