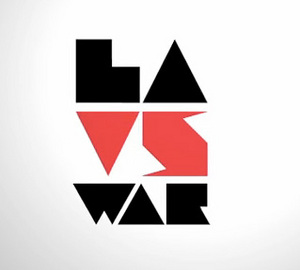 My friends out in Los Angeles are putting together another great LA Vs. WAR event this coming September. Growing out of the Yo! What Happened to Peace? exhibitions that traveled the world over the past decade, LA vs. War is a print show and multi-media event, and they need a little help to make it work. They've set up a kickstarter campaign, check it out HERE.
LA Vs. WAR will mark the 10th anniversary of the September 11 2001 attacks with a massive group art exhibition and event taking place in Downtown LA from 9/9/11 to 9/11/11 at the Vortex Philanthropic Center for the Arts. LA Vs. WAR presents some of today's most prolific, pro-peace/anti-war, political artists in a multi-media exhibition chronicling the creative responses to the current military conflicts in the Middle East/North Africa/Central Asia, The Global War on Terror, the Drug Wars, and other wars on marginalized peoples. After the September 2011 show, we plan to travel the exhibition as "Vs. WAR" to other cities in the U.S. and abroad in the spirit of peace and creative collaboration.
LA Vs. WAR is part exhibition, part experience. The art show will be curated by Yo! Peace, Center for the Study of Political Graphics and others and will feature a large selection of fine art and limited edition prints and posters. Live art demonstrations and workshops will engage the audience in creative activities ranging from graffiti, t-shirt printing, stenciling, and more. Teach-ins with our grassroots partners will inform and inspire attendees to transform their own lives and communities.