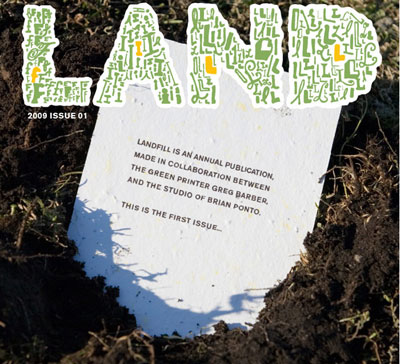 I got this from
Brian Ponto
today:
On this first day of spring we are proud to launch LANDFILL–an annual publication made in collaboration with our friend, the environmental printer, Greg Barber Co. Each issue explores a conceptual approach to its printed components. Second Chance's theme, 100% post-consumer papers and non-toxic toners, was made in partnership with Mohawk Fine Papers and the vendor Digital Connection.
After the interviews, our stories of second chances were printed using non-toxic toner onto paper containing flower seeds and buried throughout New York City. Brooklyn Photographer Luke Barber-Smith photographed these burials. As the sprouts reach the topsoil, the first lives push through the earth and grow into real wild flowers for the spring.
http://www.landfillzine.com
Printed copies begin to mail next week from both Mohawk Fine Papers and Brian Ponto. Thanks for your time reading, and here's to new beginnings in a hopeful new year.