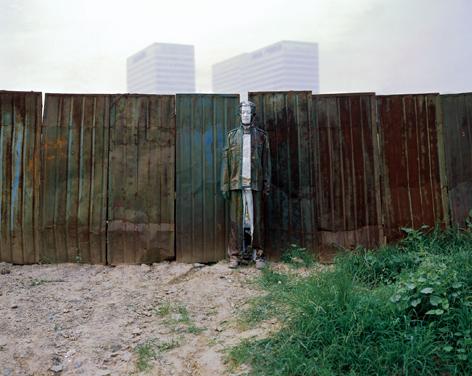 I just saw some beautiful photographs by Chinese artist Liu Bolin, from a series called Hiding In the City, where he gets painted into his environment. These works were inspired by the destruction of his studio to (I believe) clear ground for the Olympic stadium in 2008.
There's a brief interview with him in
White Hot Magazine
which I quote from here:

WM: Could you describe some of the influences on this new body of work?
LB: There are two main influences. The first is the environment, the experience of living. That's my main influence. The second influence would be the demolishment of Suojiacun Village, the art village where I lived with my friends. That was my first time to be personally affected in a major way by the government's decisions. They destroyed my studio and made me homeless! After all that I became very concerned with the state of China. My work is really an expression of my concern…. In China the idea is that one more is not too many, one less is not too little. One person means basically nothing to the greater environment. In Hiding in the City the individual was present, but dissolving into the landscape, beginning to disappear.