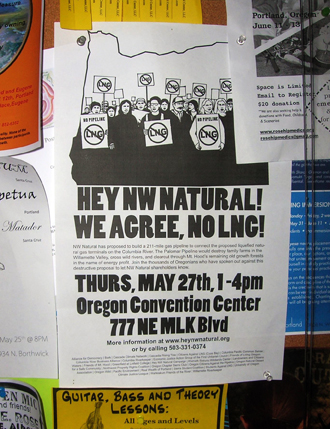 Bark
is an Oregon-based environmental group that is primarily concerned with preserving and protecting the wild areas around Mount Hood. Roger Peet, Pete Yahnke, and I partnered up with Bark and Taring Padi to work on a giant portable print to discuss the proposed Palomar Liquefied Natural Gas (LNG) Pipeline that would run from the Oregon Coast and then through the Mt. Hood national forest (after extraction in Indonesia). We were taken on two Bark field trips, the first was a hike through some
pristine forest
which the pipeline is proposed to run through. And a second trip, where we got to meet people whose homes and livelihoods would be effected by the pipeline and its construction.
For the upcoming Justseeds portfolio I wanted to keep working with Bark. I called and asked if I could produce some more images for their campaign against the LNG pipeline.

The first image I had to think about was for the portfolio itself. The image had to function as a poster that was functional to the organization, but also fit into a portfolio that will be displayed and sold as "art". There's some obvious limitations to this- I didn't want anything about anything too specific (like a date for a specific action), and also the text needed to be understandable, for example, to people in Brooklyn who may have never heard of Liquefied Natural Gas.
For this poster, I wanted to make something that wasn't too heavy handed (no angry crowds) and also I wanted to avoid the kitchen-sink approach (like a poster that would include endangered salmon, displaced farmers, passionate crowds, clear cuts, the war in Afghanistan, gentrification, etc…). With help from Amy H., who works at Bark, I narrowed it down to four basic things: salmon, forests, vineyards (the pipeline is cutting through Oregon's big wine country), and horses (it's also cutting through rural areas including farms and ranches). I wanted some kind of story from the image, but none of these four things were really speaking to me. So I went back to thinking about this campaign… and one thing that struck me is how effective this campaign feels. As opposed to many other struggles I've been involved with, this project has really widespread support. I thought of the phrase 'Oregon is United!' Okay, it's pretty goofy, but I was pretty desperate for ideas at the time and there's a claim to strength about it that I thought was kinda catchy, bringing to mind British soccer hooligans. Then I thought about what symbolizes Oregon: our state tree, the Douglas Fir; and then I thought about our state animal, the industrious and destructive little beaver. I like beavers, and I also really like the Oregon State University mascot, which is a psychotic looking cartoon beaver. I thought maybe I could do something like this.
I kept in mind Roger Peet's (justified) railing against the anthropomorphization of animals (especially by environmental groups), so I figured if it was going to be cartoon-y it should be completely over the top and vicious. After a bunch of drawings I realized I wasn't so good at that. So then I tried to make a more straightforward looking beaver, I looked up a bunch of images and went for it by making a lino-cut. I got it done, printed it and it was okay. Then some insecurities kicked in and I drew an even more cartoon-y looking beaver, which (at the time) I thought looked great. No one else agreed with me about this, and Amy from Bark strongly urged me back to the lino-cut. The customer is always right.
I scanned the lino-cut and tried to figure what I would do with the lay-out. One of my problems is that I tend not to think anything through, so I realized that the beaver I made has a pretty strange shape for a poster. Its tail makes it really long, but also leaves an awkward empty space behind the butt.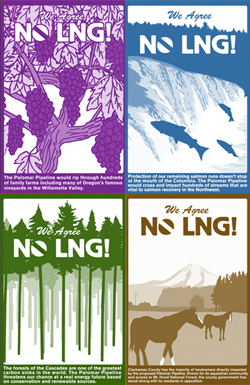 I now realized why most cartoon beaver have their tails wrapped around their body, though I think this is anatomically impossible. The awkwardness of the image stumped me for awhile… I had everything kind of okay, but something just didn't feel right and I couldn't put my finger on it.
In the meantime I got the text from Bark and some feedback. They wanted to toss the 'Oregon is United' thing, because it could alienate people in Washington State who share a major impacted waterway- the Columbia River. Duh! I hadn't thought about that.
Since I couldn't figure out how to proceed with the beaver poster, I thought I'd "whip up" a few other images for them. Amy (from Bark) had told me they were also interested in an image of a crowd in resistance for an upcoming action at a shareholder's meeting.

I thought this would be pretty simple, but this one also gave me all sorts of frustration and consternation. So I procrastinated on this (and the beaver) by making four other images for Bark which they didn't ask for at all! (see above) I went back to the original idea of the horse, the grapevine, the salmon, and the trees. I produced some very simple sketches (outlines really), scanned them in and converted them to half tones. The idea being that the organization could get them printed fairly cheaply as one color offset 11″ x 17″ posters. This was actually a lot of fun for me because they were so simple and easy. More then one person (three actually) told me that they didn't look anything like my style… which I thought was good!, but I suspect was a polite way of saying they weren't that interesting.
Anyway once I got this done I realized I had to go back to the crowd. I ended up redrawing those people a few times, and settled on one within the shape of Oregon. It was exciting to see them get used for posters around town.
Once I had the crowd done I had to go back to the beaver. Man that thing was killing me, I just couldn't figure out what to do with it. I wanted it to look a little modern and exciting, so I put an angle on the text and that stencil font to fight against the natural old-timey feel of a lino-cut. It was not a terrible idea but it trapped me in a direction that I couldn't find my way out of. I realized that there was no reason for the writing to be slanted like that, that it's something of a default style I use when I can't think of anything else. Also that stencil font was looking uglier and uglier the longer I looked at it. With some good feedback from Josh I squared the whole thing out and started working with it from there, and then everything fell into place pretty quickly. I found a new font that I liked, and I changed the color…. The font and the color both looked 'older', but the design felt fresh and the whole thing seems a lot stronger and more consistent to me.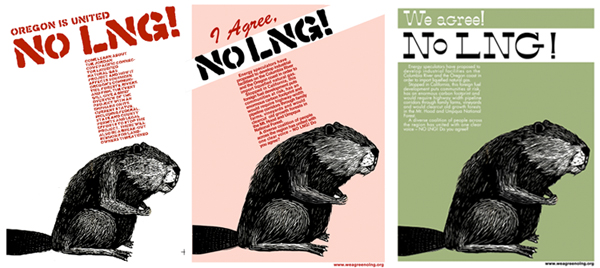 Bark
Hey NW Natural!