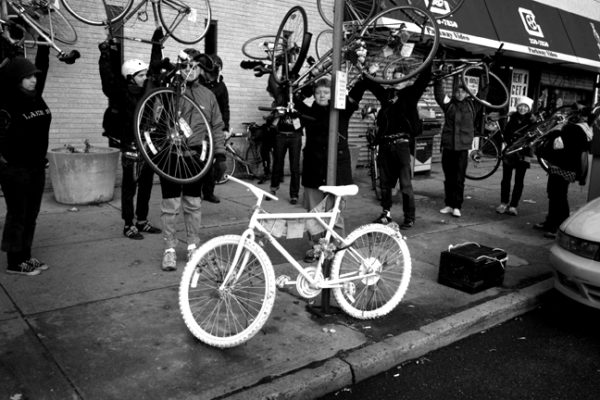 Photo
by Fred Askew
The 3rd Annual Memorial Bike Ride went as planned on Sunday, January 5th.
There were around 250-300 cyclists that attended the rides that eventually converged on City Hall, in Manhattan. Attendees included people unfamiliar with any of the deceased to parents and family members that had lost loved ones.
I'm proud of all the folks that have been involved in sustaining the Ghost Bike project and organizing the memorial ride. Thanks for keeping the memory of fallen cyclists alive.
Those whose honor we rode for yesterday were:
Juan Solis Franco Scorcia David Smith
Elijah Wrancher Habian Rodriquez
Carolina Hernandez Mark Grichevsky
Jeffrey Moore Anthony Delgado
Luis Ramos Craig Murphey Sam Hindy
and 9 Unkown Cyclists
Here are a few links I have come across:
Radio
Free Speech Radio News
Rustbelt Radio-longer story than the FSRN show
Articles:
NY Times
Streets Blog
Action Direction
NYC Indymedia
Indypendent
Photos:
Fred Askew
Darko666